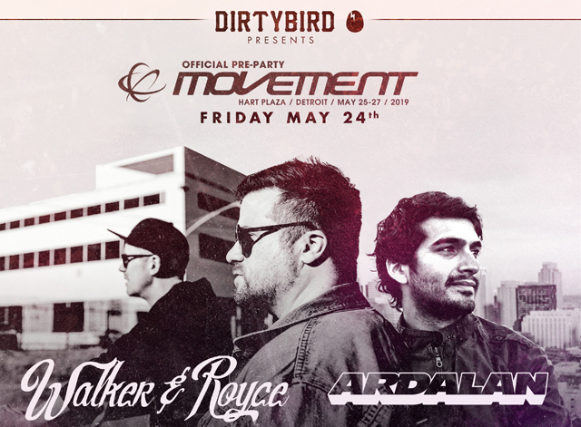 Fri May 24 2019
9:30 PM Doors - 3:00 AM
4120 Woodward Ave.
Detroit, MI 48201
$30.00
Ages 18+
Dirtybird Presents
Walker & Royce,
Ardalan,
VNSSA,
Sonya Alvarez,
Official Movement Pre
After being introduced by way of New York City's mid-2000s dance music scene, Sam Walker and Gavin Royce decided to team up in 2011. Six years later, having logged countless hours refining their now-signature sound and growing their impressive catalog, the duo is set to release their debut album Self Help on October 20.

The LP's title, as Sam puts it, is a "multiple entendre", but its ultimate meaning comes down to a simple phrase: "If you want something done right, you have to do it yourself." Gavin and Sam have meticulously crafted the sounds they want to hear at clubs, festivals and in their headphones. The result is a cohesive, career-defining body of work that firmly places the duo at the forefront of dance music's future.

Given all the time they've spent in the studio, it's only natural for Walker & Royce to take their new tunes on the road. Their album tour spans four months this fall, beginning in Europe and then kicking off the U.S. leg with a weekend at the Dirtybird Campout. Armed with their fresh productions, Sam and Gavin have something irresistible to offer fans at every stop..

Born in Tehran, Now just a dolphin making beats in the bay.

VNSSA has always had a passion for music, even as a child. The Newport Beach native now calls Los Angeles home, and has immersed herself into the local electronic scene. Although Santa never gave her the turntables she wanted at a young age, she soon found herself drumming in local rock and indie rock bands. From there she learned to Dj, and started performing at local clubs and house parties. After djing for 5 years and producing for 2, her debut single was released in early 2018 on House of Hustle Records and since, she has released an EP on Late Night Munchies, a single on Strangelove Recordings, an EP on Psycho Disco, an EP on Tons & Tons, a remix on Sweat It Out, and more. She has an affinity towards the darker, grittier spectrum of music, although her live sets cover all genres of house and techno. VNSSA performs regularly at well-known venues all over the country. In addition to playing her own shows, she has opened for numerous acts such as Chris Lake, Claptone, Destructo, Nora En Pure, Billy Kenny, Ciszak, Worthy, Walker & Royce, Bixel Boys, Poolside, Cassian, Mat Zo, Shiny Toy Guns, Ardalan, Phlegmatic Dogs, Noise Frenzy, Wolfgang Gartner, Weiss, Kyle Watson, Wongo, SNBRN, Bot, and many more.

VNSSA does not exist in the world of music because it is her choice, she exists in it because it is her calling.
Dirtybird Presents
Walker & Royce,
Ardalan,
VNSSA,
Sonya Alvarez,
Official Movement Pre
Fri May 24 2019 9:30 PM Doors - 3:00 AM
Magic Stick
Detroit MI