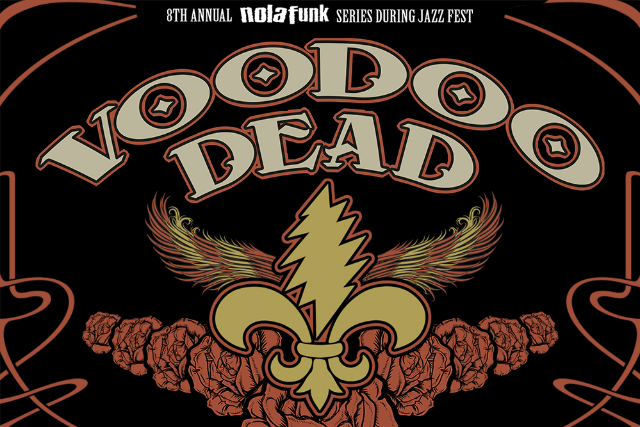 Sat May 4 2019
10:00 PM (Doors 9:00 PM)
828 South Peters Street
New Orleans, LA 70130
$49.50
Ages 21+
Voodoo Dead features
Steve Kimock
George Porter Jr.
Jeff Chimenti
Al Schnier
JM Kimock
plus special guest Brandon "Taz" Neiderauer
8th Annual Nolafunk Series During Jazz Fest
Voodoo Dead featuring Steve Kimock, George Porter Jr., Jeff Chimenti, Al Schnier, JM Kimock plus special guest Brandon "Taz" Neiderauer
Kimock's ability to articulate tone, melody and emotion into music combined with technical brilliance has earned Kimock the title "Guitar Monk"( Relix Magazine) for his commitment to guitar, and his ability to make it speak with its own original voice.

His variegated brand of guitar, alternately subdued and vibrant, defies easy categorization. At times prog rock/jazz-inflected and at others gypsy-straightaway, his crystal clear tone has been captivating audiences for more than thirty years.

Kimock co-founded the Jazz/Rock fusion band Zero in the 80's, KVHW in the 90's and now tours under his own name. He is widely embraced by fans as one who carries the free-form torch of improvisation, through an extensive catalog of original material in his own bands, as well as through live performances with so many esteemed musicians. Kimock has performed alongside the likes of Bruce Hornsby (and can be heard on two of Hornsby's releases), John Cipollina Jerry Garcia and all members of the Grateful Dead, as well as Peter Frampton, Bonnie Raitt, The Allman Brothers, Buddy Miles, Buddy Cage, Screamin' Jay Hawkins, Bobby Vega, Martin Fierro , Joe Satriani, Baaba Maal, Angelique Kidjo, Elvin Bishop, George Porter Jr., Steve Winwood, Derek Trucks, Ivan Neville, Grace Slick, Papa John Creach, Norton Buffalo, Amos Garrett, Warren Haynes, Hadi Al Sadoon, Stephen Perkins, Nicky Hopkins, Freddie Roulette, and many more.

A relentless innovator as well as player, Kimock's focus leads to guitar & amp craftsmanship. Over the past few years, he collaborated on a series of highly collected custom Two-Rock "Kimock Amplifiers" as well as a coveted ergonomic Scott Walker brand guitar - built in stereo.

His passion and devotion to performing live improvisation is matchless, and his unparalleled ability to embrace and capture a theater musically is the stuff of legends.

"Unconventional. Experimental. It's sort of the Steve Kimock way." – CNN, 2009

George Porter, Jr. is best known as the bassist of The Meters, along with Art Neville, Leo Nocentelli and Joseph Zigaboo Modeliste. The group was formed in the mid 60's and came to be recognized as one of the progenitors of funk then called R&B. The Meters disbanded in 1977, but reformed in 1989. Today the original group still plays the occasional reunions but the Funky Meters, of which Porter and Neville are still members, most prominently keeps the spirit alive.

Porter's rhythmic work in the Meters in lockstep with drummer Zigaboo Modeliste was epic. Those pockets, the long notes and fat holes, provided the cushion for Leo Nocentelli or Art Neville to play or sing over and created some of R&B history's most memorable grooves.

Few bass players in the history of modern New Orleans music are as storied as George Porter Jr. During the course of a career spanning more then four decades, Porter has not only made a deep impression with his work in the Meters, but he's notched session work with artists as diverse as Paul McCartney, Jimmy Buffett, David Byrne, Patti LaBelle, Robbie Robertson, Tori Amos, Taj Mahal, Ryan Montbleau and live performances with Mickey Hart, Bill Kreutzmann, Warren Haynes, John Scofield, Steve Kimock, Eric Krasno (and including recent studio releases with Warren Haynes and Bill Kreutzmann) just to name a few. Early in his career, Porter worked with seminal New Orleans artists like Allen Toussaint, Earl King, Lee Dorsey, and Johnny Adams, Irma Thomas, The Lastie Brothers again to only name a few.

Porter is also the band leader of his own unique long term project the Runnin' Pardners, well respected not only as a quintessential New Orleans band, the touring band continues to receive accolades on the jam band and festival scene. He has assembled some seasoned and talented musicians to join him on this project. Familiar Pardners - Brint Anderson (guitar) and, Michael Lemmler (keyboards) and rising stars on the New Orleans music scene Khris Royal (saxophone) and Terrence Houston (drums). George Porter Jr. plans to keep a smile on his face." I feel like I am working towards something that will be remembered."

Porter has proven to be capable of the ultimate fusion of rock, funk and R&B, and has gained recognition as one of the industry's elite bass players. He continues to be not only an in demand performing artist but an accomplished studio musician and producer.

Today, Porter features that epic bottom end in his latest ventures with his own band the Runnin' Pardners.
8th Annual Nolafunk Series During Jazz Fest
Voodoo Dead featuring Steve Kimock, George Porter Jr., Jeff Chimenti, Al Schnier, JM Kimock plus special guest Brandon "Taz" Neiderauer
Sat May 4 2019 10:00 PM
(Doors 9:00 PM)
Republic NOLA
New Orleans LA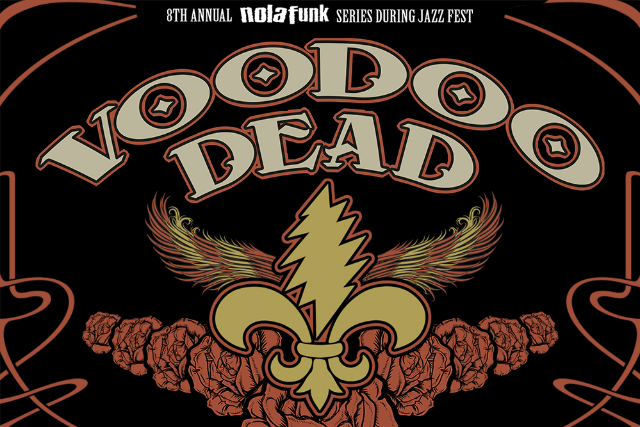 $49.50
Ages 21+
Voodoo Dead features
Steve Kimock
George Porter Jr.
Jeff Chimenti
Al Schnier
JM Kimock
plus special guest Brandon "Taz" Neiderauer