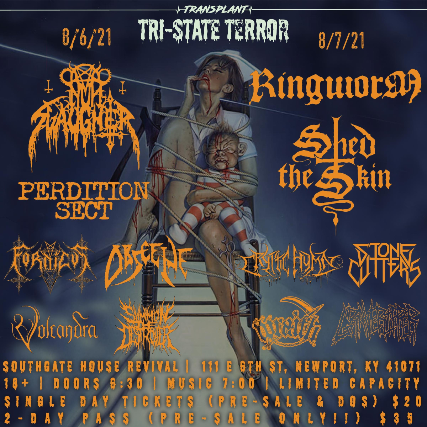 Fri Aug 6 2021
7:00 PM (Doors 6:30 PM)
111 E Sixth Street
Newport, KY 41071
$20.00
Ages 18+
Tri-State Terror Night One
Featuring:
Nunslaughter
Perdition Sect
Fornicus
Obscene
Volcandra
Summon The Destroyer
Transplant Productions Presents Tri-State Terror Night One
Pandemic born Discharge inspired metallic punk for the soundtrack of the end of days. Featuring members of Incantation, Ringworm, Axioma, Shed The Skin, Brain Tentacles.

Melodic Black Metal from Louisville, KY.

Spine Shattering Death Metal

Birthed in the heart of America's bible belt in late 2012, Fornicus was created to cast darkness over the ignorant masses and their dogmas.
Transplant Productions Presents Tri-State Terror Night One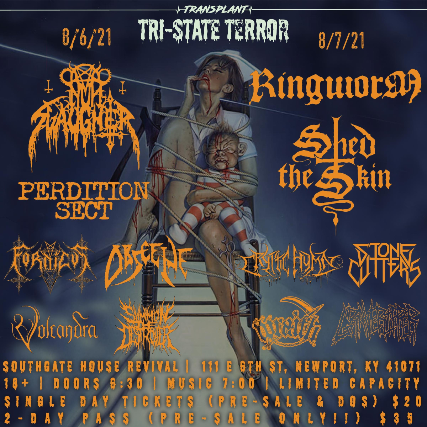 $20.00
Ages 18+
Tri-State Terror Night One
Featuring:
Nunslaughter
Perdition Sect
Fornicus
Obscene
Volcandra
Summon The Destroyer