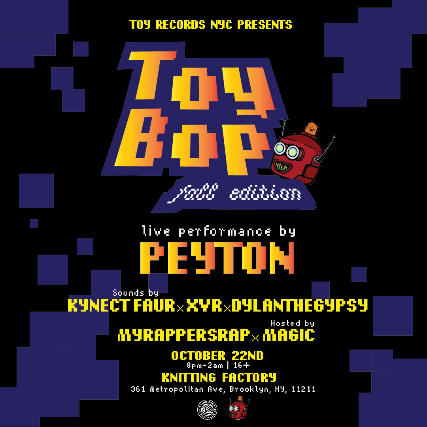 Tue Oct 22 2019
8:00 PM
361 Metropolitan Avenue
Brooklyn, NY 11211
$20.00 - $40.00
Ages 16+
Suny Purchase Student Tickets:
This ticket provides expedited entry to the event and uber xl from campus to the show.
TOY RECORDS NYC PRESENTS
Toy Records NYC w/ Peyton
22-year-old singer-songwriter Peyton Booker sees the soulful R&B of her Stones Throw debut project Reach Out as a natural extension of her musical background. Raised in Houston, Texas, Peyton was immersed in music from a young age, attending the churches her grandparents founded where music was integral to worship. Her late grandmother, a Grammy-nominated piano master and music teacher who counts Beyoncé Knowles as a former student, enrolled her in the magnet school for the arts where she taught, and encouraged by her family, Peyton trained as a violinist and singer.

Outside the classroom and church, Peyton was introduced to various artists, from Minnie Ripperton to Earth, Wind and Fire. While Peyton knew from a young age that she wanted to be a musician, her shyness presented an obstacle. "I had very bad social anxieties," she admits. "I just had to at some point stand my ground and tell myself I can transform my mind to be a different person because I don't want to live my life like this." Music was an outlet, a place she felt safe and comfortable to express herself, but to become an artist she had to push herself outside of her comfort zone.

She admired the confidence and fearlessness of artists like Amel Larrieux, Erykah Badu, Kanye West, and Pharrell—qualities she hoped to cultivate for herself. "They were unapologetically themselves and just immersed in who they were," she says. A subsequent move to the Third Ward neighborhood of Houston, where she's currently based, helped Peyton grow into herself as an artist. "Living in that area made it easier to learn more about Houston and be closer to school—I just felt the most connected to it than anywhere else that I stayed," she says.

The encouragement she received after releasing her debut single, "Aerial", at just 17 helped build her confidence, and inspired her to continue creating music that felt true to both her roots in gospel, soul, jazz, classical, and folk, and her passion for contemporary electronic music, hip-hop and R&B. Peyton is young but she has already started to make a name for herself in the music scene, collaborating with Steve Lacy from The Internet on her song, "Verbs" and opening for The Internet and SALES. In 2018 two of her songs, "Sweet Honey" and "Lifeline" were featured in episodes of HBO's Insecure, as well as on the soundtrack for the series.

Reach Out, her first EP for Stones Throw, features production from her hometown collaborators ASADVS, Pajama Sam, Big Brandon Willis, Kyle Turner and Chase of Nazareth, as well as Leon Sylvers IV and Dam-Funk. Throughout the project, she uses the trope of chasing after a lover to tell a deeper story about her hope and intention to connect with the people around her through music. When she wrote Reach Out, Peyton says the lyrics "flowed" out of her. In collaborators, she doesn't look for specific sounds or skills, but rather a genuine passion for music that matches hers, and the intention to make something beautiful. She believes this approach allows divine timing to play a role in her process. "It sounded like it was planned out, but really it just came from the heart," she explains about a particularly serendipitous moment—the intro, produced by Dam-Funk and Leon Sylvers IV, was coincidentally made in the same key as the EP's following song, "to spare." Guided by intuition and empowered by tradition, Peyton's songs are a window into her world, where music is a powerful healing tool. "Through my life, music has been the one thing that made me feel fully connected with the world around me, and just made me view life in a more beautiful sense," she says. "I just want to be a part of something like that."
TOY RECORDS NYC PRESENTS
Toy Records NYC w/ Peyton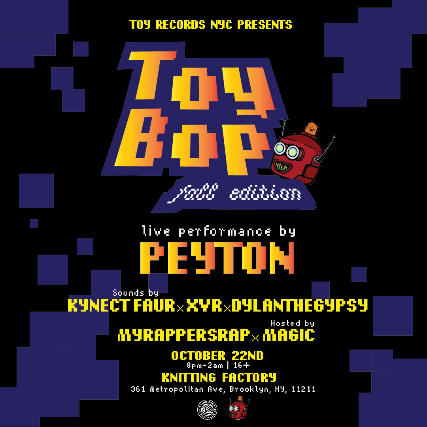 $20.00 - $40.00
Ages 16+
Suny Purchase Student Tickets:
This ticket provides expedited entry to the event and uber xl from campus to the show.
22-year-old singer-songwriter Peyton Booker sees the soulful R&B of her Stones Throw debut project Reach Out as a natural extension of her musical background. Raised in Houston, Texas, Peyton was immersed in music from a young age, attending the churches her grandparents founded where music was integral to worship. Her late grandmother, a Grammy-nominated piano master and music teacher who counts Beyoncé Knowles as a former student, enrolled her in the magnet school for the arts where she taught, and encouraged by her family, Peyton trained as a violinist and singer.

Outside the classroom and church, Peyton was introduced to various artists, from Minnie Ripperton to Earth, Wind and Fire. While Peyton knew from a young age that she wanted to be a musician, her shyness presented an obstacle. "I had very bad social anxieties," she admits. "I just had to at some point stand my ground and tell myself I can transform my mind to be a different person because I don't want to live my life like this." Music was an outlet, a place she felt safe and comfortable to express herself, but to become an artist she had to push herself outside of her comfort zone.

She admired the confidence and fearlessness of artists like Amel Larrieux, Erykah Badu, Kanye West, and Pharrell—qualities she hoped to cultivate for herself. "They were unapologetically themselves and just immersed in who they were," she says. A subsequent move to the Third Ward neighborhood of Houston, where she's currently based, helped Peyton grow into herself as an artist. "Living in that area made it easier to learn more about Houston and be closer to school—I just felt the most connected to it than anywhere else that I stayed," she says.

The encouragement she received after releasing her debut single, "Aerial", at just 17 helped build her confidence, and inspired her to continue creating music that felt true to both her roots in gospel, soul, jazz, classical, and folk, and her passion for contemporary electronic music, hip-hop and R&B. Peyton is young but she has already started to make a name for herself in the music scene, collaborating with Steve Lacy from The Internet on her song, "Verbs" and opening for The Internet and SALES. In 2018 two of her songs, "Sweet Honey" and "Lifeline" were featured in episodes of HBO's Insecure, as well as on the soundtrack for the series.

Reach Out, her first EP for Stones Throw, features production from her hometown collaborators ASADVS, Pajama Sam, Big Brandon Willis, Kyle Turner and Chase of Nazareth, as well as Leon Sylvers IV and Dam-Funk. Throughout the project, she uses the trope of chasing after a lover to tell a deeper story about her hope and intention to connect with the people around her through music. When she wrote Reach Out, Peyton says the lyrics "flowed" out of her. In collaborators, she doesn't look for specific sounds or skills, but rather a genuine passion for music that matches hers, and the intention to make something beautiful. She believes this approach allows divine timing to play a role in her process. "It sounded like it was planned out, but really it just came from the heart," she explains about a particularly serendipitous moment—the intro, produced by Dam-Funk and Leon Sylvers IV, was coincidentally made in the same key as the EP's following song, "to spare." Guided by intuition and empowered by tradition, Peyton's songs are a window into her world, where music is a powerful healing tool. "Through my life, music has been the one thing that made me feel fully connected with the world around me, and just made me view life in a more beautiful sense," she says. "I just want to be a part of something like that."