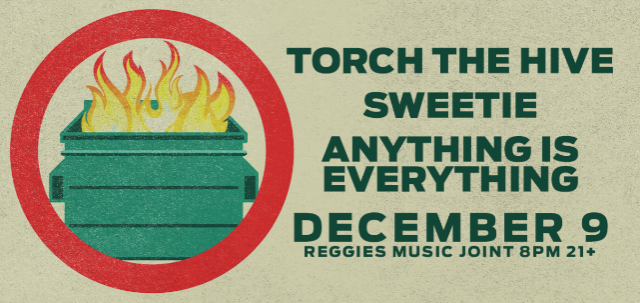 Thu Dec 9 2021
8:00 PM
2105 South State Street
Chicago, IL 60616
$10
Ages 21+
Reggies Music Joint
8pm doors / 21+ / $10 cover

Torch the Hive
Sweetie
Anything is Everything


Torch the Hive / Sweetie / Anything is Everything
Lyrically biting, politically raucous, and raw undefined energy, Torch the Hive is Mike Fruel, Tyler Sanders, and Sergio Apanco. Their first two releases touch on the struggles of growing pains, financial hardship and navigating through a politically divided world. After several self-funded national tours, group members were served with an unhealthy dose of reality when presented with issues of addiction and financial losses as a direct repercussion from the pandemic. As a witness to racial and systematic injustice, Torch the Hive gained a new perspective on which direction their music should take. 'Flamingo' serves as a proponent to challenge these opposing viewpoints and aims to allow the listener to form their own view.

Bassist? They don't need no stinking bassist! Formed in 2019, this dynamic duo brings in a mix of punk, garage rock, with the occasional drop of blues all wrapped up in a pretty bow. With gravely-sweet vocals, heavy hitting riffs and palpitating drums, Sweetie is just what the doctor ordered. Pulling influence from The Distillers, Misfits, and the Cramps, this two-piece hits you with a wall of sound that will not disappoint.

Started as a solo project by frontman Sam Mago, Anything is Everything, also known as AIE, has blossomed into a four piece Chicago punk band with a knack for catchy and anthemic songs that bring people back to the emo and punk scene of the mid-2000s. Chris Sanchez plays lead and doubles as the band's other main songwriter, as well as being the token tattoo-covered eye candy on stage. Alex "Ax" Surdue, a multi-instrumentalist producer, bounces on the bass with hammering fervor, while Christos Gigoropoulos slams away behind the drum kit to lay down the iconic backbone to the group. Check out their newest EP, 2021's "Your Favorite Year" and stay tuned for a full length album to drop in early 2022.
Torch the Hive / Sweetie / Anything is Everything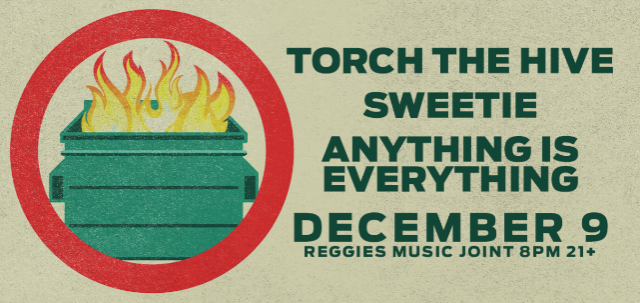 $10
Ages 21+
Reggies Music Joint
8pm doors / 21+ / $10 cover

Torch the Hive
Sweetie
Anything is Everything