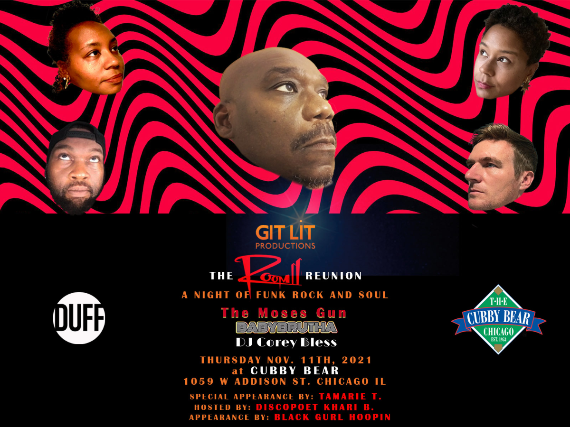 Thu Nov 11 2021
8:00 PM (Doors 7:00 PM)
1059 West Addison
Chicago, IL 60613
$18.00
Ages 21+
GIT LIT Productions Presents...
The Room 11 Reunion with The Moses Gun and Babybrutha
Room 11 is a perfect blend of funk, rock, soul, and hip hop. Formed in Chicago in 2006, they became a household name for their electric live shows, playing everything from local venues and music festivals to ultimately opening for rock legends Living Colour in 2013.

The Moses Gun is a Chicago based rock band that features Vell Mullens on guitar and vocals, Rich Harris on bass, and Jim Kendall on drums. They released their self-titled debut in 2012 containing 11 time-tested odes to romantic disillusionment, 70's TV, existentialism and various addictions.

Babybrutha was formed by founding member T. Lee (bass, keys, and vocals). The current line-up includes Sabino Izzo on guitar, Alex Emetti on guitar and backing vocals, Keith King on drums/vocals, and Lauren LO. The sound is definitely soulful with a rock approach. Babybrutha's live performances have been described as HIGH ENERGY FUNK!
GIT LIT Productions Presents...
The Room 11 Reunion with The Moses Gun and Babybrutha
Thu Nov 11 2021 8:00 PM
(Doors 7:00 PM)
Cubby Bear
Chicago IL