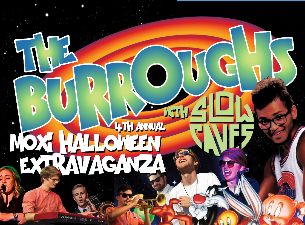 Fri Oct 27 2017
8:30 PM (Doors 8:00 PM)
802 9th St
Greeley, CO 80631
$10.00 - $100.00
All Ages
Share With Friends
4th Annual Moxi Halloween Extravaganza
The Burroughs
Slow Caves, The Great Salmon Famine
Born in the summer of 2013, the Burroughs are a band of musicians from the Northern Colorado area dedicated to making groovy music that is easy to dance to. With musical roots hailing back to the soul/funk bands of old, The Burroughs aim to create an environment with powerful horn section licks and a tight rhythmic section. Specializing in cover songs and originals influenced by musicians such as Stevie Wonder, Bill Withers, Etta James, and Otis Redding and modern musicians like Justin Timberlake and John Legend; The Burroughs are certainly not an act you want to miss.

Listening to Slow Caves, one is reminded that being sonically interesting doesn't mean that a band must sacrifice having old fashioned hooks or pop sensibilities. Danish born brothers, Jakob and Oliver Mueller, provide the vocal and guitar backdrop for Slow Caves, a band (rounded out by childhood friends David Dugan - guitar/bass, and Jackson Lamperes – drums) who offer a relaxed and surf-y update on 80's synth, 90's jangle, and early aught's indie rock. Formed in Ft. Collins, CO in 2014, Slow Caves quickly gained a reputation as a must-see local attraction. Soon the band was making an impression in Denver's vibrant music scene, earning slots at tastemaker clubs such as The Hi Dive and Lost Lake Lounge. In 2015, the band showcased their music at SXSW in Austin and CMJ in New York. Then in late 2016, the band signed with Cincinnati-based Old Flame Records (Cloud Nothings, Dead Confederate), performed at Boise's lauded, Treefort Festival and Austins' SXSW (March 2017), and released their Old Flame debut (Desert Minded-EP) on March 10, 2017. Since the release, the band has been touring all over America playing shows in Colorado, Utah, California, New Mexico, Kansas, Texas, Idaho and Arizona. Slow Caves will continue to tour throughout the USA in 2017.

New jam rock funk bluegrass fusion dance party making band based out of Fort Collins, Co.
4th Annual Moxi Halloween Extravaganza
The Burroughs
Slow Caves, The Great Salmon Famine
Fri Oct 27 2017 8:30 PM
(Doors 8:00 PM)
Moxi Theater
Greeley CO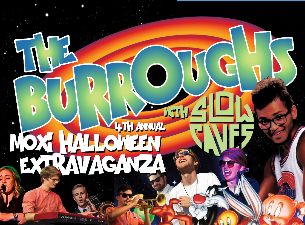 $10.00 - $100.00
All Ages