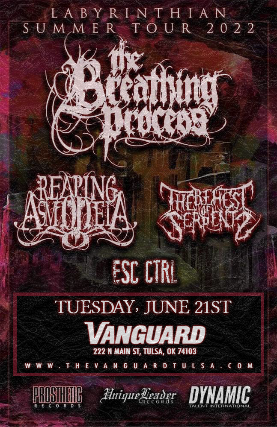 Tue Jun 21 2022
7:00 PM (Doors 6:00 PM)
222 N Main St
Tulsa, OK 74103
$13 adv // $15 dos
All Ages
The Vanguard and Bros Houligan Present...
The Breathing Process - Labyrinthian Summer Tour 2022
Alongside their counterparts in Abigail Williams and Winds of Plague, The Breathing Process were the first out the gates in terms of bringing a symphonic, melody driven Black Metal influence into Modern Deathcore, setting the benchmark in 2008 with their genre melding debut 'In Waking : Divinity'... Fusing Unearth 'Oncoming Storm' era style breakdowns with Dimmu Borgir flair reminiscent of 'Puritanical...' era, then adding the syncopated attack of the likes of Decapitated, The Breathing Process had unknowingly created a sound that would be imitated by many to come....THE BREATHING PROCESS are the true originators of Modern Blackened Deathcore and have returned to claim their crowns. Their 4th album 'Labyrinthian' is a majestic and nightmare fueled journey deep into Blackened Death Metal done how it's supposed to be. Featuring guest vocals from David John Simonich (Signs of the Swarm), Jamie Graham ( Viscera ) & a monumental mix and master from Dave Otero (Cattle Decapitation, Rivers of Nihil)

Produced and engineered by the band themselves in Minneapolis before being mixed and mastered by Zack Ohren (Machine Head, All Shall Perish, Carnifex) at Castle Ultimate and Sharkbite Studios, Darkened Infinity's intricate lead melodies unfurl with a menacing clarity when set against the album's more abrasive tones. Darkened Infinity's concept begins steeped in tragedy as the album's protagonist loses his family at the hands of humanity's destructive force, with his own life hanging in the balance. As the tale unfolds, Lane's lyrics thread together a story of immortality, malevolent entities and realms of dream logic - all the while exploring humankind's inherent duality. Darkened Infinity's thematic quest for transcendence is adroitly tied together in the opening and closing moments, suggesting enlightenment is not something to be obtained, but merely 'the consequence of being'. Immersive, immense and infinitely satisfying - Darkened Infinity deftly places REAPING ASMODEIA amongst the genre's most promising and consistently intriguing groups.

Melodic Death Metal from Canton, Ohio

Esc Ctrl is a 3 piece metal band from Muskogee, Ok. With Matt Hunter on Vocals/Bass, Nickolas McAnally on Guitar, and Ray Walsh on drums.
The Vanguard and Bros Houligan Present...
The Breathing Process - Labyrinthian Summer Tour 2022
Tue Jun 21 2022 7:00 PM
(Doors 6:00 PM)
The Vanguard
Tulsa OK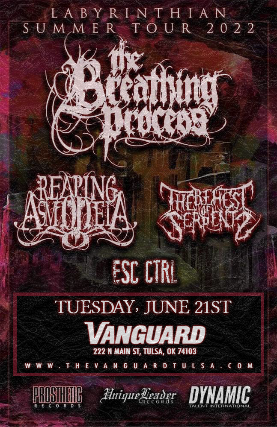 $13 adv // $15 dos
All Ages