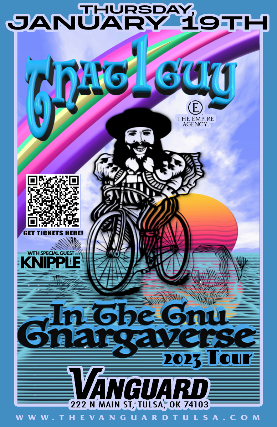 Thu Jan 19 2023
7:00 PM (Doors 6:00 PM)
222 N Main St
Tulsa, OK 74103
$15 adv // $18 dos
All Ages
The Vanguard and Bros Houligan Present...
That1Guy - In The Gnu Gnargaverse 2023 Tour
With an extensive and amazing track record of unique and imaginativeperformances featuring his curious instrument and copious amounts of originality, Mike Silverman, a/k/aThat1Guy,has set himself apart as a true one-of-a-kind talent that rivals any other artist currently in the entertainment industry.Averaging150-200 shows a year all over NorthAmerica and Canada, he has been a consistentfavorite at such festivals as: Wakarusa,Electric Forest, Big Day out, All Good MusicFestival, Bella, High Sierra Music Festival, Summer Meltdown, MontrealJazzFestival, and many more. He was also the ʻTap Water Award' winner at theEdinburgh Fringe Festival for best musical act.His legendary collaboration andmultiple tours withBucketheadperforming asThe Frankenstein Brothershasfurther cemented his virtuoso story as a creative visionary.His innovation continues to soar with his latest tour,That1Guy & The Magic PipePresent: An Evening of Musical Magical Wonder... The Likes of Which YeHaven't Yet Seen, which kicked off in 2014. Along with his pioneeringmaininstrument,The Magic Pipe,a monstrosity of metal, strings, and electronics,hefacilitates the dynamic live creation of music andmagic in ways onlyThat1Guycanconjure.You can also expect to see magic seamlessly integrated into the alreadyclever performance.With the addition of magic in his live shows, he haslegitimatelyachieved an all-inclusive audio/visual performance unlike anythingexperiencedbefore. "So much of my music has miraculous qualities to it because it'shard to tellwhat's going on. There are lots of slights of hand and sonic misdirection. Itfeels likeI was meant to do magic".Silverman's back-story is similar to many musicians that have come before him. Hegrew up a self-proclaimed music geek, soaked in the influence of his jazz musicianfather, and enrolled in San Francisco Conservatory of Music before joining the localjazz scene himself as a sought-afterpercussive bassist. This is where the similaritiesend though and whereThat1Guytruly began. "In my case, being a bass player, I justfelt very restricted by the instrument itself," he says. "I've always wanted to sounddifferent and have my own sound. Iwas headed that way on the bass, but for me tofully realize what I was hearing in my head sonically I was going to have to do it myway".Hisinfluential and innovative double bass style eventually evolved into whatwe see today asThat1GuyandThe MagicPipe.As his story continues to develop,Billboardhas famously noted, "In the case ofMike Silverman's slamming, futuristic funk act... the normal rules of biology justdon't apply." In addition, Silverman also has new music and videos in the works for2015 that will further validate his status as an industry trailblazer. "I like being myown person", he says. "I didn't set out to be a weirdo, but I'm starting to embrace it".Ultimately, his motivation can be encapsulated as this: "Human beings do our bestwork when we're challenged and pushed up against the wall".That1Guygoes on tofurther explain, "By nature, we're hunters and gatherers, spending each day looking for their next meal. It's easy to be lazy when you don't have to come up withsomething creative right away."

Garage punk jazz from Tulsa // noises // syncopation // slight yelling
The Vanguard and Bros Houligan Present...
That1Guy - In The Gnu Gnargaverse 2023 Tour
Thu Jan 19 2023 7:00 PM
(Doors 6:00 PM)
The Vanguard
Tulsa OK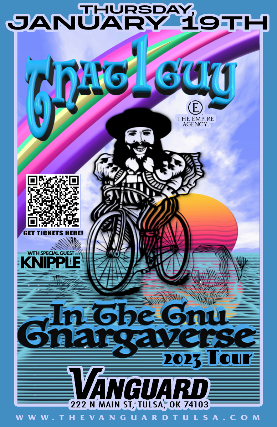 $15 adv // $18 dos
All Ages