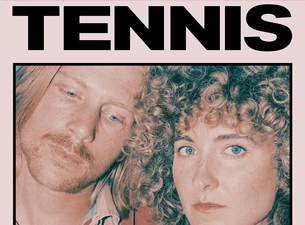 Tue Jan 16 2018
7:00 PM Doors
4120 Woodward Ave.
Detroit, MI 48201
Cancelled
All Ages
Refunds available at point of purchase
AEG Presents
Tennis,
Overcoats
We regret to inform you that due to illness Tennis has been forced to cancel their show tonight at The Majestic Theatre. All tickets will be refunded at point of purchase
I never learned how to swim.

In years of sailing, I never let the water touch me. The ocean was an abstract dread, an obliterating void as untenable as outer space.

In January 2018 we went on tour. After years of scraping by, we found our footing with our fourth record Yours Conditionally. It was a commercial success that set us up to to play the biggest rooms of our career. But three shows in, I developed a raging case of influ - enza. Each night I dragged myself onstage and croaked out the set in a delirium. After a particularly bad soundcheck, Patrick asked me if we should cancel the show. I couldn't im-agine giving up the thing we'd work so hard to achieve. "I'll be on stage even if you have to mic my coffin," I joked.

The next morning I fainted and had a seizure while grocery shopping for breakfast. Patrick carried me through the check-out lanes screaming for a doctor. I woke later in a hos-pital bed. Patrick leaned over me, crying. "That's it," he said. "I'm canceling the tour. I thought you were dead. We're quitting the band. I'm going to be an accountant." But I was on the mend. We missed two shows and pressed on.

During sound check at the 930 club, Patrick stepped out to take a phone call. His fa-ther had been in the hospital all week, but he had cancer and brief hospitalizations were routine. Back at the hotel that night, Patrick poured two shots of whiskey and handed me one. "I'd like to toast my dad." He said. "The doctors offered to put him on life-support to give me a chance to fly out there, but I didn't want him to suffer. Instead I said goodbye."

Patrick went home to grieve with his family and rejoined us on the road two days later. I couldn't believe how quickly our lives had unraveled in the midst of what was sup-posed to be a milestone in our career. As the tour continued, we found refuge in playing music together. Songwriting had always been an extension of our inner-world. Now we re-treated to that world every time we stepped onstage.

After the final show of our tour in Austin, we received another phone call. Patrick's mother Karen was in the hospital on the brink of a stroke. We got on a plane and went straight to her bedside. Her recovery took weeks. In the hospital waiting room, I wrote the opening line of "Matrimony II": I only have certainty when you hold my hand.

On a hot July day, after Karen's return to good health, we sailed as a family into the Pacific and scattered Edward's ashes at sea. I marked our position on the chart with a small x. The album was already well under way. In that moment, I realized what I wanted to call it.

Swimmer is a tour of the darkest time in our lives. But it is not a dark record. Named for the feeling of suspension and upendedness that characterized this period, it is the story of deep-rooted companionship strengthened by pain and loss. These songs carried us through our grief. It is us at our most vulnerable, so we kept a small footprint, recording everything ourselves in our home studio. I set out to describe the love I have come to know after ten years of marriage, when you can no longer remember your life before that person, when the spark of early attraction has been replaced by a gravitational pull.

Swimmer is available everywhere February 14, 2020.


More than just a band, Overcoats is a friendship, an artistic duo whose songwriting is musical empathy that verges on telepathy. The two have a clear vision of the sound they want to make together - they operate under one creative impulse. To compose the percussion for the track, Overcoats hit buckets, glass jars, bottles, and whatever else they could find in the alleyway outside their studio. They approach music-making with both freedom and focus, but the strength of their connection, in both voice and as artists is what makes Overcoats so distinct. They share a sonic intuition - and the result is mesmerizing.
AEG Presents
Tennis,
Overcoats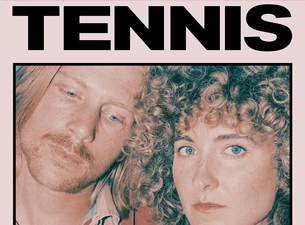 We regret to inform you that due to illness Tennis has been forced to cancel their show tonight at The Majestic Theatre. All tickets will be refunded at point of purchase
Cancelled
All Ages
Refunds available at point of purchase