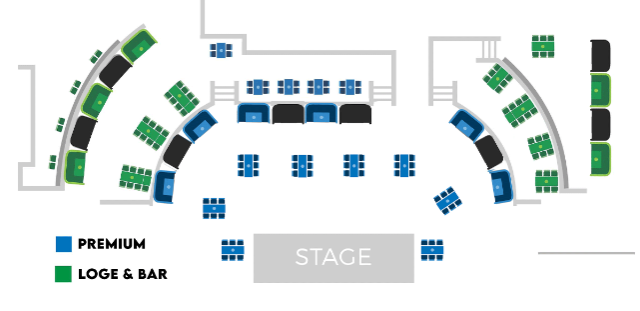 Click here to view seating chart fullscreen
Danny Seraphine & CTA
Most great musicians are lucky if they get the opportunity to play in one spectacular band in a lifetime. And that's what legendary drummer and founding member of Chicago Danny Seraphine thought when his tenure with that group came to a sudden end in 1990. After those wonderful 23 years, he put aside his drums figuring he would never find that magic again.
But a benefit show brought him out of his seclusion in 2006 and awakened in him his passion for playing music again. Shortly thereafter CTA – California Transit Authority – was born when Seraphine teamed up with guitarist Marc Bonilla who has produced, recorded and performed with such artists as Ronnie Montrose, Eddie Jobson, David Coverdale, Edgar Winter, Sammy Hagar, and Keith Emerson.
Taking center stage with lead vocals in CTA is actor/writer/producer and Grammy-nominated musician Tony Grant. On keys is keyboardist extraordinaire Ed Roth, and the on bass is Travis Davis.
We are open. And your safety is our priority.

Temperature checks for all attendees are required. You MUST wear a mask to enter. You may take off your mask while seated at your table however if you get up for any reason you MUST put your mask on. This is for your safety and the safety of everyone in attendance.

Among other precautions, our staff will be temperature checked. They will wear face shields and masks. Our tables will be six feet apart. Artists will perform behind a plexiglass barrier, 10 feet away from the front row. Tables and chairs will be sanitized in between shows. We will offer contactless payment options and hand sanitizers throughout the club.

To accommodate the policies noted above and to stay within state, city, county and CDC guidelines, our capacity has been significantly reduced. Selling complete tables is the only way we can run a sustainable operation; keeping you safe and paying our bands what they deserve. Individual tickets are not available at this time. We are selling entire tables. Please refer to the floor plan above.

Mahalo for your kokua, and for supporting live music in Hawaii.
__________________________________________
Seating is First Come, First Served
$10 Food or Beverage Minimum Per Person Inside Club
Full Bar & Full Dinner Menu Available
No refunds or exchanges.
Please make sure you purchase tickets for the correct date and time. Mahalo!