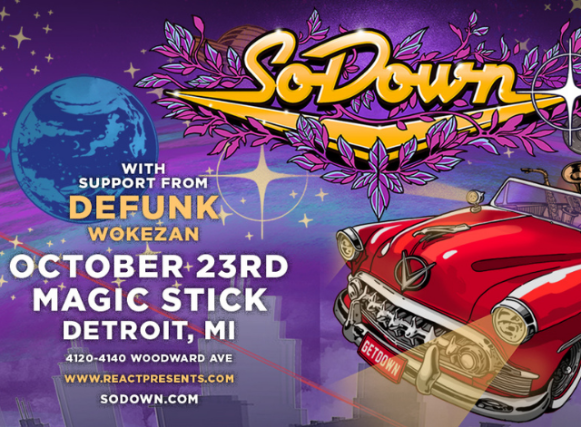 Sat Oct 23 2021
8:00 PM Doors
4120 Woodward Ave.
Detroit, MI 48201
$15 / $20 / $25 day of
Ages 18+
React + Magic Stick Present
SoDown
with
Defunk
+
WokeZan
#SoHeavy #SoGroovy #SoChill

"To be SoDown is to seize every opportunity, explore new grounds, try new things and ultimately live the most epic life possible. This universe is far too beautiful and life is simply too short to not do what makes you happy. Unconditional love is the most powerful force in the world and Bass Music is my way of expressing it."

Ehren River Wright, better known as SoDown, is tattooing his own signature on the world of dance music, illuminating a vibrant destiny for the saxophone playing producer. His live sets are saturated with vigor and animation, breathing life into a myriad of electronic sub-genres. Combining a palpable groove with thunderous, bass-centric aromas, SoDown creates an unparalleled atmosphere. His versatility is limitless, showcased via his GetDown Key- his personal genre atlas which falls into three separate categories, SoHeavy, SoGroovy, and SoChill. Between his unbound inspiration, and acute attention to the technicalities of production, SoDown curates an immersive, sensory experience both in the studio and on stage. His charismatic persona has prompted a dedicated fan following. SoDown has commanded stages at Red Rocks, Coachella, Electric Forest, Global Dance, Sonic Bloom, and more. At the heels of his own triumphs, SoDown is only just beginning.

FOLLOW SODOWN:

WEB: sodown.com
SPOTIFY: spoti.fi/2r8Q2Az
YOUTUBE: youtube.com/sodownbassmusic
SOUNDCLOUD: soundcloud.com/sodownbassmusic
TWITTER: @sodownbassmusic
INSTAGRAM: @sodownbassmusic

Hailing from Calgary, Canada, Defunk has taken funky bass music to a whole new level. Most popularly known for his attention of bringing elements of funk, jazz and blues into heavy bass music, he constantly strives to develop new sounds with new elements based around the idea of groove. Sexy sounds, funky rhythms, dirty drops, disco dancing, jazzy solos, and intriguing instruments can all be found in his catalogue. His intention is to constantly push the limit on what bass music is viewed as while still keeping the elements that make you want to dance.
React + Magic Stick Present
SoDown
with
Defunk
+
WokeZan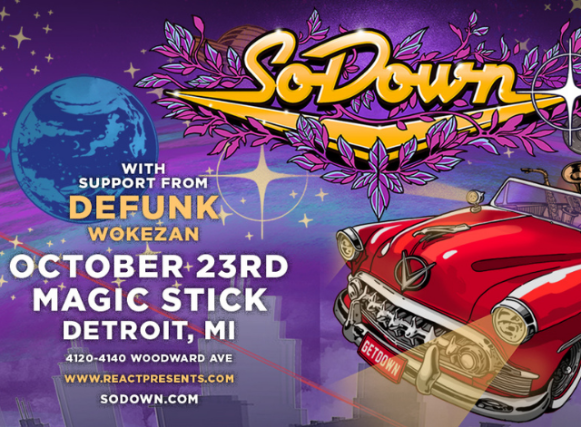 $15 / $20 / $25 day of
Ages 18+