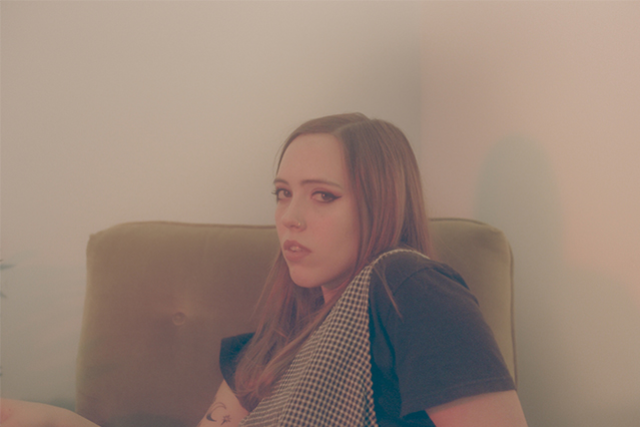 Fri Jul 12 2019
8:00 PM (Doors 7:00 PM)
400 Lincoln Ave
Millvale, PA 15209
$16.00
All Ages
Opus One and 91.3 WYEP Present
Soccer Mommy with Special Guest Kevin Krauter
"The singer-songwriter Soccer Mommy (aka Sophie Allison) details the never-ending growing pains of young adulthood with uncanny precision." - Pitchfork

"how absolutely enchanting Soccer Mommy's music can be." - Stereogum (Best New Bands of 2016)

"Sophie Allison's Soccer Mommy is the latest project quietly creating a storm through a prolific, increasingly-exciting output on Bandcamp…Her songs are timeless snapshots of bittersweet youth." - DIY

"so plainly beautiful and well-written that it sneaks up on you...one of my favorite choruses of the year." - MTV

Sophie Allison's songs are generously tender, pushing and pulling between preternatural composure and emotional disintegration." - New York Times

"as she makes this empowering demand for respect [on 'Your Dog'], Sophie Allison firmly establishes herself as a vital musical voice we'll be turning to in the years to come." - NPR Music

"Allison delivers a much-needed update to the "cool girl" trope: Instead of faking nonchalance to impress men, Soccer Mommy's character destroys them. Really, there's nothing cooler." - Pitchfork

"The first single from Soccer Mommy's upcoming album, Clean, is so flippin' good...Sophie Allison sounds feistier, and better, than ever before." - The FADER

"With her nostalgic pop sensibility, Soccer Mommy makes her songs feel intimate as she explores love, crushes and growing up." - Billboard

"if Allison's upcoming Clean includes even two or three more songs [as good as 'Your Dog'] you might as well pencil it in on your year-end albums list right now.." - Stereogum (#2 Best Songs of the Week)

"We're deeply impressed with Soccer Mommy's gorgeous, slightly fuzzy sounds, and can't wait for the Nashville singer-songwriter's debut to arrive" - Paste

"Clean showcases what it is to be stuck in a quicksand of self-loathing, and have it stop you from seeing your own accomplishments and more importantly, being proud of them. If Allison isn't already chuffed with this debut, she should be." - The Line Of Best Fit

An insightful songwriter with a lyrical style that is both economical and evocative, Kevin Krauter crafts unique soundscapes that scramble a range of influences: '60s flower pop, '70s easy listening, '80s New Wave, '90s alt-radio, '00s indie rock. In between tours with his band Hoops, the Indiana musician spent long hours in his basement, guitars and vintage keyboards his only company, and tested out ideas, explored new sonic avenues, savored new sounds, and taught himself how to play a few instruments.

"I would wake up and have a cup of coffee, then I'd come up with a song or a melody and just sit and play it literally for three or four hours straight. Then I'd try to find new ways to play it, or do it with different notes or on different instruments. I don't want to call it meditating, but it was pretty meditative to sit there by myself and play the same thing over and over and over and over." The riffs and melodies became mantras, repeated back to himself until they became the rhythmically intricate, melodically bold, and emotionally complex songs on Toss Up.

Recorded at Russian Recording in Bloomington, Indiana, Toss Up builds on the sonic worlds of his first EP releases (2015's Magnolia and 2016's Changes), conveying a similar mood with a greater array of instruments and influences. You can hear those vintage keyboards merging on "Keep Falling in Love," which recalls R&B organist Timmy Thomas and West Coast marina pop artists Ned Doheny while showing off Krauter's strong falsetto. "Rollerskate" audaciously marries a hypnotic keyboard theme to a loping drumbeat based on a popular '90s alt-rock hit."I had been working on that guitar part and it sounded like another pretty folk song, so I thought, What if I put this weird funky beat on top of it? Most of these songs are very groove heavy."

That is the secret tension on Toss Up, the engine that drives these songs: melody propelled by rhythm, melancholy fended off by the exuberance of simply creating art. "A lot of the songs are about solitude in a very healthy sense, about trying to make it something useful and productive. It was good to center myself in that experience. I was able to get to a place where I was not afraid to be really stoked by what I was doing." Or, as he declares on "Lonely Boogie": "I'm all alone and I'm having a good time."
Opus One and 91.3 WYEP Present
Soccer Mommy with Special Guest Kevin Krauter