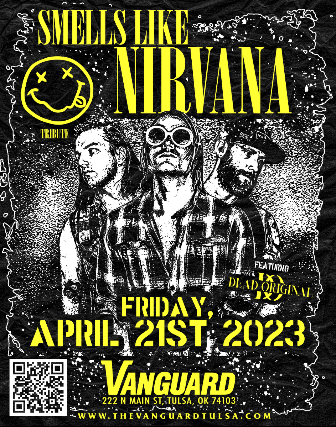 Fri Apr 21 2023
8:00 PM (Doors 7:00 PM)
222 N Main St
Tulsa, OK 74103
$18 adv // $20 dos
All Ages
The Vanguard and Bros Houligan Present...
Smells Like Nirvana (Tribute to Nirvana) w/ Dead Original
Celebrate the legendary sounds of Nirvana & Kurt Cobain with national traveling Nirvana tribute 'Smells Like Nirvana' as they perform songs from Nevermind, In Utero, Bleach, and more (bsides/rare songs). Make song requests/get tix at smellslikenirvanatribute.com Smells Like Nirvana is based out of Chicago and is composed of seasoned pros and die-hard fans of Nirvana fronted by Paul Wandtke (ex Trivium, Dead Original), w/ drummer Sean McCole and bassist Mike Petrasek (Bedlem). Their live tribute to Nirvana is a haunting episode of grunge filled angst playing songs from Nirvana's albums Bleach, Nevermind, In Utero and MTV Unplugged as well as rare b-sides and more; played without click tracks or backing tracks, a trait that is rare in today's contemporary musical landscape, a trait and philosophy that Nirvana lived by.

Dead Original is the new hard rock trio w/ grunge undertones from Chicago, IL started by Paul Wandtke whom got his start in the music industry as a work for hire drummer over the years drumming for such acts as Trivium, Kill Hannah and even the hit musical Rock of Ages. Feeling inspired to pick up a guitar after always feeling like something was missing in life, he now fronts Dead Original with Joey Kus on drums and Mike Petrasek (Bedlem) on bass. Dead Original is a blend of grunge, groove power, simple riffs, melodic hooks and some progressive elements via some tastefully placed odd meters.
The Vanguard and Bros Houligan Present...
Smells Like Nirvana (Tribute to Nirvana) w/ Dead Original
Fri Apr 21 2023 8:00 PM
(Doors 7:00 PM)
The Vanguard
Tulsa OK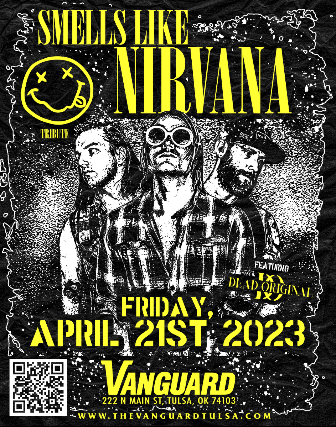 $18 adv // $20 dos
All Ages