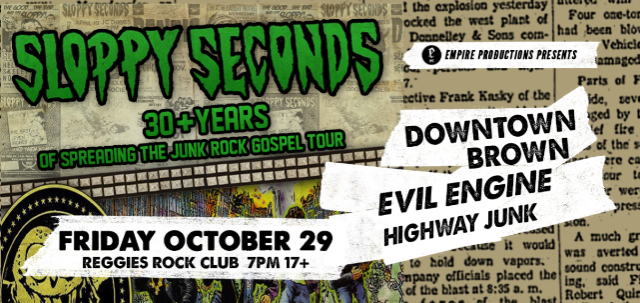 Fri Oct 29 2021
7:00 PM
2109 South State Street
Chicago, IL 60616
$20
Ages 17+
Reggies Rock Club
7pm doors 17+ $20

Empire Productions presents
Sloppy Seconds
Downtown Brown
Vacation Bible School
Evil Engine
Empire Productions presents
Sloppy Seconds
Sloppy Seconds is a Ramones/Dickies-influenced punk band from Indianapolis that started in the mid-1980s. With such underground hits as "Come Back, Traci" (a tribute to an underaged Traci Lords), "I Want 'em Dead", and "So Fucked up", the band prefers to sing about such topics as pornography, classic horror movies, old TV shows, comic books, alcohol, being fat, and getting drunk. They have been quoted as being proud to be fat, drunk, and stupid. Their name is the slang term for when a man has intercourse with another person who already has received another man's semen in the relevant orifice.

NATIONALLY TOURING FUNK / PUNK / METAL / EXPERIMENTAL ROCK BAND from DETROIT MI

we weren't in a band called vacation bible school, then one day we were, and now, we still are in a band called vacation bible school. its kinda been awhile...

"Don't be a part of it; stand up and always question. And if you don't, then you're becoming the fuel for the evil engine..."

Used as a metaphor for pop culture's vapid stranglehold on society, it is the evil engine that powers modern ideals and standards; Evil Engine is the resistance against such complacency with punk rock energy, heavy metal groove and aggressive female vocals, with unapologetically honest lyrics zeroing in on issues such as social responsibility, societal blight and the validity of theism, among other concerns of the human condition.

Evil Engine is an amalgam of punk rock and heavy metal artists with over 50 combined years of musicianship.
Kryssie Crisis (aka Kryssie Ridolfi) of DEADMANSWAKE have teamed up with Mike Skull (of live performances with 45 Grave) Jamie Booth (formerly of Indolent) and Colin Holmes (The Massacres, Crusader) to bring you a myriad of punk, reminiscent of the early California "skate punk" sound; from the "Suffer" era of Bad Religion to more contemporary first wave and Oi! bands in the likes of Cocksparrer, Slaughter and the Dogs and Stiff Little Fingers, with aggressive nods to the metal edge of Motörhead and Anthrax.
Empire Productions presents
Sloppy Seconds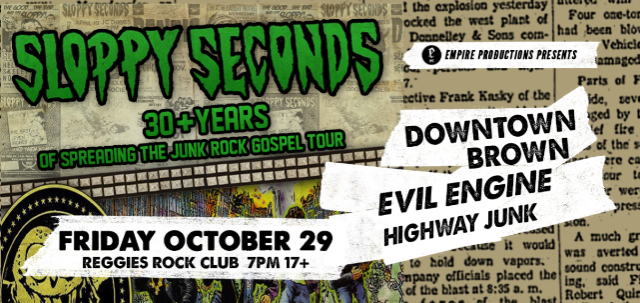 $20
Ages 17+
Reggies Rock Club
7pm doors 17+ $20

Empire Productions presents
Sloppy Seconds
Downtown Brown
Vacation Bible School
Evil Engine