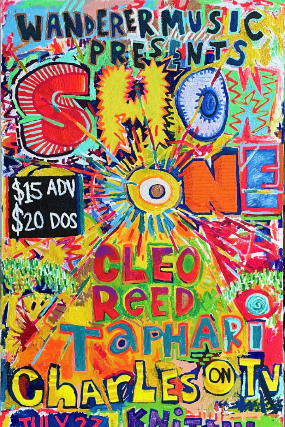 Sat Jul 23 2022
8:00 PM (Doors 7:00 PM)
361 Metropolitan Avenue
Brooklyn, NY 11211
$15.00
All Ages
Knitting Factory Presents
Show One Presented By Wanderer Music
Raised in New York City and Washington, D.C., Cleo Reed is a student of Black underground sound and intention. She reaches deeply into her own lineage and uses it as a reference in both music and multimedia art. She produces and designs soundscapes, compositional and popular music works, in addition to mixing, mastering, and editing her own music and visuals. Through music, Cleo works to amplify the needed presence of Black queer women in production and sound design spaces. She is a recent graduate of Berklee College of Music and is currently finishing her debut album "Root Cause," which will be released this year. Recent collaborators include Jon Batiste, Nick Hakim, and more.

Taphari is born of Afro-Caribbean descent and hails from Brownsville, Brooklyn. He may not look like much more than a kid, but his musical prowess is unmistakable. In Spring of 2019 he released 'Earth's No Fun,' his testimony as a young loner from the hood seeking asylum in laughter, queer expression, hip hop and the internet. He's on a mission to understand himself, find happiness, and ultimately connect with the world at large. Noisey calls Taphari "Brooklyn's Best Rap Alien", but in real life you can usually find him with headphones on, quiet and sincere. Live performances are explosive dance parties and an aggressive call to action-- a true charismatic on stage, music is Taphari's most efficient means of communication. Bold and malcontent, Taphari "flowers on all occasions" in this latest single on Bayonet Records. His first solo track in over a year, "Minding My Business" is an anthem for every self-reliant loner staying in their lane. The hook hits less than 15 seconds in, a deep bassline that only cuts out to make room for his sharply stylized flow, "I'm only loyal to my peace." Hellishly deep vocals lie just underneath, pushing to the surface a foamy pop melody, blending together to make a perfectly dark hip-hop track.

Charles On TV (Charles Meyer) is a singer, songwriter, and producer from New York City. His eclectic sound draws inspiration from several musical eras and sonic aesthetics, blending together 1980s sci-fi synths with jazz grooves and R&B vocal intonation. Meanwhile his ambient harmonies nod at '60s and '70s vocalists like Brian Wilson and Paul McCartney. Lyrically, Charles On TV confronts contemporary realities with satirical self-awareness. "Charles explores the cycles of hypocrisy within himself and those around him as well as the structures that make the current world exist as it does" (Earmilk). There is an air of "mystery" and "uncanny eeriness" in Charles On TV's music underscored by his use of "quirky" metaphors (Ones To Watch). Charles On TV's EP "Truth & Lies" is out now, as well as a music video for "This Xmas I Want You".
Knitting Factory Presents
Show One Presented By Wanderer Music