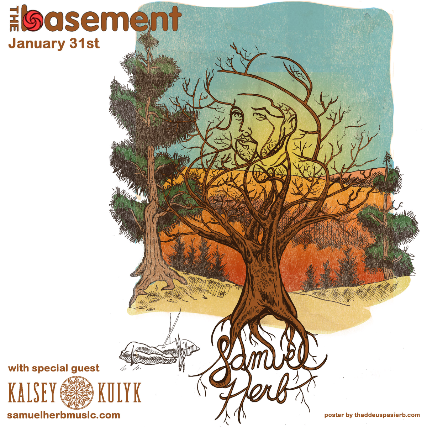 Fri Jan 31 2020
7:00 PM (Doors 6:30 PM)
1604 Eighth Ave South
Nashville, TN 37203
$6 ADV/ $8 DOS
Ages 21+
A portion of proceeds will benefit One Tree Planted.org.
Samuel Herb w/ special guest Kalsey Kulyk
Samuel Herb is a singer/songwriter originally from Jacksonville, FL. After placing second in American Songwriter Magazine's Lyric Contest, Herb decided to make the move to Nashville in 2016 where he quickly fell in love with Americana music. After wrestling with the idea of becoming an artist as well as a writer he released his debut single, "Dirty." which wound-up in the Top 10 on the iTunes Singer/Songwriter chart. "Dirty." has since been streamed nearly 40,000 on all platforms in over 50 different countries around the world. Herb's love of storytelling brings audiences into his mind, while his in your face sound shows off his personality. His love of country music, combined with the sounds of Motown and even Disney music are apparent when listening to his stories.

In October of 2018, Herb released his second single, "Someone Else's Dream" which again debuted in the Top 10 on the iTunes Singer/Songwriter chart and quickly grew to a crowd favorite for live shows. It was after writing that song with his producer, Mark Caldwell, that Herb quit his job to pursue music full time.

In Spring of 2019, Herb's self-titled, debut EP was released featuring 6-songs, all of which are completely different in story and sound. The EP also made it to #10 on the iTunes Singer/Songwriter chart when it debuted.

Since making the move to artist in 2018, Samuel has shared the stage with Rodney Atkins, Jamie Lin Wilson, Son Little, Pokey LaFarge, Amythyst Kiah, Hush Kids, Tyler Hilton, Erin Rae, Shawn James, MAX, and so many more. In such a short time, Herb has played in over 20 states, tallying up hundreds of shows in the past two years.

Kalsey Kulyk's effortlessly bright and unmistakable vocal, paired with thought-provoking lyrics and overall messaging, is something most songwriters never master. "After my parents' divorce, my dad would listen to 'Nobody Knows It But Me,' by Kevin Sharp, over and over again. I knew exactly what he was feeling without him telling me what he was feeling. That's when I knew what music could do for people. That's what I want to do for people."

The Hudson Bay, Saskatchewan native has been honing her craft since the time she could talk. Her first talent show was at three-years old. Her first guitar was at thirteen. Shortly after, she won her first competition.

Then everything changed.

In high school, Kulyk fell ill and couldn't seem to get well. It was cancer.

Kulyk was diagnosed Hodgkin's Lymphoma and underwent six months of chemotherapy. "I lost all my hair, but got a lot of song inspiration, because there were a lot of people I got to meet during chemo. I'd run home and write about their incredible stories. I had to get it all out, and I wanted to give that voice to people."

Once she recovered she pursued her passion for music with even more determination. She worked with Fleetwood Mac producer, Richard Dashut, and made trips to Nashville for meetings and to write.

All of her work did not go unnoticed. Kulyk was invited to participate in both the Canadian Country Music Association's Discovery Artist program, as well as ole's "On the Spot" competition. She won both.

Winning the ole contest came with both publishing and record deals, and Kulyk found herself back in Nashville to launch her career. "I'm really excited about the music that I have now. I feel it really encompasses everything about me and who I am, and what I want to give to my audience. I grew up around a lot of old school and '90's country music - Lee Ann Womack, John Prine, Dolly Parton, Shania Twain, Emmylou Harris, Jason Isbell - and I think that can be heard in the overall style of my music
Samuel Herb w/ special guest Kalsey Kulyk
Fri Jan 31 2020 7:00 PM
(Doors 6:30 PM)
The Basement
Nashville TN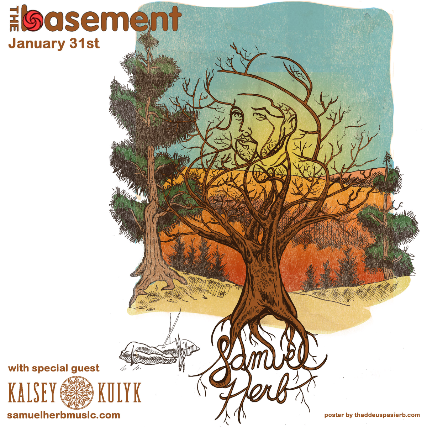 $6 ADV/ $8 DOS
Ages 21+
A portion of proceeds will benefit One Tree Planted.org.