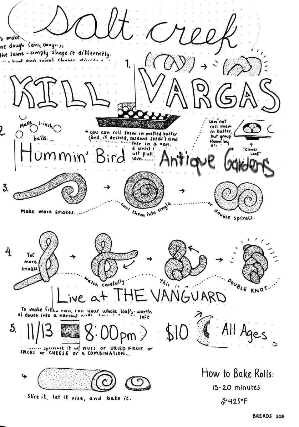 Wed Nov 13 2019
8:00 PM (Doors 7:00 PM)
222 N Main St
Tulsa, OK 74103
$10.00
All Ages
The Vanguard and Bros. Houligan Present...
Salt Creek // Kill Vargas
Indie Rock from Lincoln, NE

"With a nonchalant, laid-back tone of voice which reflects the better days of Green Day and The Offspring,backed up by surf-rock guitar and an ennui-ridden attitude, Kill Vargas's music should be on your watch."

-Samarth Kanal for Punktastic


"Kill Vargas put on an energetic, 30-minute set as members of the crowd danced, sang along, and even crowd-surfed."

-Ray Strunk for The Sunflower

"Charged up and ripping out the speakers, Kill Vargas' newest release,Tunnel Vision, spreads like a wildfire from your ears to the extent of your limbs. Immediately catchy and filled to the brim with confidence, this 6 song/24 minute follow up to Gouge/It's For The Best is just as strong and you get 3 times more songs. Not to be confused with getting more of the same—no, it's of the same quality but this trio is not done pushing the boundaries of their capabilities."

-Torin Andersen for We Are Wichita.

Coming from a small storage space in Tulsa OK, Hummin' Bird gives you twangy punk rock fueled by cheap beer and truck stop food. Breaded and cruicifried with welts from the bible belt, they know that a life sippin' sweet tea can be easily had, but they'd rather slam Busch heavies in some rank basement. They'll also tell you that down here, 'bless your heart' doesn't really mean what you think.

Joe Payne is a Singer/Songwriter from OKC providing intimate performances of personal songs.
The Vanguard and Bros. Houligan Present...
Salt Creek // Kill Vargas
Wed Nov 13 2019 8:00 PM
(Doors 7:00 PM)
The Vanguard
Tulsa OK