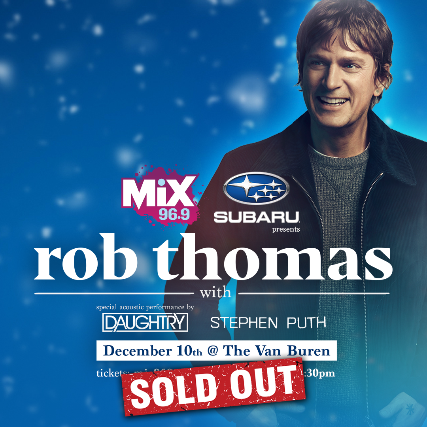 Tue Dec 10 2019
8:00 PM (Doors 6:30 PM)
401 West Van Buren Street
Phoenix, AZ 85003
SOLD OUT
All Ages
Ticket Price: $30

This event is ages 13+ (12 & under admitted with parent/legal guardian)
MIX 96.9 & Subaru Present:
Rob Thomas with Daughtry and Stephen Puth
SOLD OUT - No tickets available at the box office.
Stephen Puth knows that the most powerful, heartfelt songs in pop-music history are about love. A singer, songwriter, and musician, Puth also writes songs that traffick in affairs of the heart. But rather than complain about what goes wrong in relationships, the 24-year-old New Jersey native zeroes in on the small, random moments that can become saturated in one's memory. "It's boring to just sing about how you got hurt," Puth declares. "I try to focus on the tiny, specific things I can't forget, things I didn't think anything of at the time, but that later become powerful, emotional memories."

Puth does just that on his debut single for Arista Records, "Sexual Vibe" — a retro-tinged song "about that moment where you see someone across the room, maybe at a party, and how you feel before anything even happens," Puth says. "Nothing may ever happen, but maybe you start talking, maybe you start dancing — it's about the build-up and seeing where it goes. When I'm writing, I'm interested in how something started, how it ended, and everything in between."

Puth developed his love for music growing up in Rumson, New Jersey. His mom was a piano teacher who taught Puth and his two siblings and insisted they practice every day after school. Fed up with playing classical piano, Puth asked for guitar lessons in seventh grade. "My mom said, 'There's a guitar upstairs and a computer right there. You can learn.'" He also immersed himself in classic rock, becoming enamored with legends like Van Morrison, Led Zeppelin, The Beatles, Carly Simon, James Taylor, Otis Redding, and Bill Withers. "I also loved that '60s era of feel-good pop, like The Mamas & the Papas and Peter, Paul and Mary — what they could do with just harmonies and guitar was amazing."

Though Puth originally set his sights on being a songwriter-for-hire (he has written for such artists as The Vamps, Pretty Much, Daniel Skye, Jack & Jack, and Stanaj), he eventually decided to focus on being an artist in his own right. "I want to create something that resonates with people," he says. "Most people's lives consist of waking up, commuting, being at work, commuting, going to the gym, eating dinner, and falling asleep. In between, there's music. I hope my songs give people whatever they need to get through their day."
MIX 96.9 & Subaru Present:
Rob Thomas with Daughtry and Stephen Puth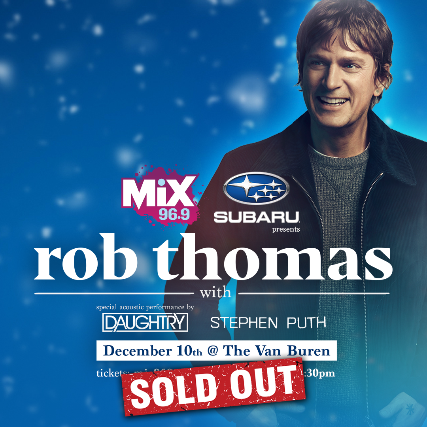 SOLD OUT - No tickets available at the box office.
SOLD OUT
All Ages
Ticket Price: $30

This event is ages 13+ (12 & under admitted with parent/legal guardian)