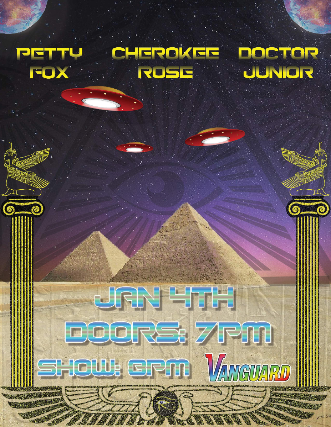 Sat Jan 4 2020
8:00 PM (Doors 7:00 PM)
222 N Main St
Tulsa, OK 74103
$10
All Ages
The Vanguard and Bros. Houligan Present...
Petty Fox // Cherokee Rose // Doctor Junior
Cherokee Rose is an instrumental jam band quartet that fuses elements of rock, blues, jazz, soul and funk. Heavily inspired by Jimi Hendrix, The Greateful Dead, Pink Floyd, Herbie Handcock and more!

Doctor Junior is a two-man music act from Tulsa, Oklahoma that provides a full-band experience. The duo, known to some as "DJ Dr. Doctor Junior Jr." or Doctor Junior for short provides "musical healing" through deep electronic grooves, beautiful spacy melodies, and the occasional dose of fresh funk. As part of the jam-tronica scene, DRJR produces electronic-based music which features live instrumentation and plenty of room for off-the-cuff-improvisation; no two shows are the same. Live looping allows two musicians to provide an unforgettable performance. Both members can be seen switching between a variety of instruments and equipment to create a one-of-a-kind musical experience. Influences by bands such as The Grateful Dead and The Allman Brothers Band inspire improvised jamming for a brand new artistic creation in each show which is enjoyed by the audience and the band alike, while influences from contemporary dance music and hip hop provide the solid electronic groove that carries each experiencer on their own journey through sound. Some genres one may hear at a DRJR show include electronic dance music, funk, psychedelic pop, progressive rock, hip hop, and jazz. Most often, a blend of all these genres and more can be expected. Doctor Junior brings the music festival experience to every performance with psychedelic rhythms, flowing melodic movements, and intricate sound manipulation which is the perfect atmosphere for people who enjoy dancing like no one is watching, grooving out with hula hoops, or simply closing their eyes and getting lost in the music. It doesn't matter what age, race, or gender you are: everyone needs to see The Doctor.

Organic loop jams. No mixes just from the synapse. Will post sound cloud once I've bothered to record.
The Vanguard and Bros. Houligan Present...
Petty Fox // Cherokee Rose // Doctor Junior
Sat Jan 4 2020 8:00 PM
(Doors 7:00 PM)
The Vanguard
Tulsa OK