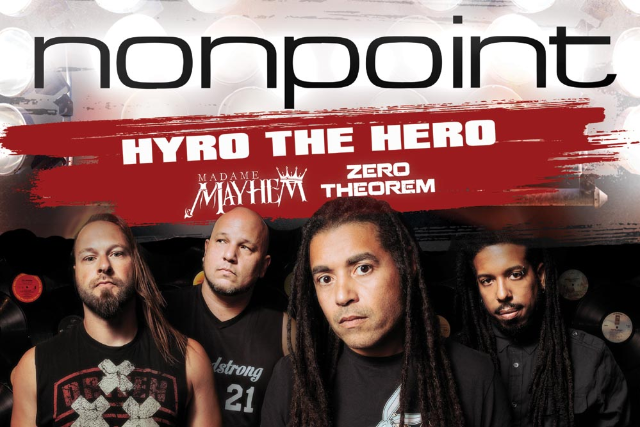 Wed Sep 25 2019
7:00 PM (Doors 6:30 PM)
34876 Emerald Coast Pkwy
Destin, FL 32541
$19.99 - $37.00
Ages 16+
99 Rock Presents
Nonpoint
Vocals – Elias Soriano
Drums - Robb Rivera
Guitar/Backing Vocals - Rasheed Thomas
Bass - Adam Woloszyn
Lead Guitar/Backing Vocals - BC Kochmit

Commitment to forward motion ensures longevity. After 20-plus years, ten full-length releases, countless sold out shows, and over one million albums sold worldwide, Nonpoint endure through sustaining an unbreakable bond among themselves and to a diehard fan base all over the globe.
"As long as people want us to keep writing records, we're going to keep writing records," exclaims Rivera. "We have a special understanding in the studio, and the chemistry has only gotten better. We live for every moment on stage. We don't want to ever stop."

In any cultural movement there are leaders and there are followers. But most importantly, there are those uniquely innovative provocateurs that take the familiar, turn it upside down, and burn it with new creative fire.
Like a b-boy mad scientist smashing the windows of the mainstream with a Molotov cocktail of passion and inspiration, Hyro The Hero takes the fusion of rap and rock and resurrects it. His combustible concoction is one part The Clash, one part Bad Brains, and several doses of reverence for hip-hop relevance. It's the most punk rock rap and the most hip-hop punk.

The Manhattan born singer/songwriter and burgeoning rock icon-in-the-making has weaponized the darkness, turning it into a rallying cry for all who were ever cast aside. Songs like "Broken," "War You Started," and "So Wrong" are equal parts timeless sentiment, bareknuckle fury, and energized urgency. Madame Mayhem's songs rival the best of Modern Rock, early '90s emotive-grunge, and nü-metal angst.
As her name suggests, Madame Mayhem takes charge of her own anxiety, hurt, and alienation, crushing it with sheer force of will, then channeling the remaining ether into pulse-pounding anthems, instantly connecting with anyone who has struggled.

Vocals – Caesar
Guitar – Roy Lev-Ari
Guitar – Max Georgiev
Bass - Eloy Palacios
Drums - Jake Hayden

Los Angeles-based Zero Theorem blends hard rock and metal with a dark science fiction aesthetic. Building off the independent release of their ATARAXIS EP (singles "Area" and "Becoming" peaked at #28 and #30 on BDS respectively), the band team up again with producer Kane Churko (Five Finger Death Punch, In This Moment, Hellyeah, Ozzy Ozbourne, Papa Roach) for the upcoming debut LP, THE KILLING. This collection will continue to evolve the band's modern metal sound while exploring new territory. Dynamic lighting combined with raw and intense performances highlight the live Zero Theorem experience. Vocalist Caesar states, "Heavy music itself is a lifestyle choice, and we strive to embody that with both substance and wit."
Zero Theorem's debut LP, THE KILLING, will be released in late fall through The Orchard on Shim Sham, LLC in connection with CMM GMBH/SAOL.