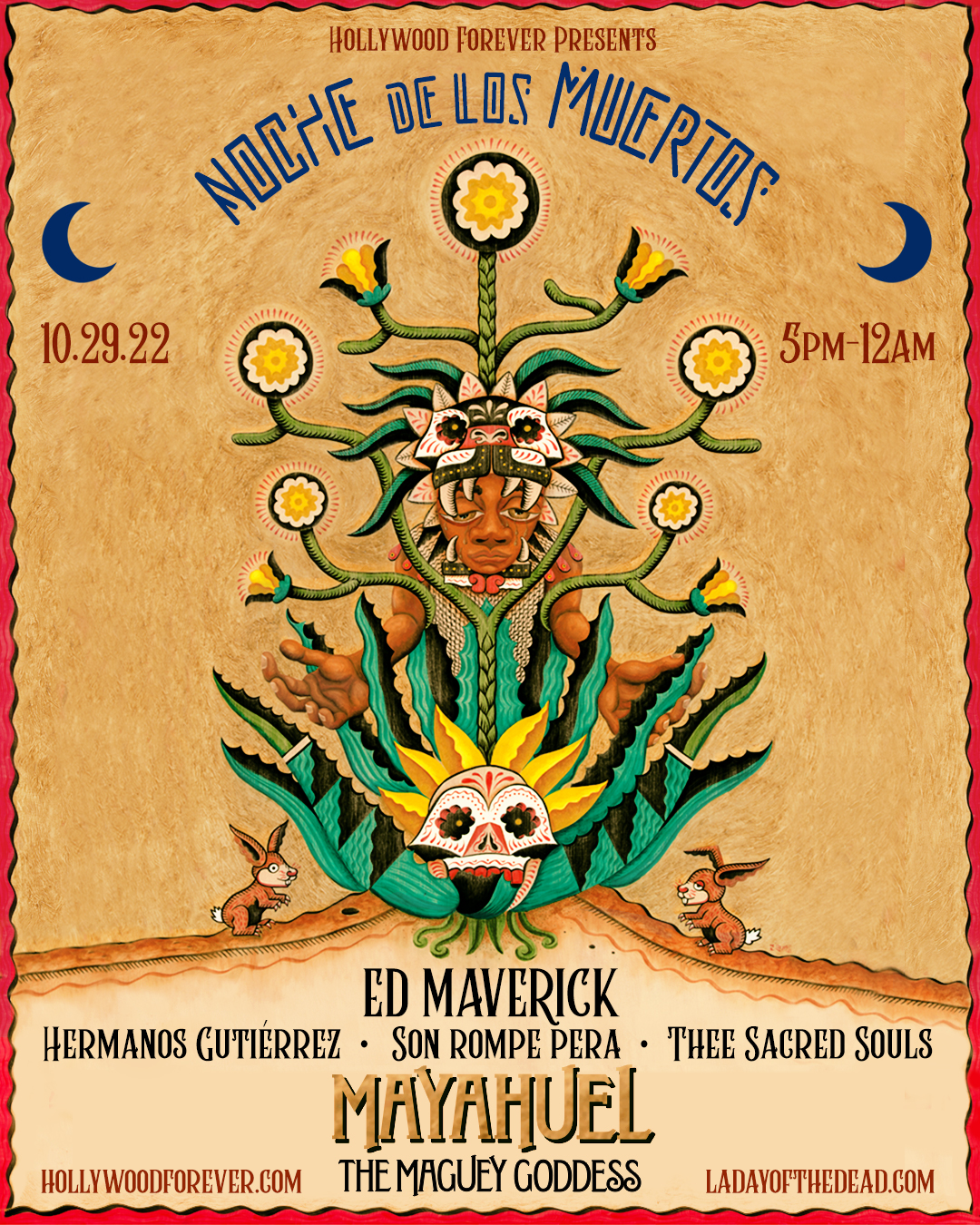 NOCHE DE LOS MUERTOS
MAYAHUEL – THE MAGUEY GODDESS
5PM GATES - 12AM CLOSING
THIS IS AN EVENING EVENT FEATURING ALTARS, ART EXHIBITIONS, AZTECS, TRADITIONAL DANCE, MUSICAL ARTISTS, CULTURAL PERFORMERS, ARTS AND CRAFTS VENDORS, AND CULINARY VENDORS.
THE EVENT ENDS AT MIDNIGHT WHEN ATTENDEES MUST THEN EXIT THE PARK
THE DAYTIME EVENT, DIA DE LOS MUERTOS, IS A DIFFERENT TICKET
EVENT WEBSITE : ladayofthedead.com
MAIN STAGE
Ed Maverick
Hermanos Gutiérrez
Son Rompe Pera
Thee Sacred Souls

EL FANDANGO STAGE
Son Cache
Angel Ng
Alebrijes en Vuelo
Incienso Mulato
Super Jem
Armija
Cunao
Ballet Eterna Juventud
Alas de Mujer
ALTARS EXHIBITION
Dozens of spectacular altars throughout the grounds viewable throughout the duration of the event.

CATHEDRAL ART EXHIBITION
Artist of the Year: Sabino Guiso
Krisztianna Ortiz • William Cervantes • Norma Rivera • John Galan • Patricia Anders • Inoe Vargas • Barbara Rivera • Karla Wong • Eriberto Aguilera • Sergio Rodriiguez
CEREMONIAL PROCESSION
6am Starts at Main Gate, proceeding through cemetery, returns to Main Gate
CONTESTS
Noche costume contest prize is $500
Dia y Noche altar contest prize is $5,000 per category

THEME ART OF THE YEAR : Brandon Maldonado

VIP TICKETS
The VIP ticket gives you access to the VIP Oasis in the middle of the event which includes access to paid premium food and beverage vendors, lounge seating, a private elevated main stage viewing area, cell phone charging stations, FREE WIFI and access to premium face painting vendors. Free beverage tastings on a first come first served basis.
PLEASE SEE WEBSITE FOR COMPLETE AND UP TO DATE INFORMATION ON THE EVENT

* LINEUP SUBJECT TO CHANGE AT ANY TIME *
* NO REFUNDS / NO EXCHANGES *
* RAIN OR SHINE *
* 5 AND UP REQUIRE TICKETS *
* NO PETS *
* NO OUTSIDE FOOD OR DRINK *
* NO CHAIRS *