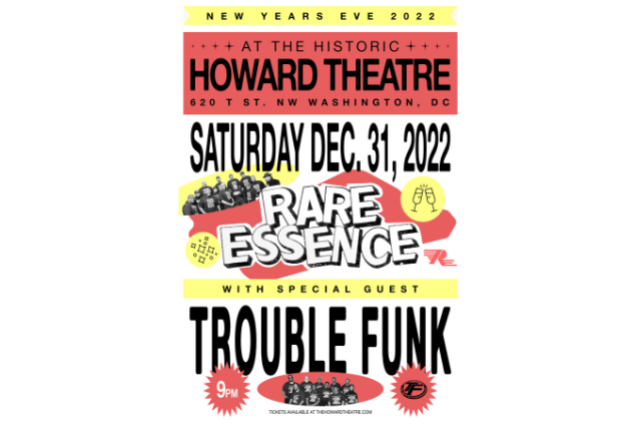 Sat Dec 31 2022
9:00 PM (Doors 8:00 PM)
620 T Street NW
Washington D.C., DC 20001
$50.00 - $75.00
Ages 21+
Union Stage Presents:
New Years Eve with Rare Essence + Trouble Funk
Trouble Funk burst onto the scene in the 1980's with signature hits "Pump Me Up", "Drop The Bomb", "Let's Get Small", "Say What?" and more. They toured the world alongside George Clinton, Red Hot Chilli Peppers, UB40 and Def Leppard. The band's music has been sampled by Will Smith, Public Enemy, EPMD and The Black Eyed Peas amongst many others.
Union Stage Presents:
New Years Eve with Rare Essence + Trouble Funk
Sat Dec 31 2022 9:00 PM
(Doors 8:00 PM)
Howard Theatre
Washington D.C. DC