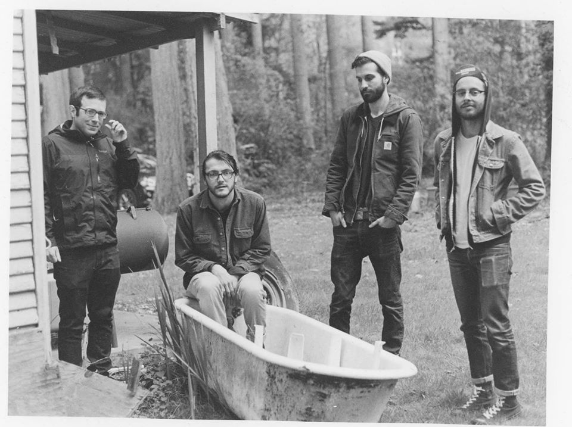 Wed Apr 15 2020
8:00 PM (Doors 7:30 PM)
5433 Ballard Avenue NW
Seattle, WA 98107
Ages 21+
myrrum,
Long Hallways,
Greet The Sea
Brian Boyle- Guitar.Synth.Clarinet
Tucker DeVault-Weaver- Drums.Samples
David Nielsen- Guitar.Synth.Tape.Organ
Sebastian Brown Glad- Bass.Samples.Tape.Electronics

Long Hallways transports listeners in an immersive experience. Since 2012, they have written from a broad palette, incorporating Jazz, Classical, Latin, Metal, and Electronic influences to the ambiance and crescendos associated with Post-Rock. Described as eclectic, orchestral, and cinematic, the music takes you down paths and landscapes as unexpected movements shift the mood.


Their debut album, "Live from Dystopia", released in 2013, was an early indicator of the band's potential, with forward-thinking composition and a unique blend of Post-Rock eclecticism. "The Way Home", released in 2017 and their first on Vinyl, took their song writing to a larger more layered scale with string orchestration.


Their latest 2019 release, "Close Your Eyes To Travel" ushered the band into national and international attention as a band with "both the vision and the chops to push post-rock in interesting directions" ~Ben Salmon, Portland Mercury. "A deeply personal yet ultimately expressive album, exploring the spaces between post-rock and jazz. It's morose at times but deeply hopeful at others" Eden Kupermintz ~Heavy Blog is Heavy

Seattle native band, Greet the Sea, emerged in late 2015 as the culmination of sonic expression between four friends. Blending sweeping soundscapes, drum-heavy grooves, anthemic crescendos, and grounded melodic vocals the quartet's sound is akin to their region of rainy weather, lush earthy colors, and foggy coastal highways.

After independently releasing their debut self-titled LP in November 2015, the group has performed live relentlessly across the Pacific Northwest, garnering a following while playing at iconic venues such as the Crocodile and Sunset Tavern.

Meanwhile, they've gained recognition with regular rotation across renowned radio stations like KEXP and "107.7 The End". The band was featured by NadaMucho.com as one of "41 Seattle bands to watch in 2016" with additional blogs, publications, and digital outlets echoing a consensus on the group's overall sound –

When I was a kid there were certain songs that, when played in the basement in a friend's house, we could listen to over and over, encapsulated in our little dream song music world. The songs were expressive, emotive, swelling and reflective. That's how I would describe "Take Shelter" by Greet the Sea. – The Monarch Review

Greet the Sea is currently performing live in support of their debut release, introducing new material, evolving their sound, and working towards a sophomore release.
myrrum,
Long Hallways,
Greet The Sea