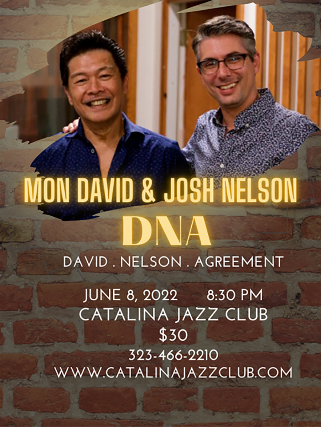 Wed Jun 8 2022
8:30 PM
6725 W. Sunset Blvd.
Hollywood, CA 90028
$30.00
All Ages
Mon remains one of the most inventive and creative singers on the L.A. scene and performs with deep connection to his material. The winner of the 2006 London International Vocal Jazz competition combines authentic musicianship and stagecraft with exceptional skill at both vocal improvisation and the interpretation of lyrics. Don Heckman of the International Review of Music says of Mon, "The Filipino singer Mon David is That rarity; a male jazz vocalist with a distinctly original style of his own – a remarkable voice able to leap octaves in a single bound combined with a world class scat singing style." Jazz critic Roger Crane writes, "Like Mark Murphy, whose singing he at times resembles, David can swing you into bad health and then, turn around and break your heart with a ballad."
Mon DAVID & Josh NELSON A special evening at Catalina's!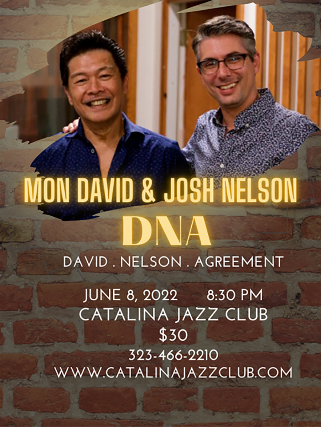 $30.00
All Ages
Mon remains one of the most inventive and creative singers on the L.A. scene and performs with deep connection to his material. The winner of the 2006 London International Vocal Jazz competition combines authentic musicianship and stagecraft with exceptional skill at both vocal improvisation and the interpretation of lyrics. Don Heckman of the International Review of Music says of Mon, "The Filipino singer Mon David is That rarity; a male jazz vocalist with a distinctly original style of his own – a remarkable voice able to leap octaves in a single bound combined with a world class scat singing style." Jazz critic Roger Crane writes, "Like Mark Murphy, whose singing he at times resembles, David can swing you into bad health and then, turn around and break your heart with a ballad."