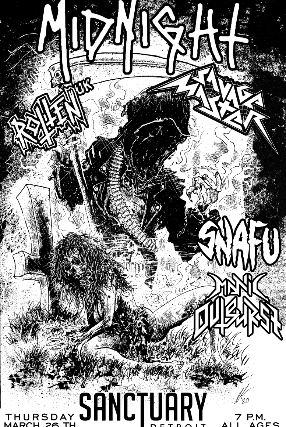 Thu Mar 26 2020
7:00 PM
2932 Caniff St
Hamtramck, MI 48212
All Ages
Midnight, Savage Master and Rotten
By now, Midnight need no introduction. Guided by the twisted muse of mainman Athenar since
2003, this Cleveland cult have been slaying the metal/punk underground with their own, highly
addictive brand of lust, filth, and sleaze, subsequently building up a sizable catalog and
garnering a rabid fanbase. While there are certainly fanatics for the band's early EP work, it was
Midnight's debut album, Satanic Royalty - released to international fanfare in 2011 - that entered
the band's name into the annals of "classic" Never one to rush things (nor drop an EP along the
way), Midnight continued their underground dominance with No Mercy for Mayhem in 2014,
further perfecting their signature sound. The band's massively anticipated third album, Sweet
Death and Ecstasy, Athenar and co. showed the band return with their darkest and most daring
effort to date.
Midnight, Savage Master and Rotten