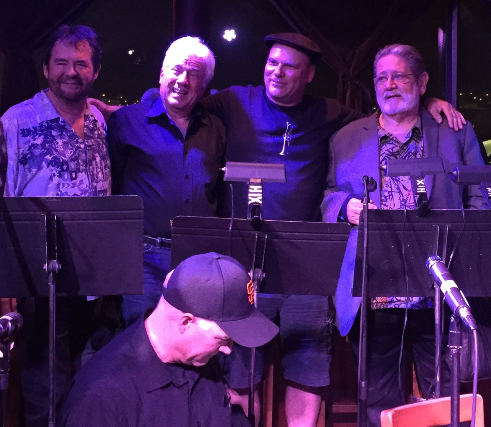 Tue Sep 24 2019
8:30 PM
6725 W. Sunset Blvd.
Hollywood, CA 90028
$20.00
All Ages
Mark Hix is a native of Venice, California and he formed his Big Band in 1995 and has been performing in Los Angeles and Orange Counties ever since. The fabulous Meloney Collins joined the band in January 2010 as the featured vocalist. Mark Hix played trumpet for nine years in Disneyland's "A Very Merry Christmas Parade" and "A Christmas Fantasy" parade. He also played Fanfare Trumpet during Disneyland's 50th Birthday Celebration. Mark was the trumpet player for the 1993 inaugural season of the "Anaheim Mighty Ducks" NHL team. In 1994, Mark played Lead Trumpet during a 2 week Australian Jazz Tour for World Projects International. He also played Lead Trumpet for the 1997 Maui International Jazz Festival Big Band. Mark Hix has performed with Jazz greats such as Lanny Morgan, Sal Lozano, Pete Christlieb, Bill Holman, Bruce Babad, John Thomas, Pete and Conte Candoli, Chuck Findley, Don Rader, Bobby Shew, Carl Saunders, Bob Summers, Harry Kim, Roger Ingram, Bill Watrous, Alex Iles, Andy Martin, Alan Kaplan, Charlie Morillas and The U.S. Air Force "Airmen of Note" and "Falconaires" Big Bands. Mark has been the featured soloist for various bands throughout Southern Colorado in the last several years. The Mark Hix Big Band is comprised of current and former members of the Count Basie Orchestra, Maynard Ferguson's Big Bop Nouveau, The Louie Bellson Big Band, The Chick Corea Band, The Brian Setzer Orchestra, Big Bad Voodoo Daddy and the Disneyland Band. The Mark Hix Big Band plays music from the Buddy Rich, Maynard Ferguson, Count Basie, Woody Herman, Gordon Goodwin, Sammy Nestico, Quincy Jones, Duke Ellington and Ted Heath bands. Stop by Catalina Jazz Club and hear one of the most exciting big bands currently performing in Los Angeles and Orange Counties. You can see recordings of his band at Steamers and Typhoon on youtube.com
Catalina Bar & Grill
Mark HIX Big Band "A Tribute to Count Basie"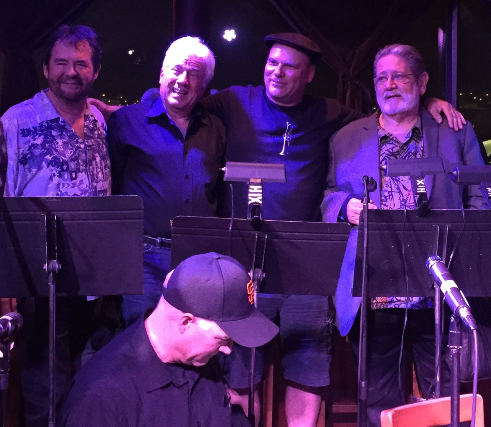 $20.00
All Ages
Mark Hix is a native of Venice, California and he formed his Big Band in 1995 and has been performing in Los Angeles and Orange Counties ever since. The fabulous Meloney Collins joined the band in January 2010 as the featured vocalist. Mark Hix played trumpet for nine years in Disneyland's "A Very Merry Christmas Parade" and "A Christmas Fantasy" parade. He also played Fanfare Trumpet during Disneyland's 50th Birthday Celebration. Mark was the trumpet player for the 1993 inaugural season of the "Anaheim Mighty Ducks" NHL team. In 1994, Mark played Lead Trumpet during a 2 week Australian Jazz Tour for World Projects International. He also played Lead Trumpet for the 1997 Maui International Jazz Festival Big Band. Mark Hix has performed with Jazz greats such as Lanny Morgan, Sal Lozano, Pete Christlieb, Bill Holman, Bruce Babad, John Thomas, Pete and Conte Candoli, Chuck Findley, Don Rader, Bobby Shew, Carl Saunders, Bob Summers, Harry Kim, Roger Ingram, Bill Watrous, Alex Iles, Andy Martin, Alan Kaplan, Charlie Morillas and The U.S. Air Force "Airmen of Note" and "Falconaires" Big Bands. Mark has been the featured soloist for various bands throughout Southern Colorado in the last several years. The Mark Hix Big Band is comprised of current and former members of the Count Basie Orchestra, Maynard Ferguson's Big Bop Nouveau, The Louie Bellson Big Band, The Chick Corea Band, The Brian Setzer Orchestra, Big Bad Voodoo Daddy and the Disneyland Band. The Mark Hix Big Band plays music from the Buddy Rich, Maynard Ferguson, Count Basie, Woody Herman, Gordon Goodwin, Sammy Nestico, Quincy Jones, Duke Ellington and Ted Heath bands. Stop by Catalina Jazz Club and hear one of the most exciting big bands currently performing in Los Angeles and Orange Counties. You can see recordings of his band at Steamers and Typhoon on youtube.com