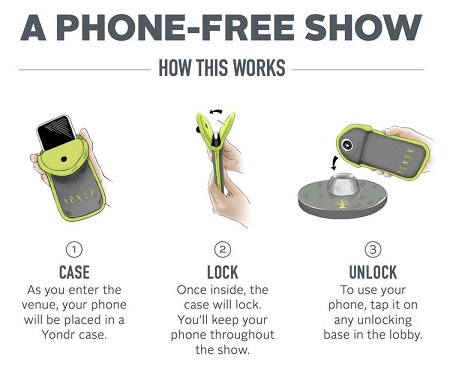 This event will be a phone-free experience. Use of cellphones, smart watches, smart accessories, cameras or recording devices will not be permitted in the performance space.
Upon arrival at the venue, all phones and smart watches will be secured in Yondr cases that will be opened at the end of the event. Guests maintain possession of their phones at all times, and can access their phones throughout the show at designated Phone Use Areas in the venue. All phones will be re-secured in Yondr cases before returning to the performance space.
Anyone seen using a cellphone during the performance will be [escorted out of the venue/given a warning first and then escorted out]. We appreciate your cooperation in creating a phone-free viewing experience.
For more information, visit www.overyondr.com/faq

Guest will be wanded upon entry.

Anyone with any cameras, laptops, or other devices will be asked to return those items to thier car.

Louis CK is trying new material. XXX Adults only.

Louis CK owns all rights in the content and materials, including any jokes and sketches (the "Materials"), delivered during his performance. The Materials may not be copied, translated, transmitted, displayed, distributed, or reproduced verbatim (the "Use"), in whole or in part, in any form, media, or technology now known or later developed, without the express prior written consent of Louis CK. Any Use of the Materials without the express prior written consent of Louis CK is strictly prohibited and shall be subject to all available legal remedies, whether in equity or at law at the cost of anyone who violates this prohibition. Recording of any kind, including note taking, is not permitting in the show room. You will be asked to leave.

HOUSTON IMPROV is located in the Marq'E Entertainment Center, across from the Edward's Theater. We are an intimate venue with a full bar & restaurant, where you can enjoy performances of world renowned and local comics alike.
We provide table service throughout the show with a
full dining menu
.
*Please Note:
You may be sharing a table with another party.