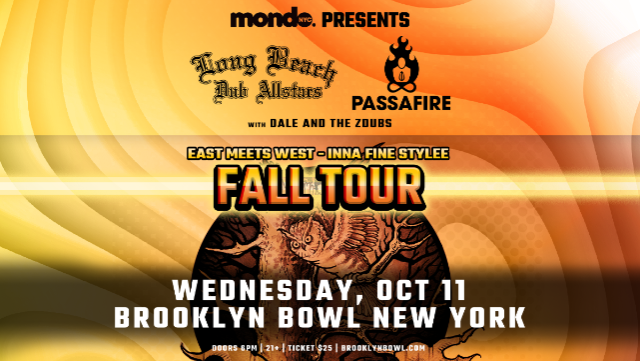 Wed Oct 11 2023
7:30 PM (Doors 6:00 PM)
61 Wythe Avenue
Brooklyn, NY 11211
$25
Ages 21+
Valid photo ID required at door for entry
Doors: 6:00 PM
Show: 7:30 PM
Mondo.NYC Presents
Long Beach Dub Allstars x Passafire
After making their triumphant return in 2020 with their self-titled album, Long Beach Dub Allstars are taking it all the way back-to-basics on their new album "Echo Mountain High". The album will take listeners on a trip through a psychedelic mountain range of musical madness filled with reggae, rock, ska, hip hop, hard dub, and soul.

When the pandemic hit, tour was cancelled and the band was put down for about a bit. After about a year, Long Beach Dub Allstars, Opie Ortiz and Edwin Kampwirth got busy and started to write some songs. Setting up their own personal musical "resort" in Opie's yard, the duo began to demo new tracks. This "resort sesh" led to the creation of 18 demos that would become the seeds of "Echo Mountain High".

The band began working with Long Beach Dub Allstars guitarist Michael "Miguel" Happoldt to help figure out which of the songs to focus on. 13 songs were chosen and sent the band. With the full band tracking straight to tape at Tracking at 64 Sound, the canvas and frame were built and it was now time to paint. So then off to record overdubs with the great Lewis "Lew" Richards at 17th Street Recording studios , as well as at Mike and Tim's home studios. Within a year, the album was completed.

"This release is extra special because after the pandemic, I honestly didn't know if we had another album in us," commented Long Beach Dub Allstars bassist Edwin Kampwirth. "The way Opie, myself and the crew came together to work on this album was really amazing to me. Everyone got busy, did their parts and treated these songs with respect and love. The last album was really beautiful, but it was very mellow. To me, 'Echo Mountain High' is the wild album that needed to happen. We took some chances, broke down some barriers and now the floodgates are open."

Long Beach Dub Allstars have always taken chances and have never been afraid to chart into unknown musical territory. "Echo Mountain High" sees them experimenting with some heavy psychedelics and finds the band playing some hard classic dub anthems along with some wild experiments, showcasing the band's free spirit and fearlessness to venture into the unknown.

Opie Ortiz describes the sound "I feel with the self-titled album, it was an old-time vibe we were going for, and Cameron Webb has more of a punk-rock approach. This new album has more of a soul feel to it, and we experimented with a bunch of sounds like Roger playing a mellotron on 'Fly So High', which gave it a sort of Beatles 'Strawberry Fields' vibe. "

Joining the Dub Allstars on this mind-altering musical journey are Chris Dowd (Fishbone), who adds his trombone flavor to one track, some sweet vocals on another and some of his iconic keys on two others. Devin Morrison (Expanders/Man Like Devin) and Jesse Wagner (Aggrolites), lend some singing on a few tracks. Philieano (Doobie Raider) jumps on two tracks to rap and sing some harmonies, and local Long Beach ripper, Travis Goertz, plays a little slide guitar on one track.

The album's first single "Precious Time" was inspired by the 2011 Tōhoku earthquake and tsunami that took the lives of nearly 16,000 people and injured thousands of others. Frontman Opie Ortiz was visiting when the earthquake happened and the harrowing experience stuck with him.

"I was there when it happened visiting my brother Philieano, but luckily we were on the west side in Nagasaki," he remembers. "It was a real eye opener being in a different country in a state of emergency. I was speaking with a person in our crew who played guitar with the One Big Family Band, his name is Yuichiro Oku, and he said I should write a song and call it 'Precious Time' because time is precious."

Today's generation of reggae-rock fans may not fully understand how critical this group was to the reggae-rock genre, following Sublime's conclusion in 1996. They played at a time when social media was non-existent. Live-videos of their early performances are mostly of grainy VHS quality, while most live-photos shot by fans were with throw-away cameras. There was no Youtube, Facebook, and this was before Myspace or even iTunes. They were the torch bearers of a genre that Sublime introduced and the original 'Dub Allstars lineup included most of the players who were involved in cultivating that Reggae-Rock sound with Brad Nowell. Seeing them reunite and perform new music after a 15-year absence is exciting. Together these musical professors and legends from Long Beach have engineered a new studio album that adds to the legacy of Long Beach Dub Allstars. 25 years later the band has found its resurgence with Opie Ortiz(vocals), Miguel Happoldt (guitar), Tim Wu (horns) joined by Roger Rivas (keys), Ed Kampwirth (bass) and Gil Sharone(drums).

"Echo Mountain High" rolls through the mountainside with some wild contact highs along the way with songs about youth, ghosts, police brutality, love, hate, life, death and mushrooms.

Passafire's single, Keepin' On, serves as a mission statement for the veteran rock-reggae outfit as they continue to forge ahead through their second decade of reimagining the boundaries of the current rock-reggae landscape. Unflinchingly optimistic, Keepin' On shows off what Passafire does best: expertly blending the macro/political and the micro/personal. The rock-steady anthem weaves together Passafire's take on global warming, economic uncertainty, and technology's threat to personal privacy with the band's dedication to survival, intent on thriving by any means necessary.

"We are very grateful to be where we're at with awesome fans that sustain and support us," said Passafire's bassist Will Kubley. "But every band wants to get to the next level" quickly pointed out lead guitarist/lead singer Ted Bowne. "We keep reaching new milestones and having new meaningful events, but we still have many ambitions we want to achieve. So we've got to keep going until we do."

Passafire released their 7th full length album, STRATA, in September 2021 on their own independent label, Flameguy Records. You can find Passafire on tour in support of the release.

Since forming in 2003, Passafire has released a total of six studio albums and boasts credits like producing with Paul Leary (Sublime, Pepper, U2, Slightly Stoopid), #1 albums on both the Billboard and iTunes Reggae charts, and sharing stages with rock-reggae OGs 311 and Pepper, and legends Toots & the Maytals, the Wailers, and John Brown's Body, who in the band's early years, inspired them to explore reggae with a gritty edge.

"We like to mix tight, clean reggae grooves with distorted guitar riffs" insisted Ted, "We're '90s kids," added Will, "we love rock, hip-hop and metal equally. It was always natural for us to straddle the line between genres."

Passafire's name is a take-off on The Wailers' classic Catch a Fire album and the band's hypervigilance towards honoring the culture without appropriating it combined with their unwavering dedication to the expansion of their skills as musicians, producers and songwriters, has led the band to create a sound that stands out from their peers.
Mondo.NYC Presents
Long Beach Dub Allstars x Passafire
Wed Oct 11 2023 7:30 PM
(Doors 6:00 PM)
Brooklyn Bowl
Brooklyn NY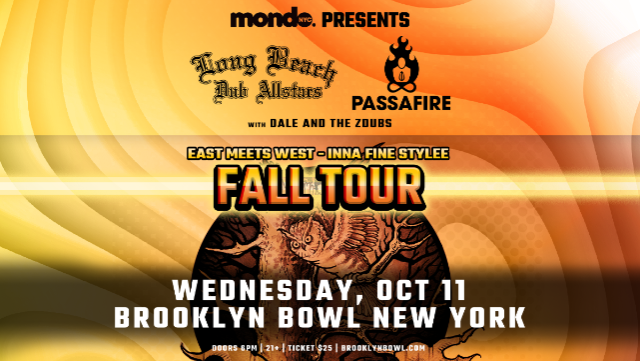 $25
Ages 21+
Valid photo ID required at door for entry
Doors: 6:00 PM
Show: 7:30 PM