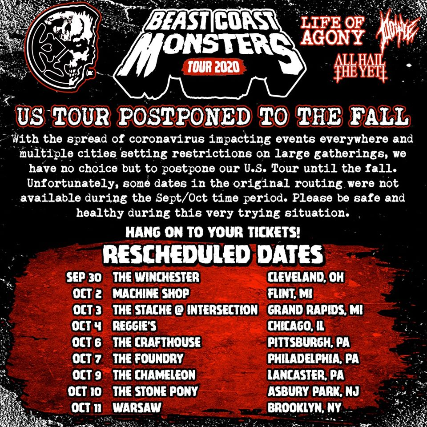 Fri Mar 27 2020
7:00 PM
2109 South State Street
Chicago, IL 60616
$20 cover
Ages 17+
Reggies Rock Club
7pm doors / 17+ / $20

Life of Agony
Doyle
All Hail the Yeti

Empire Productions presents
Life of Agony
Life of Agony is a hard rock/metal crossover band from Brooklyn, NY. Best known for their debut album "River Runs Red", LOA has shared stages with the biggest names in rock for over two decades, including Metallica, Black Sabbath, and Slipknot, and has sold over 1 million records worldwide. Other studio albums include "Ugly", "Soul Searching Sun", "Broken Valley" and "A Place Where There's No More Pain." New studio album "The Sound of Scars" is due Oct. 11, 2019 (Napalm Records).

Legendary guitarist Doyle Wolfgang Von Frankenstein has broken new ground with his solo project, "DOYLE". A horror based hardrock/metal band of epic proportions. Still grinding out heavy riffs is the hulking monster himself, Doyle of MISFITS fame,and Alex Story from 'Cancerslug provides vocals filled with misanthropic rage, while still capturing the beauty of the dark side. Solidifying the quartet is Graham (ex-Graves, ex-Let It Burn) on bass, unifying the skull crushing sound that is the machine Doyle himself has put together. DOYLE cranks out music as scary as the Misfits, as doom laden as Black Sabbath, and has the same hard-hitting in your face style of metal as Motorhead or Slayer.


As the moniker cryptically suggests, the music of ALL HAIL THE YETI evokes a hair-raising mixture of superstitious ritual and trippy backwoods folklore. It's all drenched in the countercultural, mind-smashing, gut-punching bile of likeminded spiritual shamans like Acid Bath and Eyehategod, with the down-tuned sludge of stoner rock, and an electric injection from four-on-the-floor classic rock pioneers.

It's a style of music and approach to songwriting and performance that has made ALL HAIL THE YETI equally at home in front of diverse crowds, sharing touring bills in the United States and Europe with bands like In This Moment, Motionless In White, Max & Iggor Cavalera, Hollywood Undead, 36 Crazy Fists, and Life Of Agony.

Heavy music adherents weaned on anything from Metallica and Pantera to metalcore, Southern groove, black metal, or stoner grind will find a home among the All Hail The Yeti faithful, as evidenced by stellar slabs Highway Crosses (2018), Screams from a Black Wilderness (2016), and their self-titled debut. Whether kicking back at the Bucket of Blood Saloon in Nevada or reading true crime books in Deadwood, ALL HAIL THE YETI is the perfect soundtrack for the outsider. If rock is a big beach bonfire, ALL HAIL THE YETI are the creeps huddled in the backwoods.
Empire Productions presents
Life of Agony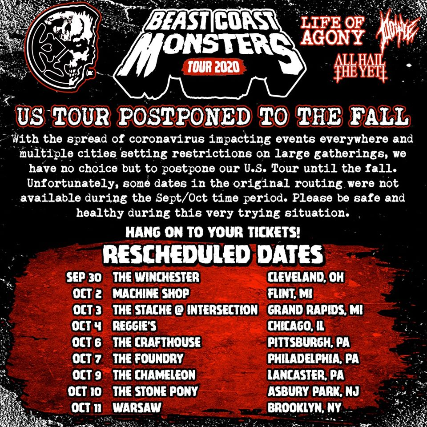 $20 cover
Ages 17+
Reggies Rock Club
7pm doors / 17+ / $20

Life of Agony
Doyle
All Hail the Yeti