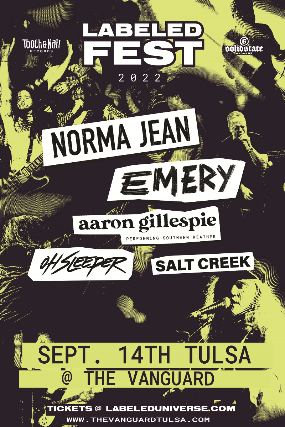 Wed Sep 14 2022
6:30 PM (Doors 5:30 PM)
222 N Main St
Tulsa, OK 74103
$25 adv // $30 dos
All Ages
The Vanguard and Bros Houligan Present...
LABELED FEST feat. Emery + Norma Jean
Seattle combo Emery rose to national success in the mid-2000s, combining an alternative pop/rock foundation with elements of screamo, melodic hardcore, and overt Christian themes. Settling in with prominent indie label Tooth & Nail, the band released a series of respected albums that traversed Billboard's pop and Christian charts, with 2009's highlight ...In Shallow Seas We Sail, topping the latter. See-sawing back and forth between their softer pop and heavier post-hardcore styles, Emery later struck out on their own with albums like 2015's You Were Never Alone and 2018's Eve, which appeared on their own BadChristian imprint. Formed in South Carolina in 2001, the band originally included the talents of recent college graduates Toby Morrell (vocals, guitar), Matt Carter (guitar), Joel Green (bass), Devin Shelton (guitar), Josh Head (keyboards), and Seth Studley (drums). After weighing their options, Emery's members decided that Seattle would be a better environment for a burgeoning band, prompting the group to move westward in September 2001. Once established in the Emerald City, Emery signed with the Seattle-based Tooth & Nail label, which united them with producer/engineer Ed Rose for the creation of the band's debut album. The Weak's End appeared in January 2004, followed by The Question in August 2005. Drummer Seth Studley left before the latter album's release, however, prompting the group to enlist Dave Powell as his replacement. One year later, bassist Joel Green also left the band, although the bandmates opted to relegate bass duties to guitarists Morrell and Shelton rather than admit a new member. I'm Only a Man arrived in 2007 and signaled a new direction for the band, whose newfound use of synthesizers and increasingly melodic singing contrasted with the harsher sounds of Emery's previous work. One year later, however, the musicians reverted to their original sound with the While Broken Hearts Prevail EP, while 2009's ...In Shallow Seas We Sail proved to be a mix of both styles. In 2011, the band parted ways with guitarist Devin Shelton, but managed to soldier on without him, releasing the heavier We Do What We Want later that year. In the late summer of 2013, they issued an eponymous recording on their own BadChristian music label. You Were Never Alone, the group's sixth studio album and second outing for BadChristian, arrived in 2015, followed by the crowd-funded Revival: Emery Classics Reimagined in 2017. Returning in 2018, Emery offered up their thoughtful and melodic seventh outing, Eve. ~ Alex Henderson, Rovi

Norma Jean is an American progressive heavy rock band, originally from Atlanta, Georgia and currently based in Fort Smith, Arkansas. After nearly 20 years, the band identifies more as an artistic collective than a traditional band. To date, Norma Jean has released seven studio albums and received a Grammy Award nomination in 2006. Their most ambitious album to date, Polar Similar was released in 2016. The first single, 1,00,000 Watts was premiered by NPR in a Viking's Choice review, which said of the track, "1,000,000 Watts grooves and lashes out wildly like a caged animal, but more than ever Norma Jean colorsthe chaos with brooding hues. Stomping riffs alternate with angular and delayed guitar melodies in a grey haze as Cory Brandan builds his moody croons into raging screams," and compares the release to Nine Inch Nails. Polar Similar was recorded at Pachyderm Studio, the legendary birthplace of Nirvana's In Utero and Failure's Comfort, lending to the elevated sound and tone of the album.

Known for their work in Underoath and The Almost

An American metalcore group based out of the Lone Star State, Oh, Sleeper emerged in 2006 out of the ashes of the Christian emo/post-hardcore unit Terminal, who ceased operations following the release of their debut (and only) album How the Lonely Keep. Oh, Sleeper perfected their tech-heavy attack, clean/scream singing, and dark atmospherics via chart-topping albums like When I Am God (2007), Son of the Morning (2009) and Children of Fire (2011), before going on hiatus in 2013. They returned in 2019 with their long-awaited fourth studio long-player Bloodied/Unbowed. The band was founded in Fort Worth, Texas by ex-Terminal members Ryan Conley (drums), Lucas Starr (bass), and James Erwin (guitar), along with Micah Kinard (unclean vocals) and former Between the Buried and Me guitarist Shane Blay (guitar, clean vocals). Taking their name from a passage in the New Testament's Epistle to the Ephesians ("Therefore it says, 'Awake, O sleeper, and arise from the dead, and Christ will shine on you"), the newly-minted quintet issued their debut EP The Armored March in late 2006. They were scooped up by Solid State Records the following year, with whom they released their first full-length effort When I Am God, which featured re-recorded versions of the songs from The Armored March, alongside several new recordings. Conley left after a tour with Norma Jean in support of the album, and was replaced by new drummer Matt Davis, who made his first studio appearance on 2009's ambitious Son of the Morning. A concept LP concerning an apocalyptic battle between God and Satan, it was the band's highest charting outing to date, cracking the Billboard Top 200 albums chart and rising to the upper echelons of the hard rock and Christian albums charts. Bassist Starr was the next to leave the fold, making room for Nate Grady, who made his debut on 2011's Children of Fire. Another narrative-driven set, this time dealing with the aftermath of the rapture that occured at the end of Son of the Morning, the album made an even stronger showing than its predecessor, climbing to number one on the hard rock albums chart. Guitarist James Erwin announced his departure in 2012, resulting in Grady taking over guitar duties while passing the bass to Johno Erickson, formerly of Sky Eats Airplane. Having fulfilled their contract with Solid State, the band used crowdfunding to help underwrite their next release. The resulting sci-fi-themed EP The Titan arrived in 2013. Later that year Oh, Sleeper would go on hiatus, allowing Shane Blay to join up with members of As I Lay Dying to front a new project called Wovenwar. In 2017 the band returned to the studio and released the single "Oxygen", with a second single, "Decimation & Burial", arriving the following year. 2018 also saw the group return to Solid State Records and announce the impending arrival of a new full-length effort -- former bassist and co-founder Lucas Starr passed away in December of that year after a four month battle with cancer. A third single, "Fissure", was released in January 2019, with Bloodied/Unbowed arriving later that July. ~ James Christopher Monger, Rovi

Indie Rock from Lincoln, NE
The Vanguard and Bros Houligan Present...
LABELED FEST feat. Emery + Norma Jean
Wed Sep 14 2022 6:30 PM
(Doors 5:30 PM)
The Vanguard
Tulsa OK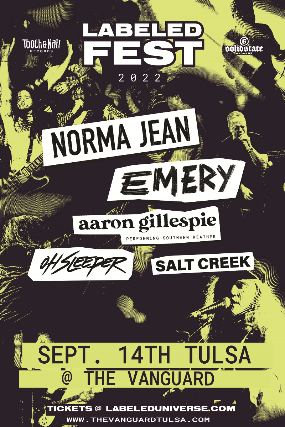 $25 adv // $30 dos
All Ages