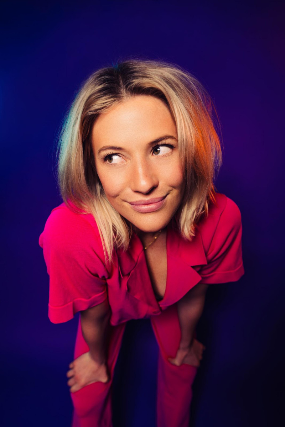 Fri Dec 9 2022
7:00 PM (Doors 6:00 PM)
2505 1st Ave
Seattle, WA 98121
$22.00
Ages 21+
The Crocodile Presents:
Katherine Blanford,
Lisa Wallen ,
Courtney Byrd
Katherine Blanford has brought her human Golden Retriever presence to stages across the country where she has shared the stage with the likes of Jeff Foxworthy, David Spade and Ron White. She shares true confessions of a washed up Pediatric Waste Management Specialist (a nanny) and war stories from the front lines of brunch. Her humor has taken her to festivals across the nation including Limestone Comedy Festival, Laughing Skull Comedy Festival, 10,000 Laughs, Burning Bridges Festival and Red Clay Festival. Her debut album, Salt Daddy, released in June 2022 and hit #1 on ITunes Comedy Charts. You can catch her weekly co-hosting her podcast, Cheaties, with fellow ATL comedian, Lace Larrabee. The juicy series follows two comedians interviewing guests about their personal stories of cheating and being cheated on and helping each other heal through laughter. Cheaties has been consecutively ranked in Podcast Magazine's Hot 50 and continues to climb the charts.

Lisa Wallen is a stand-up comedian, partnered Twitch streamer, and a huge nerd who's incredibly online. She's a professional dork on-camera and stage and has performed in some pretty sweet places such as Japan, Vietnam, Anime Expo in Los Angeles, and Spokane, WA. She's also a content creator for Evil Geniuses and hosts the Lisa's Lair show on Twitch

Courtney Byrd is a PNW native, having grown up halfway between Seattle & Portland. She moved to Seattle to pursue big dreams of walking dogs, and has made a name for herself among the K9 community. She started comedy in 2019 and you can find her performing all across the Northwest. She's the co-host of the Pretty/Dumb Podcast and is the producer of Lady Bits, an all-female monthly showcase.
The Crocodile Presents:
Katherine Blanford,
Lisa Wallen ,
Courtney Byrd
Fri Dec 9 2022 7:00 PM
(Doors 6:00 PM)
Here - After
Seattle WA