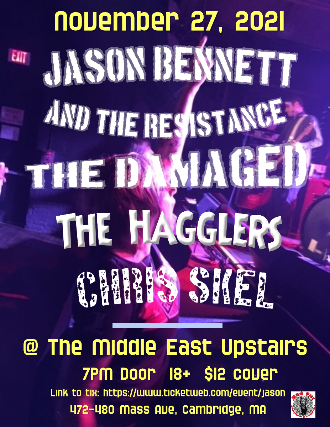 Sat Nov 27 2021
8:00 PM (Doors 7:00 PM)
472 Massachusetts Ave
Cambridge, MA 02139
$12.00
Ages 18+
The Middle East presents:
Jason Bennett and The Resistance,
The Damaged,
The Hagglers,
Chris Skel
Jason Bennett & the Resistance worked with producer Benny Grotto in Mad Oak Studios to release a 7-song EP entitled Heavy Weather on 27 September 2016 with The Levellers at Brighton Music Hall. With a new line-up featuring Jeff Swann on Lead Guitar, Aria Rad (fmr. Radicals) on bass, and Matthew Bulmers Trainor (fmr. Radicals) on drums, the band's new release takes a no-holds-barred approach to politics and passion. The music departs from earlier recordings by incorporating the influence of Elvis Costello-like melodies and harmonies with Bennett's renowned Strummer-sounding vocals.
The Middle East presents:
Jason Bennett and The Resistance,
The Damaged,
The Hagglers,
Chris Skel