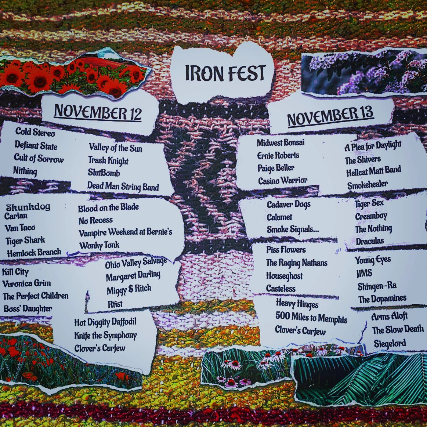 Fri Nov 12 2021
6:30 PM (Doors 6:00 PM)
111 E Sixth Street
Newport, KY 41071
$5 Advance $10 Day Of
Ages 18+
Full Lineup TBA! Check back soon for updates!
In your face Thrash Punk. It's garbage day and we are Trash Knight

Doom Metal from Cincinnati, Ohio

Down to hell and back again is one way to put the feeling behind a lot of the songs currently coming from Dead Man String Band fronted by Northern Kentucky's Rob McAllister. With songs of loss, persistence, and a little tongue in cheek.
Dead Man String Band has headlined the stage at Fountain Square (Cincinnati), played Bunbury Music Festival, headlined the CincyMusic Relaunch Party (2016), and is a staple in the Northern Kentucky and Cincinnati Music Scene.

"If The Melvins and Siouxsie and the Banshees got into a knife fight with Monster Magnet, and everybody lost."

With a closet full of boots, a heart full of wander and a soul full of songs, the charming and multi-talented Kentucky "Wonky Tonk" woman releases her debut album Stuff We Leave Behind in hopes of continuing her Wonky ways with a lighter heart in lieu of finding the Neverland in all of

Jasmine Lorraine "Wonky Tonk" Poole grew up in the hard scrabble portion of the American heartland. Kentucky, to be precise. Her world of loss and longing is familiar terrain for lovers of country, bluegrass and folk music but, just as Kentucky can be viewed as a bridge between north and south, Wonk's music blends elements of Indie/Alternative rock with old school country. It's hard to separate the wonk from the tonk. Nor should you try.

Wonk's influences, John Prine, Guy Clark, Modest Mouse and Loretta Lynn among them (especially Loretta), are apparent but her music is not derivative. Loretta, Skeeter Davis, Iris Dement and Jenny Lewis come to mind but none of her comparables quite pin her down. Wonk is her own cowgirl. "Cowgirls get up in the morning, decide what to do and do it", she was told as a child. Fiercely independent but naturally shy Jasmine uses her alter ego and blue cowgirl boots to deal with the notion of impossibly cruel but equally exhilarating existence.

One byproduct of youthful innocence is a constant disappointing, bewildering surprise:

You used to call me baby
You used to call me darlin'
Now you don't call me at all

Another is vulnerability and manipulability:

In the greasy ballroom
You whispered in my ear
Darlin' life is a gamble, romance a drug
The whole world is dancin'
Won't you give in and love


Her eleven song debut release Stuff We Leave Behind deals with the necessity of moving on at critical points in your life. Stuff that once seemed important must be cast aside, ex-lovers relegated to the shadows. "Heartbreak makes the jukebox play", she was once told. Her song titles reflect her wandering spirit and a fascination with time and place. "Cleveland." "Denmark." "Tennessee." "Montague Road." A veteran troubadour at such a tender age, Wonk has toured Europe with the same restless drive as her native Northern Kentucky.

Tom Robbins told us that even Cowgirls Get the Blues but all is not remorse and regret. Jangly sunshine pops through the clouds unexpectedly, such as in "Parkland Avenue" (arguably the best track). Though softly. Without the glare.

Wonk's lyrics are worth a read even without the music. The album tracks her evolution as an artist and a person. The gravel, rutted road to an emerging wisdom.

Tennessee didn't you hear
Money's not real and neither is fear


Pay attention to Wonk. Not just because she is talented and beautiful. Pay attention because she has an important purpose. To help you remember. To help you forget. Or to help you remember why you chose to forget.
With love from Kentucky,


Wonky Tonk

Kill City was formed in the summer of 2004 by Johnny SeX, Kevin Apgar, Rick Three, Turbo and Greg Beale. The band has an in your face style and approach that combines several different influences such as '77 style punk, 70's glam, '80s sleaze and blues based rock n roll resulting in an absolutely explosive live show. They quickly rose to prominence making a huge dent in the local/regional Ohio scene releasing their own four song EP titled "Destroy All Whitebelts" (which sold out almost immediately) and have opened for such notable national and international acts as The Bronx, Electric Frankenstein, The BellRays, The Biters, Broken Teeth, American Dog and Gito Gito Hustler to name a select few.

Locally, the band has been featured in magazines like CityBeat and CinWeekly, and were featured on the cover of CityBeat recognized as a co-headliner for Cincinnati's biggest and longest running punk festival, Cincy Punk Fest. In 2006 Kill City were proudly nominated for best punk artist at the Cincinnati Entertainment Awards. The band were also featured in the well respected UK based Classic Rock Magazine and were handpicked by none other than Sleazegrinder himself to be included on the accompanying compilation titled "Sons of Guns" which contained original songs from several modern day artists who were strongly influenced by Guns N' Roses. The band has since released a self financed debut disc in 2008 titled "I'll Keep Telling The Same Lie… ...One Day You'll Believe It."

That release contained 7 songs full of hooks and hard hitting guitar laden rock and roll featuring Rick Three as the main vocalist.

As time passed, personnel changes were endured and after the untimely passing of late drummer Jason May, Kill City decided to take a necessary hiatus but returned again in late 2014 with a new lineup consisting of the return of Johnny SeX to front the band, Kevin Apgar still at the guitar spot, Sean Rokken once again claiming the drum throne and new member but longtime friend Sean Sleaze manning the bass slot and just in time for a second CEA nod. In 2015, Nato Halley replaced Sean Sleaze and the band continues to consistently separate themselves as cold blooded sonic assassins. Kill City is poised for yet another thrill ride on their own Rock n' Rollercoaster. Jump on, strap yourself in and enjoy the ride.

Ohio Valley Salvage is original rock & roll, cobbled together from members of some of your favorite Cincinnati/NKY bands.

The perfect soundtrack to a romantic midnight truckstop rendezvous with Satan...

Influences:

Social Distortion, Hank Williams 1&3, Loretta, Patsy, Dolly, Tammy, Neko Case, Linda Ronstadt, Dick Dale, Chris Isaak, Lucinda Williams, The Clash, Sturgill Simpson, Nikki Lane, Johnny Cash, Ernest Tubb, Del Shannon, Patsy Cline, Lindi Ortega, Emmylou Harris, Motorhead, The Clash, Tiger Army, Gene Vincent, Wanda Jackson, Chris Stapleton, The Mavericks, Roy Orbison, The Beach Boys

The Perfect Children are the romp and stomp;the fresh wound of broken love;laughing in spite of pain.They are a girl with something to say and a boy to help deliver the message,cathartic but engaging.Their energy is infectious,the notes ring out and the space between is an emotional exhalation-personal but vague.They live at the intersection of Holly Golightly,Dex Romweber,Nina Simone,Al Green and Otis Redding. They play from the gut,heart,and soul and are rough,raw, and real.They will guilt trip you into getting outta your seats,their dirty showcase further punctuated by 2 backing vocalists who aid in lifting the stage off the floor and blowing the doors off the joint.To quote Little Richard,they will curl up under your big toe.

The band's sonic stew of gospel, garage, blues, rock and even punk has created a buzz that's leaving jaws open, rumps shakin' and feet stompin'. With singer/songwriter Kristen Kreft (Pearlene/J. Dorsey Blues Revival) at the helm, the dynamic duo of Beth Harris(The Hiders/Pearlene) and Nicole Potter Borngrebe on backing vox, and the rhythm section inertia of Adam Shelton(RX2/Kallip) on drums and bass player Christopher Owens(Blacklight Barbarian) the vocal velocity of this frenetic force will etch an impression that will last. They are something to behold.

Hot Diggity Daffodil is filmed in front of a live studio audience. Viewer discretion is advised.

Knife The Symphony has consistently released energetic, abrasive, rhythmic-work garnering comparisons to Hüsker Dü, Drive Like Jehu, Jawbox, and Unwound. The band owes a considerable debt to Dischord, SST and Touch & Go. Bring your earplugs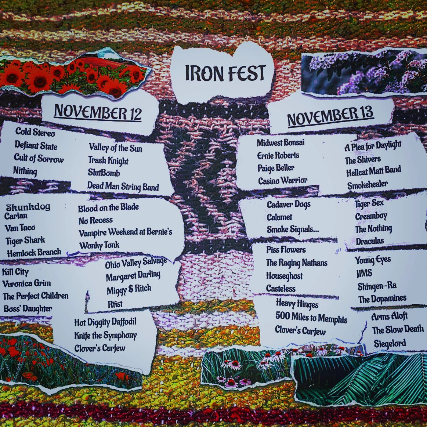 $5 Advance $10 Day Of
Ages 18+
Full Lineup TBA! Check back soon for updates!