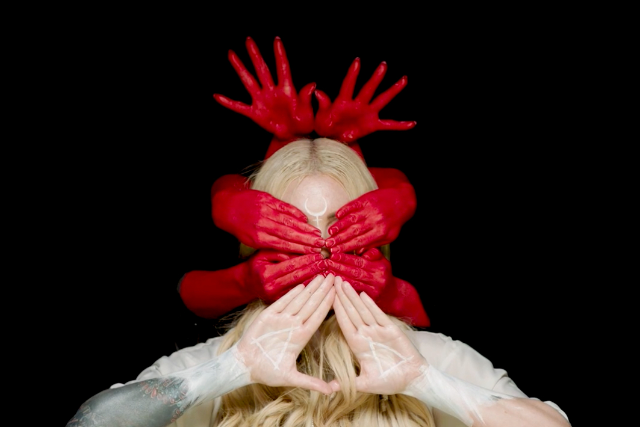 Sun Nov 14 2021
6:15 PM (Doors 5:00 PM)
1402 Clinton St
Nashville, TN 37203
All Ages
Public Onsale: Friday, May 21 @ 10am CST
The In Between Tour
In This Moment & Black Veil Brides w/ DED & Raven Black
Sorry, there are currently no tickets available through TicketWeb.
Please check back later.
Throughout history, art rejoices and revels in the wisdom of women.

Within a deck of tarot cards, the High Priestess serves as the guardian of the unconscious. In Greek mythology, the old oracles celebrate the Mother Goddess. William Shakespeare posited portentous prescience in the form of MacBeth's "Three Witches." On their sixth full-length album Ritual, In This Moment—Maria Brink [vocals, piano], Chris Howorth [lead guitar], Travis Johnson [bass], Randy Weitzel [rhythm guitar], and Kent Diimel [drums]—unearth a furious and focused feminine fire from a cauldron of jagged heavy metal, hypnotic alternative, and smoky voodoo blues.

It's an evolution. It's a statement. It's In This Moment 2017…

"It's like we're going into the next realm," asserts Maria. "I had a conviction of feeling empowered in my life and with myself. I always write from a personal place, and I needed to share that sense of strength. I've never been afraid to hold back. Sometimes, I can be very suggestive. However, I wanted to show our fans that this is the most powerful side of myself and it's without overt sexuality. It's that deeper serious fire inside of my heart."

"What Maria is saying comes from deep inside," Chris affirms. "This time, we had a bunch of ideas started before we hit the studio. There was a really clear direction. It's different."

The group spent two years supporting their biggest album yet 2014's Black Widow. Upon release, it seized their highest position to date on the Billboard Top 200, bowing at #8. Simultaneously, it clinched #3 on the Hard Rock Albums chart and spawned a series of hits such as "Sick Like Me," "Big Bad Wolf," and "Sex Metal Barbie"—all cracking 8 million Spotify streams each and topping Rock Radio. Meanwhile, the band's signature smash "Whore" crossed the 20-million mark.

Furthermore, the title track off In This Moment's 2012 album, Blood, has been certified gold by the RIAA. A remarkable accomplishment, the companion music video for "Blood" has been viewed over 27 million times.

Between headline tours, they incinerated stages everywhere from Rock On The Range to Download Festival. In March 2016, Maria and Chris commenced writing for what would become the new record with longtime collaborator and multiple GRAMMY® Award-nominated producer Kevin Churko [Five Finger Death Punch, Ozzy Osbourne] at his Las Vegas compound.

Following a high-profile summer 2016 tour with Korn and Rob Zombie, the duo began writing. Then, Maria visited Salem, MA for the very first time with all of the women in her family quite appropriately during Halloween.

"We were really tapping the energy there," she says. "We were honoring each other. I was seeking inspiration and experience to inspire me in this album. I was trying to find a lot of truth in myself. I loved Salem. I was blown away by how visually beautiful it is. The history of the witch burnings is fascinating. It was a special ceremonial journey."

Galvanized and inspired, Maria and Chris returned to Kevin's stronghold to complete recording. In an atmosphere of candles, crystals, incense, and a cackling fireplace, they expanded their aural palette once again, welcoming a doom blues bombast into the sonic fold.

"We love Black Widow, but it was very electronic," Chris explains. "This is a little more organic, emphasizing guitars, bass, drums, and vocals. We slowed down the groove a little bit. I got to

play some slide guitar, and I've never done that. There's a bluesy side, which we've also never had."

"We always want to grow and evolve," Maria adds. "It was a chance to get a little more serious."

That progression shines through the first single "Oh Lord." A minimal drum and handclap echoes as Maria's wild incantation takes hold. Guitars shiver and shake as the frontwoman delivers an undeniable refrain.

"The meaning of 'Oh Lord' is central to the album," she reveals. "I should be able to have a relationship with what I perceive God to be. For me, it's this strength and light. When I was younger, I felt guilty for thinking of these things. I'm not supposed to touch an oracle card, a tarot card, or these beautiful things, because they're 'bad.' I had these fears in me for a long

time like, 'Is this wrong?' I realized I don't have to be afraid anymore. There's a lot of learning and an awakening in that one."

Inverting everyone's favorite Billy Idol nuptial anthem, "Black Wedding" sees Maria walk down the aisle of musical madness with none other than Judas Priest frontman Rob Halford. Co written with Stevens, it's an explosive and enchanting duet.

"I can't believe that happened," beams Chris. "Maria hit up Rob and asked if he was interested. He jumped right on it. I can't believe we got him."

"Who doesn't love 'White Wedding?'," laughs Maria. "We wanted to do a spin-off that's creative. It's a question-and-answer between me and another voice. The chorus essentially says this isn't going to be the opposite of a happy ending! You're becoming empowered by heartbreak."

Chris breaks out the slide on the raging "River of Fire," while "Witching Hour" dances around the flames to a new wave-inspired groove and midnight lore as Maria recants, "This idea of me being burned as a witch in a past life for teaching people to be free." Elsewhere, "Roots" practically opens up the earth with its sheer seismic force.

"Sometimes, I have to go through pain in order to forgive and let go," she adds. "I love to thank the hate in people. It's that sort of energy. I'll be okay, hold my head strong, push forward, do what I've got to do, and prevail."

Simultaneously, In This Moment breathe a dark new life into the Phil Collins' classic "In The Air Tonight."

"We can't reproduce what he did in a million years," she says. "It's one of the best songs ever. We did our own interpretation and made it a little more sinister like our ritual."

The ritual has begun, and In This Moment ignite a brighter fire than ever before here.

"When fans hear this, I want them to feel the music, whether they take away sadness, anger, or happiness," concludes Chris. "As a kid, I remember listening to records and putting them on repeat over and over again. I'd love for the world to listen and absorb this as a piece of work."

Maria leaves off, "I want everybody to be unafraid of who they are and not worry about what the rest of society says. Be strong. Be loud. We love our fans deeply. I hope everybody feels that love and powerful in who they are."

Formed in 2006, Black Veil Brides originally came together in Cincinnati, Ohio.Primarily the brainchild of vocalist Andy Six, the band combines cathartic metalcore/screamo with a dark, gothic image to set it apart from its contemporaries. In their first couple of years together, Black Veil Brides went through a number of lineup changes while they gained attention from labels with two EPs, releasing Sex & Hollywood in 2007 and Never Give In in 2008. The band eventually relocated to Los Angeles, settling on a lineup and beginning work on its full-length debut. Bringing together guitarist Jinxx (formerly of the Dreaming), guitarist Jake Pitts, bassist Ashley Purdy, and drummer Sandra Alvarenga, the band began to refine its image and sound, touring with groups like Eyes Set to Kill and From First to Last. In 2010 they released their debut, We Stitch These Wounds, on Standby Records. Later that year, Alvarenga left the band and was replaced by drummer Christian "CC" Coma, who made his debut with the band on 2011's Set the World on Fire, which was released on Lava Records. For their third release, Black Veil Brides channeled their gothic image to create the conceptual punk rock opera Wretched and Divine: The Story of the Wild Ones, which was released in early 2013. ~ Gregory Heaney

DED has only been together a little more than three years since the release of their debut album, Mis-An-Thrope, but it is clear that their take-no-prisoners approach has already turned a lot of heads.

Originating from Phoenix, AZ, the foursome embodies elements of rock, alternative, and metal, with pop melodies, hooks and choruses, cloaked in some of the densest, most histrionic, headbanging music on the planet. But when you dig beneath the aggressive surface, DED's unexpectedly soulful music is about bringing hope, relief and self-awareness, often speaking to and about the young generations that are contending with many deeply embedded issues in today's society. Rather than the nihilistic, anarchical hellraisers DED might seem to be upon first glance, they're actually mythical heroes desperately trying to save society, not take it down. Joe Cotela (vocals), David Ludlow (guitar), Kyle Koelsch (bass), and Matt Reinhard (drums) are building a community by offering comfort in times of despair.

DED takes their role seriously in speaking directly to those who feel betrayed by the system, damaged and exploited, left in a world in which they have to pick up the pieces. The band's roaring and explosive lead single "A Mannequin Idol (Lullaby)" and anthemic track "Eyes Sewn Shut," released together on a micro-EP entitled Mannequin Eyes, display DED's dynamic songcraft and thought-provoking consciousness.

"The first album was us just being in a place of feeling angry and disappointed with humanity and putting out something that was aggressive. That's where we were," shares Joe. "This time around I felt more of a responsibility to really choose my words and find the correct way to say what I wanted to say. The new music is about clarity through suffering, positivity through negativity, and the frustration that comes with knowing that everyone can be better than they are - that I can be better than I am, because change starts with yourself. We want people to strive and try and be conscious of the things they consume, the way they act, the things they share and celebrate, and the way they live their life – to understand how that all affects their soul and what their legacy is going to be. And that goes for myself as well."

Helmed by powerhouse rock producer Kevin Churko (Five Finger Death Punch, Ozzy Osbourne, Disturbed), "A Mannequin Idol (Lullaby)" and "Eyes Sewn Shut" take the fury of DED's debut and deepens the emotions. On the incendiary "A Mannequin Idol (Lullaby)," DED takes aim at the conveyor-belt music machine and takes on the fake, surface level, vein aspects of our society that have infiltrated our lives and influence our perception of what's real.

"We grew up with such amazing alternative music that was so unique and left of center," says Joe. "It was dangerous and stood for something. I don't remember personally caring about what anyone looked like or if they were pretty. To me, it was about 'are they interesting, are they doing something unique, are they good?' And I'm not saying that there's nothing like that now. There's plenty of it and we are big fans of all of it, but I think that the music industry has just become very safe and kids are growing up watching this."

The stark vocal-and-piano open on "Eyes Sewn Shut" swells into a wall of soaring guitars and driving percussion that create aural shocks to the system like the best horror flicks.

"It's definitely a big sonic avalanche of a track, and hopefully it makes the listener stop and question everything that they deem to be true. It's about breaking the monotony of the things that a lot of people accept and challenging some of the old and obsolete ways of thinking and living," explains David.

With Mis-An-Thrope, DED took the rock world by storm, generating over 25 million streams making several Billboard chart appearances including #1 on the Alternative New Artist chart and #3 on the Top New Artist Albums chart. Singles "Anti-Everything" and "Remember the Enemy" reached Top 20 at Active Rock Radio with SiriusXM's Octane naming DED "Artist Discovery of the Year" and "Anti-Everything" landing in the station's Top 10 for 2017. The band were also nominated by Loudwire for Best New Artist. "Anti-Everything" also made impressive strides at servicing appearing on Spotify's U.S. Viral 50 twice and various playlists across Apple Music, Amazon, and Pandora.

Touring-wise, DED were featured as special guests on KoRn and Stone Sour's "Serenity of Summer" tour and lit up festival stages including Aftershock, Louder Than Life, Rocklahoma, Carolina Rebellion, Rock on the Range and Ship Rocked and will be on tour with In This Moment this Spring.

"I'm proud to be making music that hopefully makes people think, pulls them out of ruts or makes them feel empowered, makes them better themselves, or want to start their own band or use their own voice or express themselves in their own way. It's a circle, and I know because I got caught in that circle because of the people who were doing it before me," concludes Joe.

DED, who are quickly becoming one of rock's most exciting torchbearers, blaze their own trail as they cathartically stare down various beasts - both existential and innate - proving that there's a way to live through the struggle and come out stronger, happier, and more aware of how we look after ourselves and each other.

A Voodoo Doctor "The Doctor" came across a girl who looked lost and scared. He used his magic to turn her into a doll, but his spell was disrupted from her terrifying and taunting screams, she remained half human, half doll. As Raven lived in the dark world of the Doctor, she secretly learned his magic and conjured up a demon, Muppet, who she made her eternal protector and trapped him inside her heart. The Doctor and Muppet created Stitches to search for those who are looking to join our dark metal carnival world in the 13th hour.

Raven Black released their first Single, "Died Inside" on September 7, 2013 at the Roxy, selling out the venue that night. They continued to work in the studio and released their first EP, "Midnight Dreary" in June 2014, successfully packed the house at the famous Viper Room.

The band was previously managed by Aaron Rossi (Grammy Nominated Drummer of Ministry/Prong), AJR Enterprises and worked with Grammy-Winning Producer Logan Mader (SoulFly/Machinehead/Five Finger Death Punch).

In October 2014, they revamped their line up and began working with Grammy Nominated Producer Ulrich Wild (Rob Zombie, White Zombie, Alice In Chains, Breaking Benjamin, Pantera, Seether,Dethklok, Otep, and more) on their new album. They then spent the next two years writing and then released their single "Seven Sins" in April 2016 and their EP "Seven Sins" in September 2016.

Raven Black played the Corona Hell and Heaven Festival July 2016 in Mexico City, Mexico with headliners like Rammstein, Twisted Sister, Ghost, Five Finger Death Punch, Mushroomhead, Selpultura, Alien Ant Farm and many others.​

To end their summer, they played the 2016 DirtFest Festival in Michigan with headliners, Killswitch Engage, Asking Alexandria, Hatebreed, Attila, Born of Osiris and many others.

Releasing their first Official EP with the new line up, Seven Sins EP dropped September 29, 2016 on the way out to tour with Mushroomhead, Sunflower Dead, Unsaid Fate and Death Division for Mushroomhead's Annual Halloween Tour.

The 2017 year started very busy for Raven Black as they headed to Cleveland, OH to film their new music video with MonoBloc's Josh Apple and Andrew Sparks, for "Twinkle Twinkle Little Scars", Premiered by Revolver Magazine on April 13, 2017. A little horror version of their already theatrical presence in the metal community. "We wanted to have some blood in this one," says Raven.

After a quick rest, Raven Black toured through the Southern parts of the U.S. on their way to SXSW . They played the Heart of Texas Rock Festival in March 2017. Winning fans from across mutiple genres at SXSW. Raven says, "I am so proud of being able to share our METAL music with other fans of country, hip hop and pop genres. I was so surprised and happy to see them buying our music. It was fun and the only thing missing was the big mosh pit, LOL, although there was a small handful of metalheads respresented this year at SXSW. ​

After returning back home to Los Angeles, the band quickly prepared for their first Headliner Tour, The Hex O'Clock Tour, which kicked off in Guadalajara, Mexico at the Roadhouse Voodoo Bar, July 7, 2017 and returned to the U.S. to begin their onth long tour throughout the U.S. from coast to coast.

The Hex O'Clock Tour was a complete success and the band was able to visit so many new cities throughout the country, see their fans and play so many new venues. Sharing with their fans, new stage props, a few new songs and announcing their new album "13" in early Spring 2018.

Raven Black just finished their 6-week across the U.S. tour supporting Psychostick, Arsonists Get All the Girls and Kissing Candice. The tour was amazing and the bands have developed life-long friends. Doesn't always happen on tours, but it did this time.

To end the 2017 year, Raven Black just announced their Preorder of the Comic Book - The Dark Metal Carnival - The Beginning - Issues 1-100. These preorder comic books will be series sequenced from 1-100 and will release in print this Spring 2018. Only these first 100 issues will be numbered for the fans that preorder. The remaining prints after the first 100 will not be numbered.

They will be also releasing their 2nd EP Album this Spring, "13". In the studio in January and February, Raven Black will be working with Ulrich Wild, Wurm Group, once again to complete their next release this Spring 2018. Of course, this will surely mean a TOUR across the U.S. and performing the new tracks from "13". There may also be a new music video coming this early Summer.

On tour this Spring with special guest, Hail Sagan and Aboleth May 11, 2018 through June 3, 2018 including an appearance at the Metal In the Mountains Festival in West Virginia on June 2, 2018 with headliner, Mushroomhead.

The Spring tour, "The Little Monsters Tour" will feature their new album "13" with single releases, "Monster", "DollHouse" and "The Nobodoies" (Cover Song by Marilyn Manson"). Their new first issue/limited edition comic book, "A Dark Metal Carnival - The Beginning" and new swag for 2018.

Following their tour, expect a few fun releases of a new music video and a new annoucnement of their upcoming Summer Tour after they play the 2018 Michigan Metal Festival on August 11, 2018!
The In Between Tour
In This Moment & Black Veil Brides w/ DED & Raven Black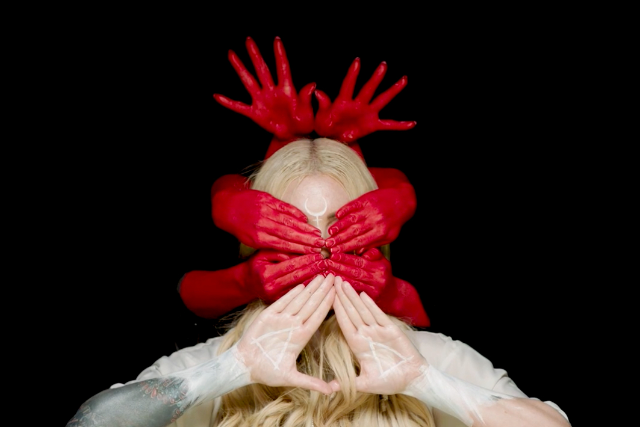 Sorry, there are currently no tickets available through TicketWeb.
Please check back later.
All Ages
Public Onsale: Friday, May 21 @ 10am CST