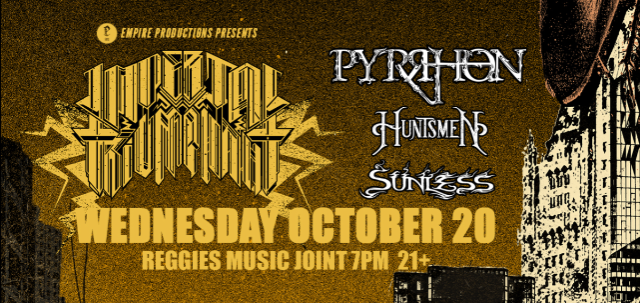 Wed Oct 20 2021
7:00 PM
2105 South State Street
Chicago, IL 60616
$15 cover
Ages 21+
Reggies Music Joint
7pm doors / 21+ / $15 cover

Empire Productions presents
Imperial Triumphant
Pyrrhon
Huntsmen
Sunless


Empire Productions presents
Imperial Triumphant
Born in the metropolis: Imperial Triumphant embodies the sounds of New York. The chaos, the menagerie, the perils and majesty of the greatest city on earth. We portray this great juxtaposition between high society luxury coexisting with absolute filth and urban decay. Our city is like the corpse of a giant. What was once so bright, grand and spectacular, is now filled with greedy maggots writhing towards their share of 'success'. We don't support it nor are we against. We only play the sounds of the New York City as we hear them.

"Outré as they get, everything Pyrrhon do emanates from an obsidian death metal core – just that this music is that much more expressive, its impact that much more disquieting than almost anything else in the genre."
-Decibel

Whilst storytelling has been - and remains - at the core of all that HUNTSMEN is, they continue to dissolve the boundaries between metal and the more traditional modes of folk and country. Released March 13, 2020 to critical acclaim, their latest album 'Mandala of Fear' marries melody and progressive elements to create an undulating foundation to layer its dystopian missive on atop.

Dissonant death metal from Minneapolis, MN. New album "Ylem" to be released October 29th, 2021 on Willowtip Records.
Part two of a trilogy, Ylem builds upon the concept and lyrical theme of the band's independently released debut album, Urraca, by reinforcing the mysticism of the previous album while exploring new themes of displacement, fear, wonder, and transcendence. With the addition of a new drummer and an evolving approach to songwriting, Sunless further develops their signature sound with increasingly diverse, dense, and technical offerings.
Empire Productions presents
Imperial Triumphant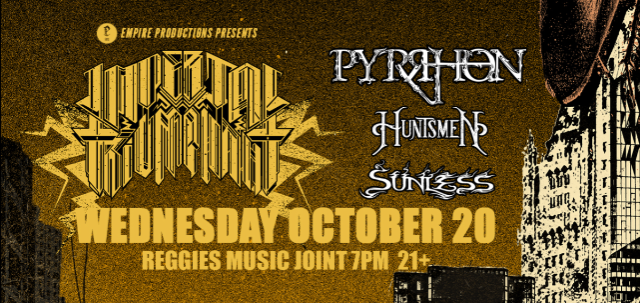 $15 cover
Ages 21+
Reggies Music Joint
7pm doors / 21+ / $15 cover

Empire Productions presents
Imperial Triumphant
Pyrrhon
Huntsmen
Sunless