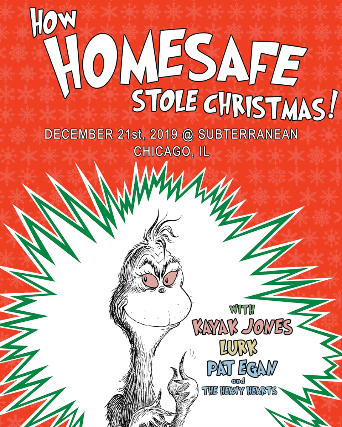 Sat Dec 21 2019
8:00 PM (Doors 7:00 PM)
2011 W. North Ave
Chicago, IL 60647
$15.00
Ages 17+
Kickstand Productions Presents
HOW HOMESAFE STOLE CHRISTMAS!
Rock band from Chicago.
New EP 'EVERMORE' out NOW!

Kayak Jones is a four-piece band from Dubuque, IA that stands at the end of an emotional crisis. Their delicate balance of emo, pop-punk, and guts-out radio grinds out its confessions the same way you might at critical junctures: with grit teeth, white knuckles, and double the heart.
Kickstand Productions Presents
HOW HOMESAFE STOLE CHRISTMAS!
Sat Dec 21 2019 8:00 PM
(Doors 7:00 PM)
Subterranean
Chicago IL