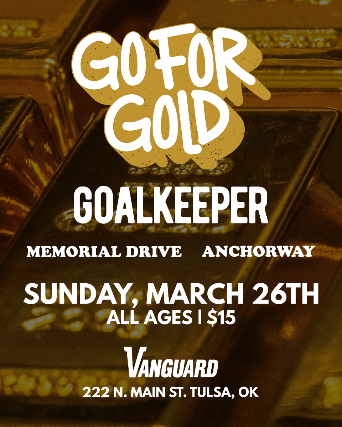 Sun Mar 26 2023
7:00 PM (Doors 6:00 PM)
222 N Main St
Tulsa, OK 74103
$15 General Admission
All Ages
The Vanguard and Bros Houligan Present...
Go For Gold + Goalkeeper
Your mom's favorite punk band.

When opportunity knocks, Philly natives Goalkeeper are the ones answering the door. Ryan Beebe (Singer/Bassist), Marc Juliano (Guitarist), and Cody Ritchie (Drummer), came together at a critical point to create the perfect storm of melodic hooks & hard hitting pure pop punk. Finding inspiration in the expanding genre , Goalkeeper wants to prove there's still new sounds to be heard, and focuses on tight, genuine songwriting. Their music emphasizes a refined, fervent sound influenced by early pop punk front runners, with lyrics that are fixated on introspective growth. Goalkeeper has supported such bands as Alkaline Trio, Thrice, Bowling for Soup, State Champs, The Starting Line, Hit The Lights, Real Friends, Can't Swim, With Confidence, and more. With their first LP "I Wish I Met You Sooner", produced by Kevin Mahoney & Nik Bruzzese, slated for release in 2022, Goalkeeper shows no signs of slowing down on their way to take over the pop punk world.

Anchorway is a Pop-Punk band from Locust Grove Oklahoma.
The Vanguard and Bros Houligan Present...
Go For Gold + Goalkeeper
Sun Mar 26 2023 7:00 PM
(Doors 6:00 PM)
The Vanguard
Tulsa OK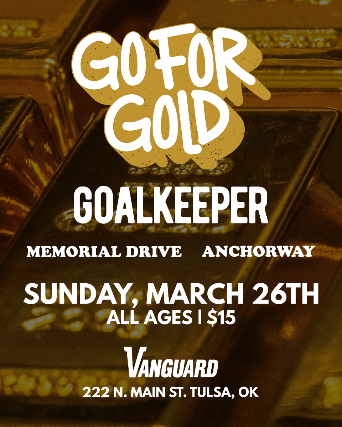 $15 General Admission
All Ages