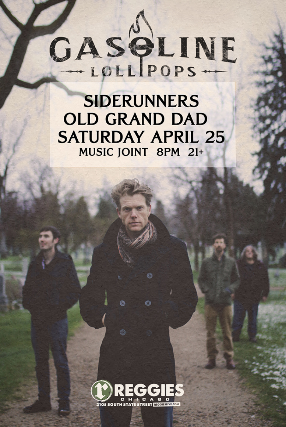 Sat Apr 25 2020
8:00 PM
2105 South State Street
Chicago, IL 60616
$8adv - $10dos
Ages 21+
Reggies Music Joint
8pm doors / 21+ / $8adv - $10dos

Gasoline Lollipops
Siderunners
Old Grand Dad
Gasoline Lollipops stitch scraps of American roots music to patches of their own tattered hearts to form an all-new tapestry of bleeding rock n' roll.

Denver Westword awarded Gasoline Lollipops "Best Country Artist" in 2016, and the group - which released the debut album Resurrection in February 2017 and followed it with Soul Mine just 11 months later - won the 2014, 2015 and 2017 Colorado Daily reader's polls for "Best Boulder Band."

The GasPops have shared stages with such respected artists as Lucero, Dale Watson, Todd Snider, Slim Cessna's Auto Club and others. They've also been on the bills of numerous great live-music festivals, including Divide Festival; Salmonfest Alaska; NedFest; Bohemian Nights @ New West Fest; the Denver Post's Underground Music Showcase; BrewGrass; YarmonyGrass; Higher Ground Music Festival; Westword Music Showcase; Empire Americana; FoCoMX; Frozen Dead Guy Days; and the highly anticipated Grandoozy Festival.

OLD GRAND DAD is an ethylene soaked 4-piece from Chicago, Illinois. Bred for rockabilly, these freaks have started sneakin' out by the light of the moon to taste the rest of the "Devil's music."
California bass man Cody "Goose" Siragusa and Hoosier drummer deluxe Danny Lee Beasley shared a love of the old man's music and a serving job in Wrigleyville; enough said. Their duet turned trio with guitarist and North Avenue homeboy Colin Brennan, a bastard of city and country but Irish enough to break a string each night. Then somehow Chauncey Davis-Mauney snuck in from Mississippi with a harmonica and the room was full.
Road tested and dancer approved, OGD is an all-singing, all-writing, washer pitchin' electric hayride on fire. BYOFireworks. Goose handles the matches.
Featured on WXRT's Local Anesthetic with Richard Milne and on WGN's Pretty Late with Patti Vasquez.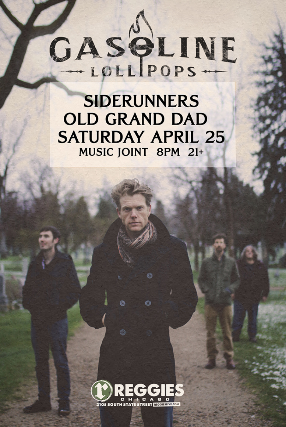 $8adv - $10dos
Ages 21+
Reggies Music Joint
8pm doors / 21+ / $8adv - $10dos

Gasoline Lollipops
Siderunners
Old Grand Dad