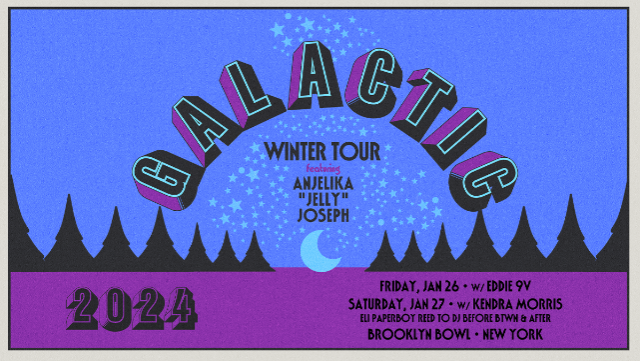 Sat Jan 27 2024
8:00 PM (Doors 6:00 PM)
61 Wythe Avenue
Brooklyn, NY 11211
$39.50-45
Ages 21+
Valid photo ID required at door for entry
Doors: 6:00 PM
Show: 8:00 PM
Galactic feat Anjelika 'Jelly' Joseph
It's incredible that GALACTIC has never made a carnival album yet, but now it's here.
To make CARNIVALE ELECTRICOS, the members of GALACTIC (Ben Ellman, harps and horns; Robert Mercurio, bass; Stanton Moore, drums and percussion; Jeff Raines, guitar; Rich Vogel, keyboards) draw on the skills, stamina, and funk they deploy in the all-night party of their annual Lundi Gras show that goes till sunrise and leads sleeplessly into Mardi Gras day.
GALACTIC was formed eighteen years ago in New Orleans, and they cut their teeth playing the biggest party in America: Mardi Gras, when the town shuts down entirely to celebrate. CARNIVALE ELECTRICOS is beyond a party record. It's a carnival record that evokes the electric atmosphere of a whole city – make that, whole cities – vibrating together all on the same day, from New Orleans all down the hemisphere to the mighty megacarnivals of Brazil. Armed with a slew of carnival-ready guests—including Cyril and Ivan Neville, Mystikal, Mannie Fresh, Moyseis Marques, Casa Samba, the KIPP Renaissance High School Marching Band, and Al "Carnival Time" Johnson (who remakes his all-time hit)—GALACTIC whisks the listener around the neighborhoods to feel the Mardi Gras moment in all its variety of flavors.
***
CARNIVALE ELECTRICOS begins on a spiritual note, the way Mardi Gras does in the black community of New Orleans. On that morning, the most exciting experience you can have is to be present when the small groups of black men called Mardi Gras Indians perform their sacred street theater. Nobody embodies the spiritual side of Mardi Gras better than the Indians, whose tambourines and chants provide the fundament of New Orleans carnival music. These ―gangs,‖ as they call them, organize around and protect the figure of their chief. The album's keynote singer, BIG CHIEF JUAN PARDO, is, says Robert Mercurio, ―one of the younger Chiefs out there, and he's
become one of the best voices of the new Chiefs. Pardo grew up listening to the singing of the older generation of Big Chiefs, points out Ben Ellman, and ―he's got a little Monk [Boudreaux], a little Bo Dollis, he's neither uptown nor downtown.‖
On ―Karate,‖ says Ellman, the band was aiming to ―capture the power‖ of one of the fundamental musical experiences of Mardi Gras: ―a marching band passing by you.‖ The 40-piece KIPP Renaissance High School Marching Band's director arranged up GALACTIC's demo, then the band rehearsed it until they had it all memorized. The kids poured their hearts into a solid performance, and, says Mercurio, ―I think they were surprised‖ to hear how good they sounded on the playback.
Musical energy is everywhere at carnival time. ―You hear the marching bands go by,‖ says Mercurio, moving us through a Mardi Gras day, ―and then you hear a lot of hiphop.‖ There hasn't been a Mardi Gras for twenty years that hasn't had a banging track by beatmaker / rapper MANNIE FRESH sounding wherever you go. ―You can't talk about New Orleans hiphop without talking about MANNIE FRESH,‖ says Ellman. His beats have powered literally tens of millions of records, and he and GALACTIC have been talking for years about doing something together. On ―Move Fast,‖ he's together with multiplatinum gravel-voiced rapper MYSTIKAL, who is, says Ellman, ―somebody we've wanted to collaborate with forever. It was a coup for us.‖
Out in the streets of New Orleans, you might well hear a funky kind of samba, reaching southward toward the other end of the hemispheric carnival zone. There has for the last twenty-five years been a smoking Brazilian drum troupe in town: CASA SAMBA, formed at Mardi Gras in 1986. They're old friends of GALACTIC's from their early days at Frenchmen Street's Café Brasil, and the two groups joined forces for a new version of Carlinhos Brown's ―Magalenha,‖ previously a hit for Sérgio Mendes.
But the Brazilian influence on CARNIVALE ELECTRICOS goes beyond one song. ―When we started this album, we all immersed ourselves in Brazilian music and let it get into our souls,‖ says Mercurio. The group contributed three Brazilian-flavored instrumentals, including ―JuLou,‖ which riffs on an old Brazilian tune, though the name refers to the brass-funk Krewe of Julu, the ―walking krewe‖ that Galactic members participate in on Mardi Gras morning. After creating the hard-driving track that became ―O Côco da Galinha,‖ they decided it would be right for MOYSÉIS MÁRQUEZ, from the São Paulo underground samba scene, who collaborated with them and composed the lyric.
If you were GALACTIC and you were making a carnival album, wouldn't you want to play ―Carnival Time,‖ the irrepressibly happy 1960 perennial from the legendary Cosimo Matassa studio? Nobody in New Orleans doesn't know this song. The remake features a new performance in the unmistakable voice of the original singer, AL ―CARNIVAL TIME‖ JOHNSON, who's still active around town more than fifty years after he first gained Mardi Gras immortality.
The closing instrumental, ,―Ash Wednesday Sunrise,‖ evokes the edginess of the post-party feeling. The group writes, ―There is the tension you feel on that morning -- one of being worn out from all of the festivities and one of elation that you made it through another year.

New York noir soul artist Kendra Morris recalls singers who straddled soul and rock during the early '70s, such as Ruth Copeland and Chaka Khan. Her taste was developed through a library heavy on late-60s and early-70s soul and funk as well as a love for the cinema scores of the same period. After touring with Motown Funk Brother Dennis Coffey and releasing a series of singles that she did with collaborator and bandmate Jeremy Page including "Concrete Waves," with the b-side remix by DJ Premier, Morris released the album Banshee followed by a covers album Mockingbird on Wax Poetics records.

Banshee and Mockingbird received much acclaim, a cult following and several film + tv placements. Title track "Banshee" was used prominently in the Showtime hit series Ray Donovan while her cover of Pink Floyd's "Shine On You Crazy Diamond" was featured in the trailer for major motion picture Dead Man Down starring Noomi Rapace and Colin Farrell. Around this time Kendra was awarded the Songwriters Hall Of Fame 'Holly Prize'.

2013 Morris worked on a side project band with friends Scarlett Johansson, Julia Haltigan and Holly Miranda. With Este Haim joining on drums and TV On The Radios' Dave Sitek producing.

Returning with 'Babble' in 2016 to positive reviews and more media placements she continued working on her catalogue as well began an added focus on her love of creating multimedia art and connecting it to her own sonic universe. Having been doing collage art and stop motion animation a handful of years for her own albums and videos she wound up in the directors chair and animating the 2018 music video "Bomb Thrown" for the popular hip hop supergroup Czarface / MF DOOM record 'Czarface Meets Metal Face' and soon following up with videos for other fellow musicians including Eli Paperboy Reed and UKs Skinshape.

Morris recently released music that includes features by Greg Nice of Nice & Smooth as well as DâM-FunK. She was featured on both Czarface Meets Metalface and Czarface Meets Ghostface albums and her song "If You Didn't Go' was heavily sampled on the Rapsody & J Cole song 'SoJourner' produced by 9th Wonder.

With more new material and collaborations on the way this 2020 a string of small tours, and directing more visual projects for herself and others; Kendra has a lot to look forward to.
Galactic feat Anjelika 'Jelly' Joseph
Sat Jan 27 2024 8:00 PM
(Doors 6:00 PM)
Brooklyn Bowl
Brooklyn NY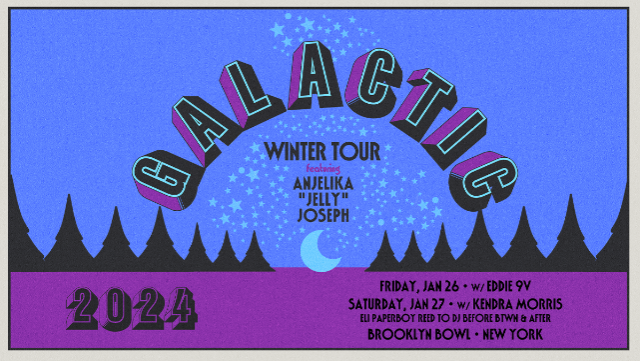 $39.50-45
Ages 21+
Valid photo ID required at door for entry
Doors: 6:00 PM
Show: 8:00 PM