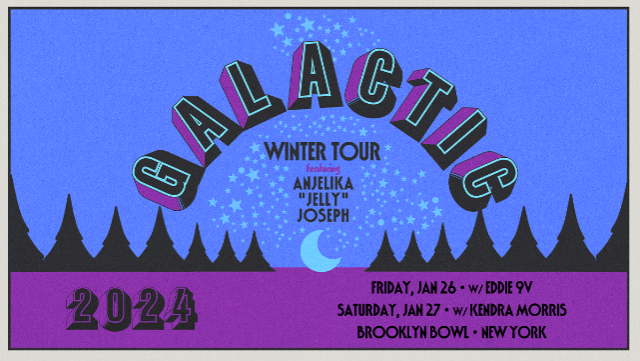 Fri Jan 26 2024
8:00 PM (Doors 6:00 PM)
61 Wythe Avenue
Brooklyn, NY 11211
$39.50-45
Ages 21+
Valid photo ID required at door for entry
Doors: 6:00 PM
Show: 8:00 PM
Galactic feat Anjelika 'Jelly' Joseph
It's incredible that GALACTIC has never made a carnival album yet, but now it's here.
To make CARNIVALE ELECTRICOS, the members of GALACTIC (Ben Ellman, harps and horns; Robert Mercurio, bass; Stanton Moore, drums and percussion; Jeff Raines, guitar; Rich Vogel, keyboards) draw on the skills, stamina, and funk they deploy in the all-night party of their annual Lundi Gras show that goes till sunrise and leads sleeplessly into Mardi Gras day.
GALACTIC was formed eighteen years ago in New Orleans, and they cut their teeth playing the biggest party in America: Mardi Gras, when the town shuts down entirely to celebrate. CARNIVALE ELECTRICOS is beyond a party record. It's a carnival record that evokes the electric atmosphere of a whole city – make that, whole cities – vibrating together all on the same day, from New Orleans all down the hemisphere to the mighty megacarnivals of Brazil. Armed with a slew of carnival-ready guests—including Cyril and Ivan Neville, Mystikal, Mannie Fresh, Moyseis Marques, Casa Samba, the KIPP Renaissance High School Marching Band, and Al "Carnival Time" Johnson (who remakes his all-time hit)—GALACTIC whisks the listener around the neighborhoods to feel the Mardi Gras moment in all its variety of flavors.
***
CARNIVALE ELECTRICOS begins on a spiritual note, the way Mardi Gras does in the black community of New Orleans. On that morning, the most exciting experience you can have is to be present when the small groups of black men called Mardi Gras Indians perform their sacred street theater. Nobody embodies the spiritual side of Mardi Gras better than the Indians, whose tambourines and chants provide the fundament of New Orleans carnival music. These ―gangs,‖ as they call them, organize around and protect the figure of their chief. The album's keynote singer, BIG CHIEF JUAN PARDO, is, says Robert Mercurio, ―one of the younger Chiefs out there, and he's
become one of the best voices of the new Chiefs. Pardo grew up listening to the singing of the older generation of Big Chiefs, points out Ben Ellman, and ―he's got a little Monk [Boudreaux], a little Bo Dollis, he's neither uptown nor downtown.‖
On ―Karate,‖ says Ellman, the band was aiming to ―capture the power‖ of one of the fundamental musical experiences of Mardi Gras: ―a marching band passing by you.‖ The 40-piece KIPP Renaissance High School Marching Band's director arranged up GALACTIC's demo, then the band rehearsed it until they had it all memorized. The kids poured their hearts into a solid performance, and, says Mercurio, ―I think they were surprised‖ to hear how good they sounded on the playback.
Musical energy is everywhere at carnival time. ―You hear the marching bands go by,‖ says Mercurio, moving us through a Mardi Gras day, ―and then you hear a lot of hiphop.‖ There hasn't been a Mardi Gras for twenty years that hasn't had a banging track by beatmaker / rapper MANNIE FRESH sounding wherever you go. ―You can't talk about New Orleans hiphop without talking about MANNIE FRESH,‖ says Ellman. His beats have powered literally tens of millions of records, and he and GALACTIC have been talking for years about doing something together. On ―Move Fast,‖ he's together with multiplatinum gravel-voiced rapper MYSTIKAL, who is, says Ellman, ―somebody we've wanted to collaborate with forever. It was a coup for us.‖
Out in the streets of New Orleans, you might well hear a funky kind of samba, reaching southward toward the other end of the hemispheric carnival zone. There has for the last twenty-five years been a smoking Brazilian drum troupe in town: CASA SAMBA, formed at Mardi Gras in 1986. They're old friends of GALACTIC's from their early days at Frenchmen Street's Café Brasil, and the two groups joined forces for a new version of Carlinhos Brown's ―Magalenha,‖ previously a hit for Sérgio Mendes.
But the Brazilian influence on CARNIVALE ELECTRICOS goes beyond one song. ―When we started this album, we all immersed ourselves in Brazilian music and let it get into our souls,‖ says Mercurio. The group contributed three Brazilian-flavored instrumentals, including ―JuLou,‖ which riffs on an old Brazilian tune, though the name refers to the brass-funk Krewe of Julu, the ―walking krewe‖ that Galactic members participate in on Mardi Gras morning. After creating the hard-driving track that became ―O Côco da Galinha,‖ they decided it would be right for MOYSÉIS MÁRQUEZ, from the São Paulo underground samba scene, who collaborated with them and composed the lyric.
If you were GALACTIC and you were making a carnival album, wouldn't you want to play ―Carnival Time,‖ the irrepressibly happy 1960 perennial from the legendary Cosimo Matassa studio? Nobody in New Orleans doesn't know this song. The remake features a new performance in the unmistakable voice of the original singer, AL ―CARNIVAL TIME‖ JOHNSON, who's still active around town more than fifty years after he first gained Mardi Gras immortality.
The closing instrumental, ,―Ash Wednesday Sunrise,‖ evokes the edginess of the post-party feeling. The group writes, ―There is the tension you feel on that morning -- one of being worn out from all of the festivities and one of elation that you made it through another year.

As far back as he can remember, Capricorn Studios was calling Eddie 9V. As a kid scanning the sleeves of his favorite vinyl records, this fabled facility in Macon, Georgia, was always the secret ingredient, adding a little grit and honey to every song born on its floor. Capricorn and the bands who blew through it urged the Atlanta guitarist to ditch school at 15, play his fingers bloody throughout the south, and turn apathy into acclaim for early albums Left My Soul in Memphis (2019) and Little Black Flies (2021).

Eddie spent his first quarter-century admiring Capricorn from afar. But in December 2021, the 26-year-old finally put his thumbprint on the studio's mythology, corralling an eleven-strong group of the American South's best roots musicians to track his third album. "There was overwhelming excitement at being in such a legendary studio," he says. "But we hugged and got right to work. Everyone was joyous, loving, and flat-out playing their asses off."

You don't come to Capricorn Studios for polish. Frozen in time since its opening day in 1969, the mojo from sessions by giants like the Allman Brothers and Bonnie Bramlett still hangs in the air, while the recording philosophy remains gloriously raw. That suited Eddie, whose output has been celebrated for its warts-and-all snapshot of what went down. "In a world where everyone is trying to sound the best, I'm trying to sound like me," he reasons. "I always want the listener to feel like they're in the room with us. So I'd leave it in if a drum pedal squeaked or someone laughed during a take on the Capricorn album. It's our way of putting a stamp on the song." Eddie's old-school ethos goes way back. Born Brooks Mason in June 1996, he acquired his first guitar aged six, "One of those with the speaker in it – the most bang for your buck, y'know?", ignored the prevailing pop scene at Oak Grove High School in favor of local heroes like Sean Costello and studied "older cats" like Muddy Waters, Howlin' Wolf, Freddie King, and Rory Gallagher "to see what made them groove and tick." His shoot-from-the-lip lyrics adds Eddie came from family fish fries, where his Uncle Brian "taught me to make people laugh, how to hold an audience's attention."

When Eddie infiltrated his home state's live circuit – first with covers band The Smokin' Frogs, then its more adept blues-rock offshoot, The Georgia Flood – he quickly pricked up ears everywhere he played. His artistic vision became full realized when he killed Brooks Mason and adopted the solo moniker that promises an electrifying night out, "Eddie 9 Volt".

"There are too many Joe Schmo r&b bands," he reasons. "I was on the road with another band, and we were talking like mobsters. So we gave each other names – mine was Eddie."

Already, there has been massive acclaim for his early output, with Left My Soul in Memphis dubbed "fresh and life-affirming" by Rock & Blues Muse and Little Black Flies praised by Classic Rock as "the most instinctive blues you'll hear all year." But as the Capricorn sessions ticked closer, Eddie fused the nervous energy into his best songs yet. "Coming off a straight blues record, I wanted to show people we're more than that," he reflects. "I was listening to Muscle Shoals and soul, a lot of music recorded at Capricorn in the late-'60s too. So we spent way more time crafting the new tunes. Each song took a week to write, instead of five in one night like Little Black Flies."

"Beg, Steal and Borrow" is ballsy soul with Eddie's spit flecking the mic. "Yella Alligator" is as swampy-sounding as the title, with slide guitars lapping around cardboard-box beats. Bout To "Make Me Leave Home" is a propulsive shuffle, Eddie's vocal seemingly made up in the moment. The gospel-touched "Are We Through" catches a breath before How Long drapes mellow organ over bone-dry riffs. "It's Goin' Down" fuses porch blues with psychedelic woodwind, while "Tryin' To Get By" brings brassy strut while concealing lyrics from the perspective of a man on a downward spiral, surviving on the crumbs of a love affair. "The lyrics and meanings of these new songs are way deeper," says Eddie. "Take the song "It's Goin' Down". It's really about my struggle with alcohol, the dangerous nightlife of bars, and the drugs offered to you in the music industry. But then, one of my favorite tunes, "Yella Alligator," is about a fictional psychedelic party in the bayou..."

Likewise, Capricorn is an album of thrilling musical contrasts. Bob Dylan's "Down Along the Cove" is a pugnacious blues-rocker, followed by Khristie French's gossamer lead vocal on the spiritual Mary Don't You Weep. Mellow Missouri is dusty as a great lost soul session, while brass punches through the glassy chords of "I'm Lonely". Finally, the album ends with Eddie's laughter as he realizes he has no more to give: "I gotta come out of this room...!"

Never meet your heroes, they say, and many young artists have been overwhelmed by walking the holy ground of their dream studios. At Capricorn, Eddie 9V breathed in the history – but the album he spat out is worthy of sharing the name, standing shoulder-to-shoulder with the studio's greatest hits and taking music back to the golden age. "We made this record," he considers, "the way they would have done in 1969..."
Galactic feat Anjelika 'Jelly' Joseph
Fri Jan 26 2024 8:00 PM
(Doors 6:00 PM)
Brooklyn Bowl
Brooklyn NY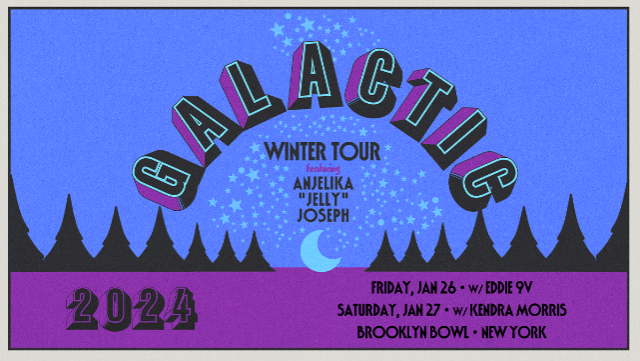 $39.50-45
Ages 21+
Valid photo ID required at door for entry
Doors: 6:00 PM
Show: 8:00 PM