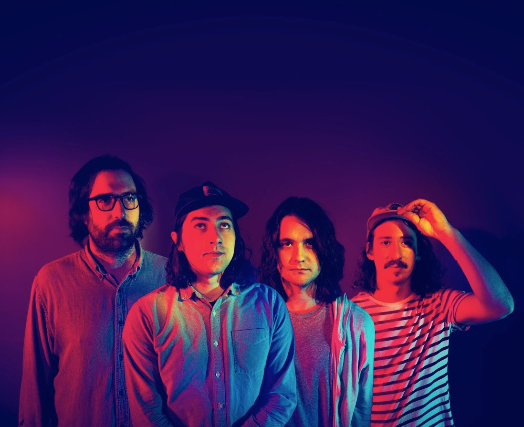 Thu Sep 12 2019
7:00 PM
472 Massachusetts Ave
Cambridge, MA 02139
$12.00
All Ages
The Middle East presents:
Flaural / Triptides
Denver based quartet Flaural is an outfit with its eclectic roots of influence lodged as firmly in the fertile grounds of psychedelic pop as in the less-often associated soils of shoegaze, new wave, and contemporary experimental. Only seeming to look back as a means to gaze into the future, Flaural walks the tightrope that often separates originality and accessibility with uncanny ease.


Flaural is the unified sum of four equal parts. The hypnotic pulse of Nick Berlin's kraut rock drum grooves crystalize as the backdrop atop which sprawls the band's ethereal pop-songwriting pallet. Connor Birch's expansive synths and keys, the unique virtuosity of Noah Pfaff's guitar playing, and the resonant croon of Colin Johnson's vocals over his driving bass lines all coalesce into the rare type of experimental music that warmly invite the uninitiated listener into the unknown.

Formed in 2015 the band has released two EPs. 2015's 'Thin King' established the parameters for Flaural's exploratory vision and 2016's 'Over Imaginary Cigarettes' pushed further their already immense scope. Gold Flake Tapes described the latter as a "humdrum flood of sound, colour, and exquisite vision."


The band's rigorous tour schedule has taken it on six total tours totaling fourteen weeks and 75+ dates along the west coast and through the Midwest. The burgeoning act has shared the stage with Unknown Mortal Orchestra, Thee Oh Sees, Built to Spill, Wand, Wild Nothing, Gardens & Villa, Quilt, Diane Coffee, Methyl Ethel, Mild High Club and others. Appearances at Boise's Treefort Music Fest, Denver's Underground Music Showcase, San Francisco's Hickey Fest, Chicago's Tomorrow Never Knows, and other high profile festivals have further grown the band's national reputation.

It sometimes feels rare that a band founded on pushing boundaries is conscious of not alienating the listener. This is not the case for Flaural. Their music, in effect, feels like the spoils of a deep space exploration, brought back down to earth for all to observe. The band is currently writing and recording their debut LP rumored to be slated for release in 2018.


Triptides is a psychedelic rock group led by multi-instrumentalist Glenn Brigman. It began as a series of home recorded tape machine experiments. As the music has grown and transformed, so has the project. As a musician and a producer, Brigman has always surrounded himself with other like minded musicians who have allowed him to perform his recording studio creations for audiences across the USA and Europe. From festival appearances at Desert Daze and Barcelona Psych fest to late night appearances on Last Call with Carson Daly and a West Coast tour with UK's Temples, the group has continued a strong pace and shows no signs of slowing down. The group released their latest record "Visitors" this summer to critical acclaim with AllMusic calling it "their best sounding record to date" and LA Record describes it as "an expansive expedition into the under current of the late sixties."

Triptides has always meant something different to everyone; to the surfer it's music to hit the beach to; to the 60's music enthusiast it's an attempt to create something groovy and psychedelic in the modern era without attempting to re-tread the same path; to some people it's just a sound that makes them feel something. Whatever your style is, Triptides will definitely make you FEEL. Isn't that what it's all about?

The Middle East presents:
Flaural / Triptides