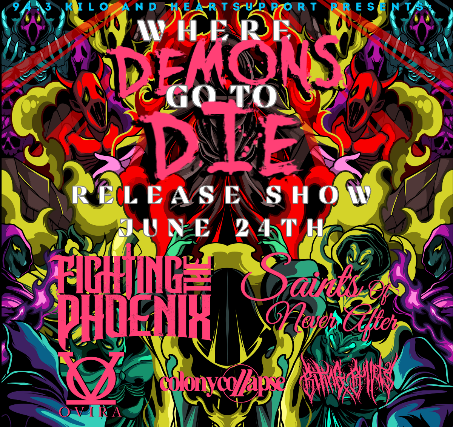 Sat Jun 24 2023
7:00 PM (Doors 6:00 PM)
2106 E. Platte Ave.
Colorado Springs, CO 80909
$15.00
All Ages
94.3 KILO Loud & Local Presents
Fighting The Phoenix
Ever since the boys in Fighting The Phoenix started back in 2011 they were alway told they wouldn't go any where. They took this negativity and transformed it into fuel for success. They have never given up on their dreams and continue to take steps forward in the music industry. Since their start in 2011 they have since played with many massive bands including Trivium, Escape the Fate, New Years Day, BlessTheFall, Ionia, IWresteledaBearOnce, I See Stars, The Paramedic, Phineas, Outline in Color, The Plot In You and many more national acts. In May of 2015 Fighting The Phoenix hit the road for their first tour, "The Rumble in the Rockies Tour". Upon arriving home from tour Fighting The Phoenix signed with The Dark Dream Agency making a huge step forward in their music career. since then, Fighting the Phoenix has been on many more tours including their Digital Tour Bus sponsored, "Via Trinus" tour. "Fighting The Phoenix" means to persevere and thats exactly what these boys intend to do.

Ovira is a metal band from Colorado Springs, CO creating a unique sound, from catchy hooks to heavy riffs we make energetic music fueled by emotion. We're stoked you found us! In February of 2020 our debut single, The Warning, introduced the band to listeners everywhere. Following our debut release we went on to release two more singles, Face To Face and New Birth during the year. Now in 2021 we've kicked the year off with the release of our song Vendetta and plan to continue releasing music and pushing our creativity to the limits. We'd love to have you on this journey with us!

Colony Collapse is where ferocious metal collides with soaring melody. FFO: Architects, Northlane, Erra 
 Colony Collapse is where ferocious metal collides with soaring melody. Sacrificing their former lives, the band relocated to Denver, Colorado, where years of creative fixation led to the dynamic and compelling sound of Colony Collapse. Aiming to captivate listeners with enthralling waves of savagery and grace, it's been the band's goal to cut through the drivel of modern metal. 
 Dispensing phony virtue, the group has the intent of displaying their rough edges for all to see.
94.3 KILO Loud & Local Presents
Fighting The Phoenix
Sat Jun 24 2023 7:00 PM
(Doors 6:00 PM)
Black Sheep
Colorado Springs CO