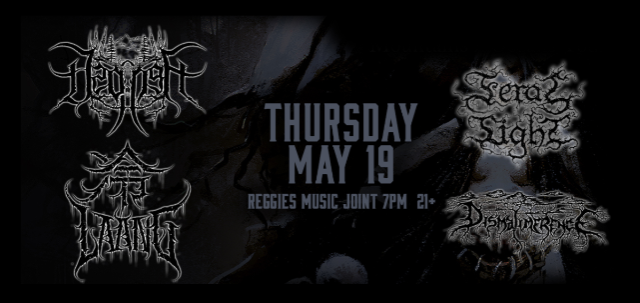 Thu May 19 2022
7:00 PM
2105 South State Street
Chicago, IL 60616
$12adv - $15dos
Ages 21+
Reggies Music Joint
7pm doors / 21+ / $12advance - $15day of show
Empire Productions presents:
DZO-NGA
LAANG
Dismalimerence
Empire Productions presents:
Dzo-Nga + Laang
Dzö-nga [zone-ga] is an atmospheric folk/black metal ptoject formed in 2016 in Boston, Massachusetts.

The band draws inspiration from world mythologies in creating genre-blending epics, imbuing a Cascadian black metal sound with classical music flair. After raising eyebrows with debut album Five Treasures of Snow, songwriter Cryvas brought in vocalist Grushenka Ødegård to record the project's second album,The Sachem's Tales. Picked up by renowned label Avantgarde Music, Tales earned Dzö-nga an international following with its unique take on folk and atmospheric metal. In 2018, Dzö-nga expanded into a touring lineup with musicians from respected Boston-area projects including Hemlok, Blind Revision, Age of Embers, and Ice Giant.



Dzö-nga toured the New England area steadily in 2019, both headlining and in support of luminaries of the US extreme metal metal scene (Feral, Obsidian Tongue, Infera Bruo, Vale, Eneferens, Etherius, etc). Dzö-nga added a third full memeber in bassist Ray King, and during the summer of 2019 set to work making its third full-length album. Thunder in the Mountains was recorded on an 18th-century farm in the forest of Connecticut, then mixed by Øystein G. Brun (Borknagar) at Crosound Studio and mastered by Dan Swanö at Unisound. The album was released on February 14, 2020 and garnered universally enthusiastic reviews, with several magazines and websites citing it as among the year's best black metal albums.



Regarding the new work, Cryvas explains: "Thunder In The Mountains is based on H. W. Longfellow's epic poem The Song of Hiawatha, a landmark literary work which collected much of the folklore of the Ojibwe peoples. We sincerely hope that our music helps to illustrate these classic stories with respect and admiration, and perhaps brings them to new audiences who may follow them back to their sources. Thunder In The Mountains serves as a tribute to legends of the past and an authentic document of us in Dzö-nga as we strive to create something of our own that will stand the test of time."

Terror black metal from Taiwan about the afterlife. The music of 冷 tells of a horrifying experience of an afterlife while in a coma following being shot in the head during a carjacking. This place is a place beyond description of hell, mind-wrenching, desolate, and incomprehensibly terrible

Progressive/Atmospheric Black Metal from IL.
Our debut single "Sequestered Hearts" is out now!
Full length album "Tome:1" coming soon.

Empire Productions presents:
Dzo-Nga + Laang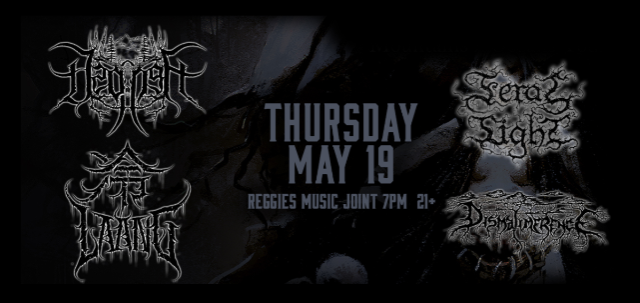 $12adv - $15dos
Ages 21+
Reggies Music Joint
7pm doors / 21+ / $12advance - $15day of show
Empire Productions presents:
DZO-NGA
LAANG
Dismalimerence