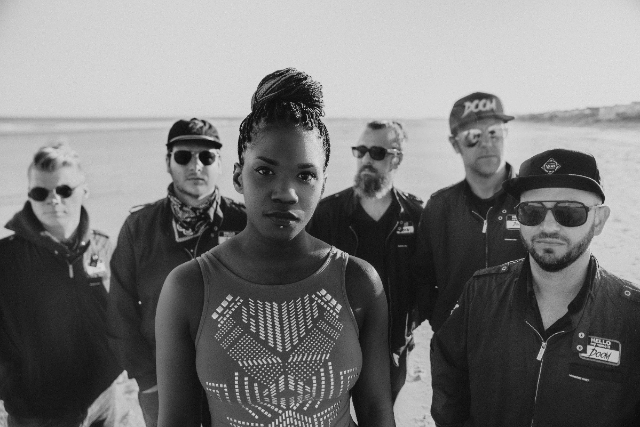 Fri May 21 2021
6:30 PM (Doors 5:00 PM)
468 Riverside Drive
Asheville, NC 28804
$25.00
Ages 21+
Doom Flamingo BIO

Ryan Stasik [Bass], Kanika Moore [Vocals], Ross Bogan [Keys], Thomas Kenney [Guitar], Stuart White [Drums], Mike Quinn [Saxophone]

"We just want to make people dance. It's a ritual." -Ross Bogan

Doom Flamingo is a six-headed synthwave beast with a Dr. Jekyll and Mr. Hyde element to the songwriting. Top Gun guitar riffs and Miami Beach poolside lounge-vibes, are all at once contrasted with darksynth sounds eerily reminiscent of old John Carpenter films. The cast of talented musicians in this project came together organically through friendships and past collaborations in their hometown of Charleston, South Carolina. The sextet features bassist Ryan Stasik of the prolific rock group Umphrey's McGee alongside a cast of powerhouse musicians.

It was during two days in the first week of May 2018 that Doom Flamingo began its rise. After a brief period of brainstorming, Doom Flamingo got right to work rehearsing. These first rehearsals took place in their hometown at The Charleston Pour House. A studio space in downtown Charleston named Rialto Row was the site for the first recordings of Doom Flamingo with producers Wolfgang Zimmerman and Doom's guitarist Thomas Kenney. The group tracked five songs in two days at Rialto, and camera crews documented the story of what transpired.

The instrumentation for the first Doom Flamingo songs had been worked on in advance of the studio, but there was one piece of the puzzle that caught everyone off-guard — a voice. The dynamic vocal range from vocalist Kanika Moore sets this project into hyperdrive. Kanika has something you can't teach, and that's not to say she hasn't tirelessly honed her craft. She has. It's hard to describe her sound as she's really a chameleon of various sounds. While she can, and often does, do anything she wants with her voice, there's an honesty that shines through in both her songwriting and her tone.

While the band feverishly pushed through more of their ideas for songs in the studio space at Rialto, Kanika sat quietly in the compound's front "dormitory" area listening to recently tracked audio on her headphones. With a pencil and paper, Kanika crafted full verses, refrains even a rapid-fire hip-hop verse with unique syncopation. Kanika was mostly silent until her time in the vox room. It was as if she'd been waiting to say something meaningful all the while, and the message came through loud and clear — Doom Flamingo rises.

The first Doom Flamingo show was May 31, 2018. Since then, the sextet has quickly made a name for themselves at several packed Umphrey's McGee After Shows. They've booked monthly one-off dates in major markets: New York City, Nashville, Denver, Atlanta, Charlotte, Raleigh, Richmond, Charleston, and more. Doom has already landed festival bookings at Electric Forest, Summer Camp Music Festival, Disc Jam Music Festival, and a headlining slot at French Broad River Festival. Additionally, the group has already struck a deal for their first beer, a pink Berliner Weisse from Charleston's Fatty's Beer Works.

Be on the lookout for new singles, select tour dates, and information on the First Edition, twenty-four page, Doom Flamingo comic book. The comic is currently in production from collaborating Canadian artists Jordan Noir & Oddyssey Studio. Themes of the music will be reflected in the artwork.

More Info - DoomFlamingo.com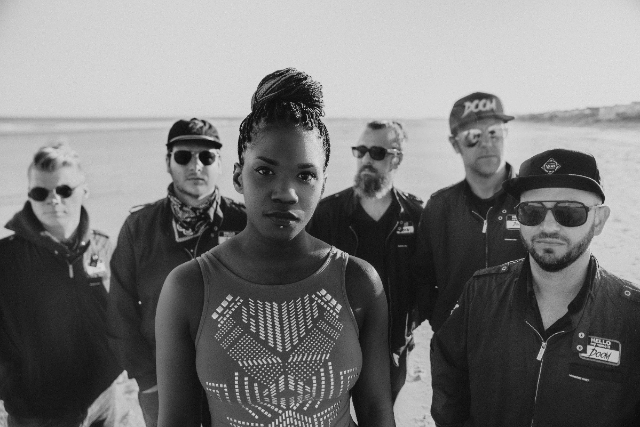 Doom Flamingo BIO
Ryan Stasik [Bass], Kanika Moore [Vocals], Ross Bogan [Keys], Thomas Kenney [Guitar], Stuart White [Drums], Mike Quinn [Saxophone]
"We just want to make people dance. It's a ritual." -Ross Bogan
Doom Flamingo is a six-headed synthwave beast with a Dr. Jekyll and Mr. Hyde element to the songwriting. Top Gun guitar riffs and Miami Beach poolside lounge-vibes, are all at once contrasted with darksynth sounds eerily reminiscent of old John Carpenter films. The cast of talented musicians in this project came together organically through friendships and past collaborations in their hometown of Charleston, South Carolina. The sextet features bassist Ryan Stasik of the prolific rock group Umphrey's McGee alongside a cast of powerhouse musicians.
It was during two days in the first week of May 2018 that Doom Flamingo began its rise. After a brief period of brainstorming, Doom Flamingo got right to work rehearsing. These first rehearsals took place in their hometown at The Charleston Pour House. A studio space in downtown Charleston named Rialto Row was the site for the first recordings of Doom Flamingo with producers Wolfgang Zimmerman and Doom's guitarist Thomas Kenney. The group tracked five songs in two days at Rialto, and camera crews documented the story of what transpired.
The instrumentation for the first Doom Flamingo songs had been worked on in advance of the studio, but there was one piece of the puzzle that caught everyone off-guard — a voice. The dynamic vocal range from vocalist Kanika Moore sets this project into hyperdrive. Kanika has something you can't teach, and that's not to say she hasn't tirelessly honed her craft. She has. It's hard to describe her sound as she's really a chameleon of various sounds. While she can, and often does, do anything she wants with her voice, there's an honesty that shines through in both her songwriting and her tone.
While the band feverishly pushed through more of their ideas for songs in the studio space at Rialto, Kanika sat quietly in the compound's front "dormitory" area listening to recently tracked audio on her headphones. With a pencil and paper, Kanika crafted full verses, refrains even a rapid-fire hip-hop verse with unique syncopation. Kanika was mostly silent until her time in the vox room. It was as if she'd been waiting to say something meaningful all the while, and the message came through loud and clear — Doom Flamingo rises.
The first Doom Flamingo show was May 31, 2018. Since then, the sextet has quickly made a name for themselves at several packed Umphrey's McGee After Shows. They've booked monthly one-off dates in major markets: New York City, Nashville, Denver, Atlanta, Charlotte, Raleigh, Richmond, Charleston, and more. Doom has already landed festival bookings at Electric Forest, Summer Camp Music Festival, Disc Jam Music Festival, and a headlining slot at French Broad River Festival. Additionally, the group has already struck a deal for their first beer, a pink Berliner Weisse from Charleston's Fatty's Beer Works.
Be on the lookout for new singles, select tour dates, and information on the First Edition, twenty-four page, Doom Flamingo comic book. The comic is currently in production from collaborating Canadian artists Jordan Noir & Oddyssey Studio. Themes of the music will be reflected in the artwork.
More Info - DoomFlamingo.com