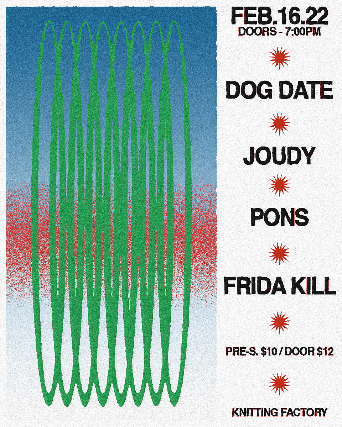 Wed Feb 16 2022
8:00 PM (Doors 7:00 PM)
361 Metropolitan Avenue
Brooklyn, NY 11211
$10.00
All Ages
Knitting Factory Presents
Dog Date,
Joudy,
Pons,
Frida Kill
It's vibrant, poppy garage rock 'n' roll with a venomous noise-influenced bite, that while listening, I couldn't help but feel that I should have a lit cigarette in one hand and an ice cream cone in the other"

Joudy a New York City-based band originally from Venezuela raised close to each other in the Andes range area founded by Diego Ramirez (vocal Guitarra) Gabriel Gavidia (Bass) Hulrich Navas (Drums). The cousins band is characterized for the experimental rock sound developed in their motherland influenced by the British 70's progressive rock and the American 90's grunge-rock. Joudy went on a break after releasing their second LP called "Obertura" for a few years until they reunited in New York City in 2019 to write and produce a new album that will be released in 2022.

Frida Kill is a feminist four-piece rock 'n' roll band out of New York City that plays songs that address the dystopian nightmare we are currently stewing in. Frida Kill is sick of your shit. Frida Kill is not here to fuck around.
Knitting Factory Presents
Dog Date,
Joudy,
Pons,
Frida Kill