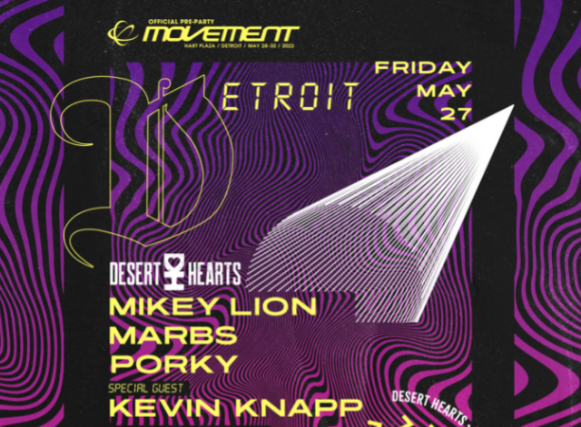 Fri May 27 2022
9:00 PM Doors
4120 Woodward Ave.
Detroit, MI 48201
$25.00 - $35.00
Ages 21+
Movement + Paxahau + Magic Stick Present
Desert Hearts Official Movement Pre Party
HOUSE, TECHNO, & LOVE…
WE ARE ALL DESERT HEARTS.

Over the past five years, the Desert Hearts Family has found itself at the center of a dusty movement, fostering intimate experiences of sonic joy and unbounded love across the globe. Part boutique festival, part record label, and part globetrotting party brigade, this ragtag crew of dreamers has emerged as a vibe-focused force radiating a conscious ethos of House, Techno and Love.

In November 2012, Desert Hearts began as a 200-person renegade gathering deep in the Mojave Desert, dreamt up by the DH's founding quintet of Mikey Lion, Lee Reynolds, Porkchop, Marbs, & Kristoff McKay. The intrepid crew barely survived a set of extreme weather conditions and unfortunate circumstances, but that first party sparked a fire.

In just a few short years what began as a nomadic gathering of friends, has evolved into the darling of the West Coast house and techno scene. Though each edition of the festival may sell out, the DH Crew made the decision to keep the events intimate, ensuring that the love, radical self-expression and positive energy of that first adventure remains at its beating heart. It's what has attracted world-class bookings like Tiefschwarz, DJ Harvey, Monkey Safari, Rodriguez Jr., DJ T, Claude VonStroke, Marc Houle, Olivier Giacomotto, Mark Henning, M.A.N.D.Y, and many more.

2014 saw the launch of Desert Hearts Records, a totally-free record label embodying the musical sensibility of the movement, while providing a platform to foster established and emerging talent from around the world. Entirely curated by Mikey Lion with Marbs handling the artwork for the label, past releases have included Andreas Henneberg, Latmun, The Glitz, jozif, TÅCHES, Dance Spirit, Fritz Carlton, Kevin Anderson, RYBO, and of course records from the core Desert Hearts Crew.

The beating heart of Desert Hearts is its founding fathers. A suitably colorful cast of characters, who fell into each other's lives skating and surfing around the beaches of San Diego. Led by top hat sporting label boss Mikey Lion, the core crew is rounded out by ex-pro BMX legend turned DJ, Lee Reynolds, the artistic backbone of the crew, Marbs, Mikey's younger brother & absolute madman, Porkchop, and renegade visionary Kristoff McKay.

If the Desert Hearts festival is the epicenter of this movement and the record label its voice, then the roaming City Hearts party series has become the legs that carry this evangelistic cause around the country. A roaming urban distillation of the festival, City Hearts has been sprinkling a little bit of California magic dust across the country and beyond, winning hearts and minds and selling out shows in Los Angeles, New York, Tulum, Mexico City, Miami, San Francisco, Houston, Chicago, Toronto, Denver, and more with more massive showings on the horizon.

Desert Hearts has given rise to a family of tens of thousands and it's safe to say the Love Movement isn't slowing down anytime soon. Everyone that attends our events is part of our family and who are what makes the tangibly delicious vibe so astronomically good. There is no Desert Hearts without the Family.

Part mythical desert harlequin, part modern soul conductor, Mikey Lion is more than a DJ––He's a freak of nature and a controller of energy. The San Diego-native has earned a dusty mystique over the past few years as the center of the Desert Hearts movement and as a house and techno provocateur with a stage presence that suggests he will ride this wave all the way to the top. If there's one thing Mikey does well, it's get the party started.

Lion has brought the mothafuckin' ruckus to the stages of Lightning in a Bottle, the dustiest storms at Burning Man, and The Do LaB at Coachella, earning nods from Claude VonStroke, Jamie Jones, and Green Velvet in the process. In doing so, Lion and his signature top hat have developed a boisterous voice in the House & Techno scene with strong tribal, hip-hop, and psychedelic elements.

But it all started with Wu-Tang and Daft Punk. Lion first found his way behind the decks as a thirteen year old kid, scratching underground hip-hop records religiously after school. At Coachella as a seventeen year old, he witnessed that legendary Daft Punk performance on the same night he tasted his first dose of psychedelics. The show had such a monumental impact on him, he gave up Hip-Hop and became a House DJ the very next day.

After honing his craft with weekly marathon DJ sessions at Sala Razzmatazz in Barcelona, Mikey was introduced to Burner culture at Lightning in a Bottle, 2011. It was at his first Burning Man in 2011 that he found a community calling and merged forces with his brother Porkchop, life long friends Marbs & Deep Jesus, and the inimitable Lee Reynolds to form The Desert Hearts Crew.

In November 2012, Desert Hearts began as a seedy, 200-person renegade gathering deep in the Mojave Desert. The intrepid crew barely survived a set of extreme weather conditions and unfortunate circumstances, but that first party sparked a fire. The entire point of that first Desert Hearts was to create as much love as humanly possible, and now that same gathering has evolved into the darling of the West Coast house and techno scene. The Bi-annual festival is capped at 3500 attendees in order to create the best possible vibe. Built upon beautiful people getting as weird as possible to deep and trippy house and techno, Desert Hearts has already achieved iconic status in the North American Festival Scene.

Desert Hearts has given rise to a family of thousands and it's safe to call it a bonafide movement of love. And while Desert Hearts Records launched in 2014 as a totally-free record label, pushes the sonic aesthetic of the scene, the crew's busy international calendar of bookings has the DH message spreading far and wide. At the center of it all is Mikey Lion, the dusty prince of desert hearts, a beacon of weird far and wide, and one of this generation's most compelling agents of love.

Just as rave culture was making its first waves in the UK in 1988, a mad English kid named Lee Reynolds rode his BMX bike across the Atlantic to Los Angeles, carrying with him dreams of big air and sunny skies. He was as wild then as he is now, it's just that on two wheels, Reynolds' lack of abandon resulted in broken bones, not broken beats. In 1992, he limped off the ramp one last time and soon found himself lost to electronic psychedelia, and thusly one of the West Coast's finest DJs began his path to the Desert Hearts movement and the hysteria he now conjures with every performance.

Now, a quarter century later, Reynolds has a lifetime's worth of experience bringing the weird and the wonderful to the dancefloor. He earned his chops up and down the West Coast in the dance scene's dustier institutions––Moontribe, Moonshake, LiB––That's where he developed his endlessly wide palate, penchant for mysticism, and an understanding that a dance party should be a spiritual experience.

"When I DJ, I want people to feel ecstatic, in a zone, in the moment, like the only thing that matters is the dance," he says. "I don't want to play music that people can dance to, I want to play music that makes people dance. I want it to sound like aliens are about to land on the dancefloor."

In 2011, It was an encounter with a plucky bunch of San Diegans barely out of their teens that was the calling Lee Reynolds had spent his whole life working towards. Alongside Mikey Lion, Deep Jesus, Marbs, and Porkchop, Reynolds formed Desert Hearts and the rest is history in motion. Over the past three years of bi-annual renegade ragers and relentless touring, "Papa" Lee Reynolds has developed into the patriarch of the fastest growing and most visible cultural movement in all of stateside dance music.

"My real role in Desert Hearts is more on a spiritual level, making sure we spread a positive message and do the right thing," says Reynolds. Wise words, maybe, but behind the decks, Reynolds is a maniacal presence as he channels his past lives, tastes, adventures, and perspectives into a dancefloor magic that captures you upon first beat and does not release: House, techno, acid, and breaks, they're all conjured up in a plume of purple haze and that little mad bastard is at the center of it all.

Dance music now is so often about fast rises and immediate gratification, but Lee Reynolds' story is a reminder that some beats taste better when slowly fried over the course of 25 years. "I've been obsessed with this shit forever and I've always believed the madness was coming," says Reynolds. Well, the madness has commenced, and it seems like it's here for good––and Lee Reynolds is conducting the score.

- Jemayel Khäwåja

The sun fades, the last glitter trails of light hit the shimmering and spinning dusty desert disco ball. A throng of dedicated and debauched hard partying Marbie's Barbies hurtle their way towards center stage (really…they're Barbies), educated party-goers make their way to the dance floor, no questions asked, while whispers of "King of Darkness, crazy house and techno, psychedelic vibes" spread through the new night sky. The first melodic notes travel the space, ethereal beauty pouring from the stacked Funktion speakers, waving its way through the crowd. Your eyes close, your body grooves to the sounds and the beats and the thuds of the tech house that is now expertly laid out for all to enjoy. Dark and driving, thumping techno is paired with mystical, beautiful, melodic house. That passionately and expertly paired genre bending style can only mean one thing. Marbs has taken the decks.

Having grown up in Southern California with the now notoriously known motley crew called Desert Hearts, Marbs, an artistic kid, was primarily influenced by legends like Pink Floyd and Tool, while also listening to underground hip hop, reggae, and rock, displaying his no holds barred love for all genres from an early age. Flash forward to San Francisco's Love Fest, art cars roaming the city, house music spilling from speakers, and Marbs' musical tastes were forever changed thanks to ruler of the house music game and party guru, Lee Burridge.

After years of djing the San Diego, LA, and Burning Man party circuits, the Desert Hearts crew took it upon themselves to throw their own kind of party. One built on love, acceptance, and strictly, House and Techno, their 2012 one time gathering of 200 people in the Mojave (the coldest one ever, we swear!!) has turned into one of the most talked about and adored boutique festivals in the US. None of which could be possible without Marbs, lovingly coined, "Papa Bear", he is truly the backbone of the project behind the scenes, where he runs most of the logistics with a steady hand and a humble heart. He's easily one of the nicest guys on the planet and is the most modest of the crew, which is insane given his endless barrage of talents beyond his musical endeavors. While Desert Hearts catapults successfully into the scene as a major player through their twice yearly festival, touring internationally throwing parties under the moniker City Hearts, and launching a (free!) record label, Marbs continues to hone his production skills and also blows the art game out of the water, hand drawing all of the label's artwork and inspiring tattoo artists everywhere.

Marbs' musical talents and humble dj presence commands any dance floor with his sounds of mystical darkness and whimsical tribal rhythms; the night sky is the limit for this King of Darkness. With a sound like no other, a heart of gold, and a determination matched by few, Marbs is sure to lead this movement of love until the very happy end.

Don't be mislead by the light-hearted name, Porky is a man who takes partying very seriously. David Leon, as he is otherwise known, is the wildcard of Desert Hearts, the San Diego-bred crew of DJs and rabble-rousers tearing up the underground with deep, dark, and weird house and techno.

A San Diego native, Leon was influenced early on by older brother Mikey Lion and dusty jaunts to Lightning in a Bottle and Black Rock City, but over the past two years, his renown as a DJ and chops on the decks have grown to match his larger-than-life personality.

Porky leveled up his game performing in the mystical jungles of Tulum, the dusty expanses of Burning Man, and perhaps most notably, at the bi-annual Desert Hearts weekenders in Southern California. The group's ascent from a renegade rager to a dance music phenomenon that has been one of the most celebrated stories in dance music over the past couple of years, and Porkchop's standout sets and take-no-prisoners party attitude have been at the center of the whole whirlwind.

In a sea of black-shirted stoics, Porky pours himself into the DJ booth bursting with life and color. His hair and clothing melt into bright gradients and he smiles unpretentiously as he deals out techno obscurities and house crowd-pleasers alike. His sets are a reminder of why we're all on the dancefloor in the first place––to party. And nobody gets the party started like Porky. He's noted for being one of the most versatile member of the Desert Hearts Crew. His ability for weaving narratives through genres is clear, and he has a knack for dropping tracks that become moments you remember.

With hair in technicolor and his USB filled at all times with dancefloor demolishers, bursting with love and positive vibes, Porkchop has developed into one of the most unpredictable, but dependable DJ's in the whole scene. He's earned his way onto stages with the likes of Lee Burridge, Justin Martin, and Tale of Us, played festivals like Symbiosis and Envision in Costa Rica, five-time veteran at Burning Man, playing iconic camps like Robot Heart and Distrikt, and all over North America with the hot-ticket City Hearts tour. This is just the beginning as Porkchop is only rising. All signs point to 2017 being the Year of the Chop as he cements his place in the highest echelon of underground dance music.
Movement + Paxahau + Magic Stick Present
Desert Hearts Official Movement Pre Party