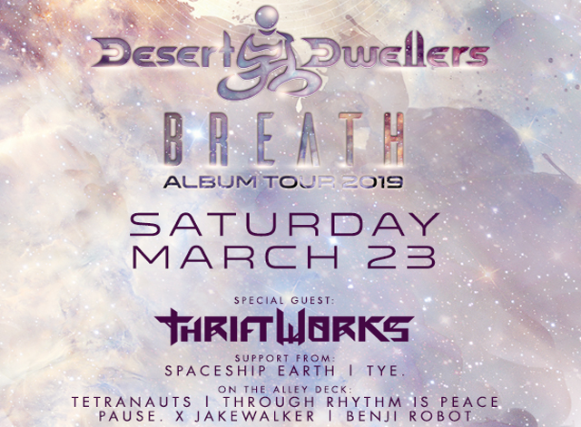 Sat Mar 23 2019
9:30 PM - 2:30 PM (Doors 9:30 PM)
4120 Woodward Ave.
Detroit, MI 48201
$25.00
Ages 18+
Magic Stick & Further Frequencies
Desert Dwellers,
Thriftworks,
Spaceship Earth,
TYE.
Desert Dwellers consists of Amani Friend and Treavor Moontribe, who began their careers as independent music producers and DJs in the deserts of New Mexico and California. Coming together in the late '90s after connecting through the legendary Moontribe scene, today the duo enjoys a reputation as one of the most pioneering and prolific downtempo, psy-bass, and tribal trance acts in the United States. Desert Dwellers have toured extensively across six continents, spent a 7-week stretch on the road with renowned psychedelic artist Shpongle, and have performed at dozens of festivals, most notably Shambhala, Lightning in a Bottle, Envision, Coachella, Rainbow Serpent, and Boom. Taking a new approach to digital production, Amani and Treavor have combined the raw sounds of the natural world while skillfully blended deep bass, earthy percussion, etheric voices and cross-cultural instrumentation into sonic incense for the mind and body. Bringing the electronic music vibe to the yoga scene, and the sounds of yoga to the electronic dance scene, Desert Dwellers' global sounds are the bridge between the worlds of dance and movement.

With the live show, Desert Dwellers join forces with the powerful vocalist Meagan Chandler, who is the voice featured on tracks like Seeing Things, Trail of Nomads, The Great Mystery and many others. Along with many additional musicians, aerialists, and fire dancers, the live show brings the duo's catalog to life with thrilling performances, wild re-interpretations, and breathtaking choreography.

Collaborative Partners
Desert Dwellers has been blessed to collaborate with an amazingly talented group of producers like Rara Avis and Craig Kohland (co-producers DownTemple Dub Waves & Flames), Michael Stearns (co-producer on Stratosphere), Sattva Ananda, and Jonathan Grossman on various projects. They have also worked closely in the studio with many musicians over the years including Meagan Chandler, Ixchel Prisma, Nicolle Jensen, Sarah West, Michael Kott, Hannah Theim, Paul Livingstone, Alex King-Harris, Domonic Dean Breaux, Yamuna Wali, and Ricardin, all incredible masters of their various musical traditions and transmissions. Desert Dwellers have produced remixes for artists such as Eat Static, Gaudi, An-Ten-Nae, AtYyA, Kalya Scintilla, Bird of Prey, Kaya Project, Adham Shaikh, Karsh Kale, Lulacruza, Deep Forest, David Starfire, Deya Dova, Girish, Donna DeLory, Deva Premal, Jai Uttal, and many others.

Berkeley, California based producer Thriftworks offers his own uniquely original take on forward thinking electronic music, weaving eclectic samples and explosive modern bass that continually pushes the envelope while taking the art of beat-crafting to new heights. Garnering much praise from fans and critics alike with his steady stream of new material, Thriftworks is quickly becoming known as one of the finest up and coming experimental producers with his outside the box sound and unclassifiable style. Thriftworks' use of deep low-end and wall to wall synths seem to channel something ancient and mysterious, offering up an intoxicating musical high with an invigorating breath of fresh air. These sounds activate the senses, enrapture the mind, move the body and leave audiences begging for more.
Magic Stick & Further Frequencies
Desert Dwellers,
Thriftworks,
Spaceship Earth,
TYE.
Sat Mar 23 2019 9:30 PM - 2:30 PM
(Doors 9:30 PM)
Magic Stick
Detroit MI