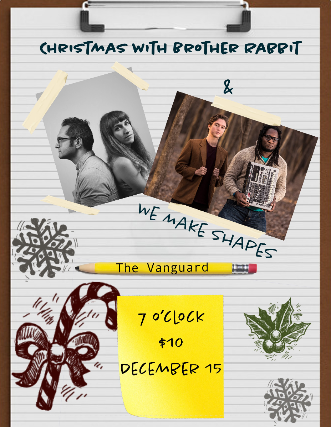 Sun Dec 15 2019
8:00 PM (Doors 7:00 PM)
222 N Main St
Tulsa, OK 74103
$10
All Ages
The Vanguard and Bros. Houligan Present...
Christmas with Brother Rabbit & We Make Shapes
Shoegaze rock duo from America's heartland.

"Between the moody soundscapes Shade produces via synthesizers and his 808 drum machine and the swirling, emotional tone of Nathan Wright's guitar, We Make Shapes takes audiences on a transcendent journey across a musical cosmos in the same vein as Boards of Canada, Amon Tobin, and even Pink Floyd. Those that take the trip are left in a euphoric daze, feeling as if they've just arrived on another planet, not sure of how they got there, but eager to explore this new terrain."

Wyndam Wyeth
Tulsa People magazine


"Tulsa's We Make Shapes is a moody, lo-fi affair steeped in spacey, electronic sincerity. Minimalist beats, ambient synth melodies, psychedelic guitar-work and occasional processed vocals combine to create an appealing cocktail of wide-eyed dream pop, downtempo electronica and hip hop."

Josh Kline
This Land Press


"Metropolis (1927)," the opening track of We Make Shapes debut EP Penta, is an exercise in stadium rock maximalism filtered through minimal trip-hop instrumentation. The song's blown-out snare hits and Van Halen guitar licks ride atop a hypnotic 808 vamp."

Mitch Gilliam
Tulsa Voice
The Vanguard and Bros. Houligan Present...
Christmas with Brother Rabbit & We Make Shapes
Sun Dec 15 2019 8:00 PM
(Doors 7:00 PM)
The Vanguard
Tulsa OK