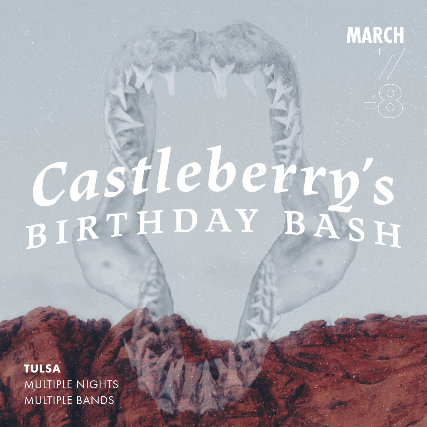 Sat Mar 7 2020
8:00 PM (Doors 7:00 PM)
222 N Main St
Tulsa, OK 74103
$12-15
All Ages
The Vanguard and Bros. Houligan..
Castleberry's Birthday Bash feat. Neoromantics
Corusco is a Texas Band that combines a tasteful amalgamation of indie rock, folk, and emo with a matured, aggressive edge. Their live performace dithers between 'punch-you-in-the-gut' rock and delicate, intimate moemnts of vulnerability.

We're an emo punk band from the Tulsa area. We've got a lot of stuff on the way, so be sure to like the page so you can be notified of new songs and show dates.

Indie Rock from Lincoln, NE

An indie rock project.
We make intense soft music.
The Vanguard and Bros. Houligan..
Castleberry's Birthday Bash feat. Neoromantics
Sat Mar 7 2020 8:00 PM
(Doors 7:00 PM)
The Vanguard
Tulsa OK